Blogs & Articles
Scarce Talent Evaluation: A new methodology to assess scarce talent in life sciences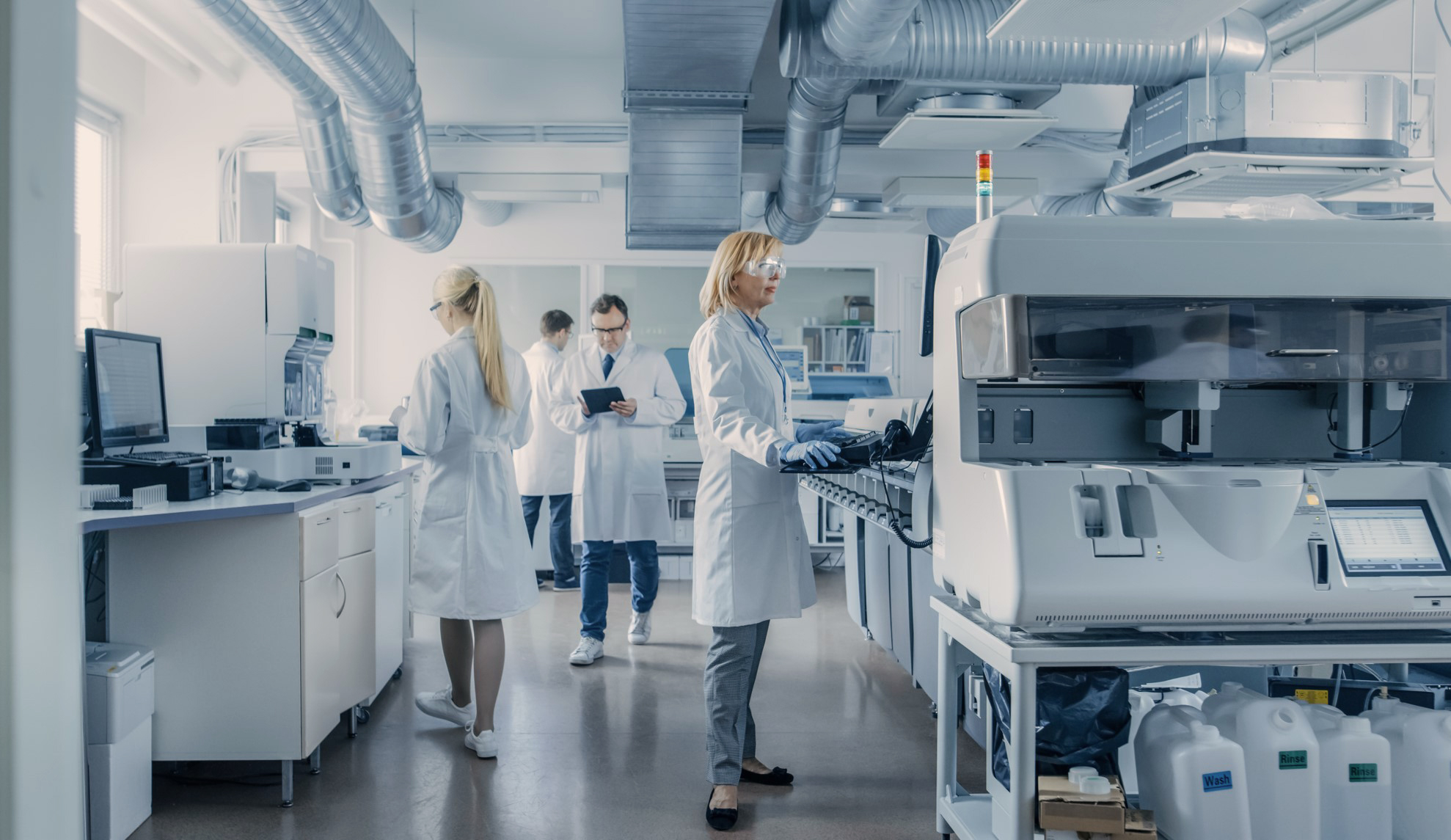 In my last article, Number one hiring challenge in pharma and biotech? Securing scarce talent I wrote extensively about the challenge of sourcing scare talent within the pharmaceutical and life sciences sector and I shared some strategies for talent acquisition (TA) practitioners to follow in order to best address those challenges. We know that identifying and attracting quality talent is the biggest challenge facing TA leaders right now because they consistently tell us that's the case.
Within the sector I'm sure that we all have a view of what talent is the scarcest. When I speak with prospective customers, they are always keen to understand our strategies for finding and engaging with clinical talent, with regulatory affairs specialists, digital marketers and data scientists. That talent is indeed scarce but not everywhere, naturally there are countries and locations in which we are far more likely to find that talent than others.  Similarly, there are skills that may be commonly viewed as abundant but prove challenging to identify in particular countries and locations.
So, what constitutes scarce talent?
To answer this question, we have been analysing data from over 30,000 permanent hires that we made for our clients over 18 months in order to understand which roles should be considered the scarcest and the most challenging to hire for.
In looking at that data we have focused on three particular factors:
the average time to hire for each of the role functions
the use of recruitment agencies to support the identification of talent
the volume of hiring for those role functions
The methodology that we created has proved to be incredibly insightful and we plan to use this regularly in the future as we look to better understand trends and challenges across the sector and for individual clients.  I'm sharing the methodology with you here, to allow you to replicate it with your own hiring data.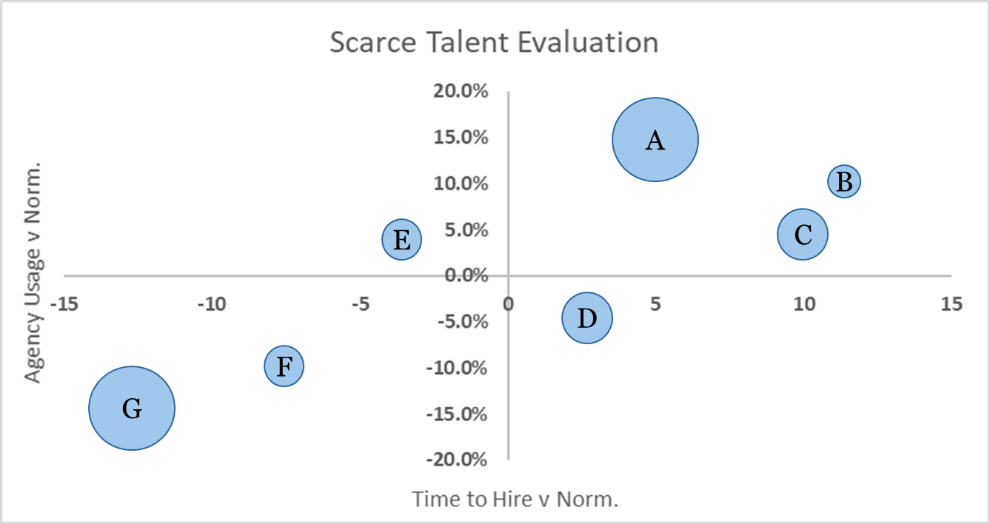 This chart is a visualisation of scarce talent using example data.  On the x-axis we plot role functions based on their average time to hire against our total average (i.e. if our total average time to hire is 40 days we're looking at the variance to that 40 days).  On the y-axis we plot role functions based on their average agency usage (i.e. if our average agency usage is 5% we're looking at the variance to that 5%). The size of the bubble denotes the number of hires made against each role profile. Any bubbles that plot to the upper right quadrant of the chart (in this example A, B and C) therefore represent our most scarce talent - those role profiles for which it takes longer to hire and for which we have a heavier reliance on recruitment agencies to support hiring.
This methodology can be utilised for role profiles, produced on a geographic basis or even reproduced for specific job profiles or hiring grades.
Why do we need to understand what constitutes scarce talent?
In the previous article I mentioned, I shared three key strategies to secure scarce talent.  Those three strategies require effort and investment and as TA leaders we have finite resources at our disposal. I spoke about the concept of Candidate Centricity and the need to put our candidates first in every aspect of our hiring strategies. That is not a simple endeavour and it requires us to elevate our recruiters so that they become talent advisors, able to consult with hiring managers and influence the parameters of a particular hiring process.  Should we aim to deploy talent advisors to cover all of our hiring requirements?  Absolutely not – firstly it would likely be unaffordable and secondly, it's unnecessary, where we have an abundance of talent available to us we need recruiters (or technology) who are best placed to efficiently screen and process candidates whilst providing an exemplary experience. We should target our talent advisors to work on our most challenging hiring requirements, hence the need to proactively identify the Scarce Talent Propensity for our own organisations.
The second strategy that I shared was the use of Market Insight to empower our hiring teams with the data required to be able to consult with hiring managers and adapt hiring strategies.  Whilst market insight is no longer an expensive investment as it once was, it does still come at a price and requires specialist resource to be able to deliver the insight to hiring teams. That effort needs to be focussed on the scarce talent and ideally conducted proactively rather than simply at the point that we have received a requisition which looks challenging.
The third strategy that I shared was focussed on the deployment of specialist candidate sourcing skills and technologies. The business case for the deployment of specialist sourcers is clear but the investment only pays off if our sourcers are focussed on the roles that truly requires the effort. Why have a specialist sourcer support a requisition for which we know we're likely to have an abundance of talent apply?  Another reason to proactively assess our own Scare Talent Propensity and deploy our resources wisely.
I look forward to sharing more insight with in future articles. In the meantime, do please share your views with me through LinkedIn.
More articles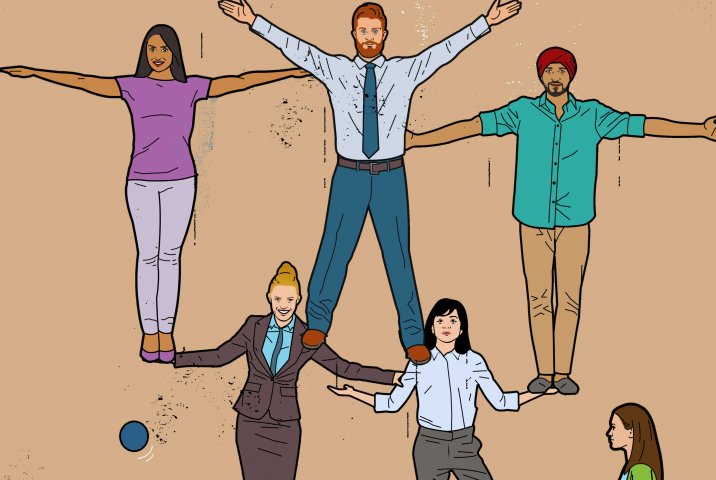 Blogs & Articles
Thermo Fisher Scientific's total talent approach is helping it rise to the challenges of COVID-19, explains Noel Brown, senior director for global talent attraction and acquisition.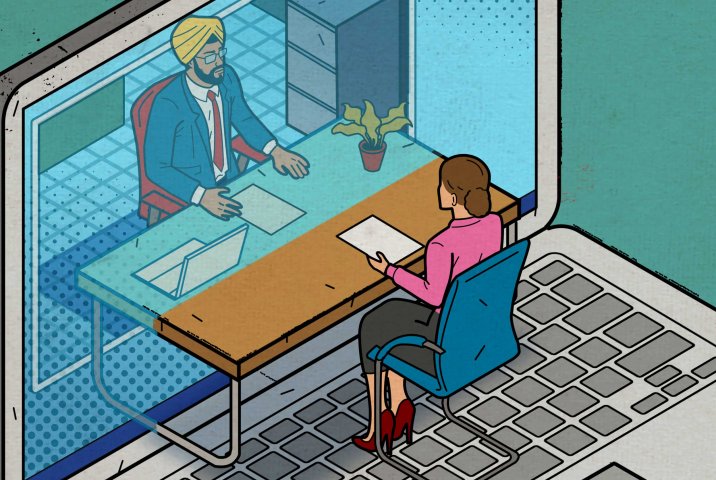 Blogs & Articles
With the arrival of a new CEO, healthcare giant Sanofi is keen to accelerate the development of internal talent with the help of digital tools, writes Karl Vansteenkiste, head of talent acquisition, Europe.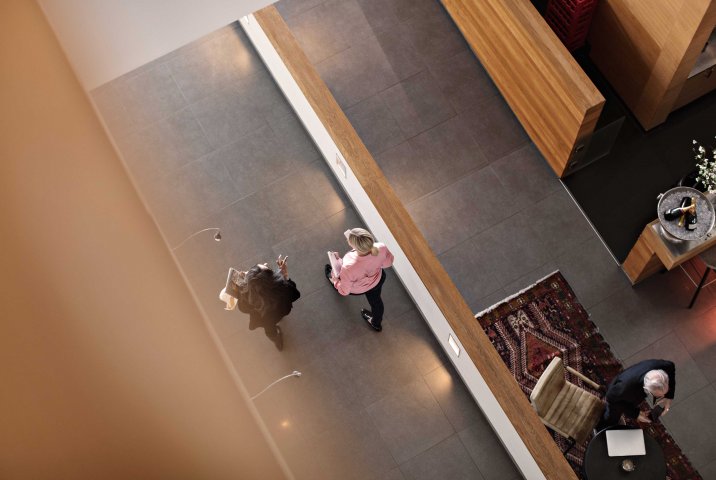 Blogs & Articles
Whilst the COVID-19 crisis is far from over, many of us are starting to see restrictions ease and many businesses are starting to think about the future, if not the long-term future then at least the medium-term future and the potential of returning to growth.