We're obsessed with making high-volume hiring easier.
Engage and progress your best-fit hourly candidates in minutes (not days).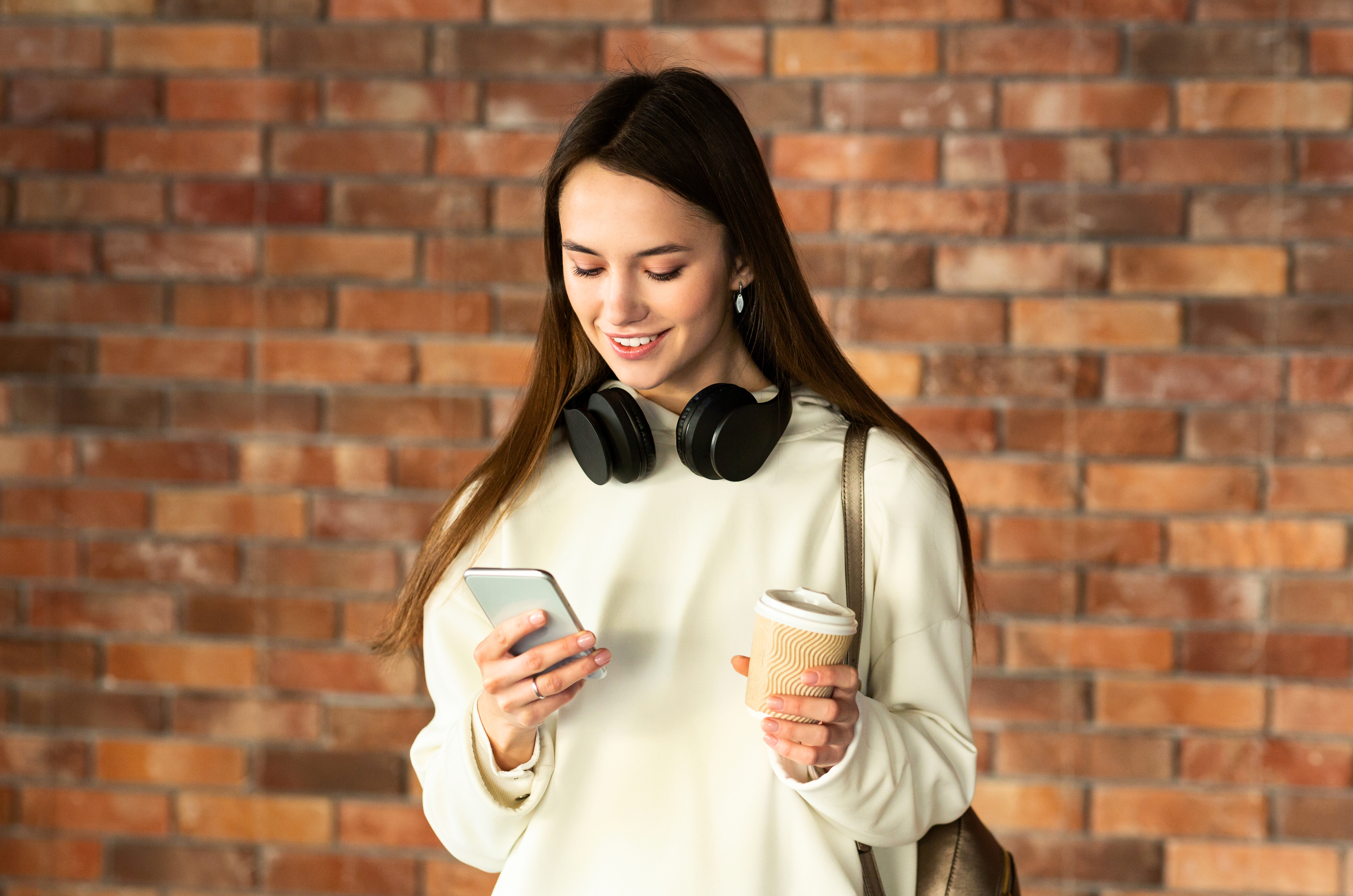 Your mission, our vision.
Let's Make Hiring Easier for Everyone.
Candidate
Even though 96% of Americans own a mobile phone, employers still dump excited applicants into legacy systems and processes. Hourly turns the entire hiring journey into a single mobile conversation, from explore-to-offer.
Hiring Manager
Your hiring managers are overwhelmed. They don't have hours to spend in a back office reviewing hundreds of applications or scheduling interviews – let Hourly get the tasks done, so they can just make informed hiring decisions.
Recruiter
With Hourly, your recruiters have the relevant hiring insight in one spot to support on-site teams that need a helping hand. By automating administrative tasks, they can redeploy their effort to the human part of recruiting they love.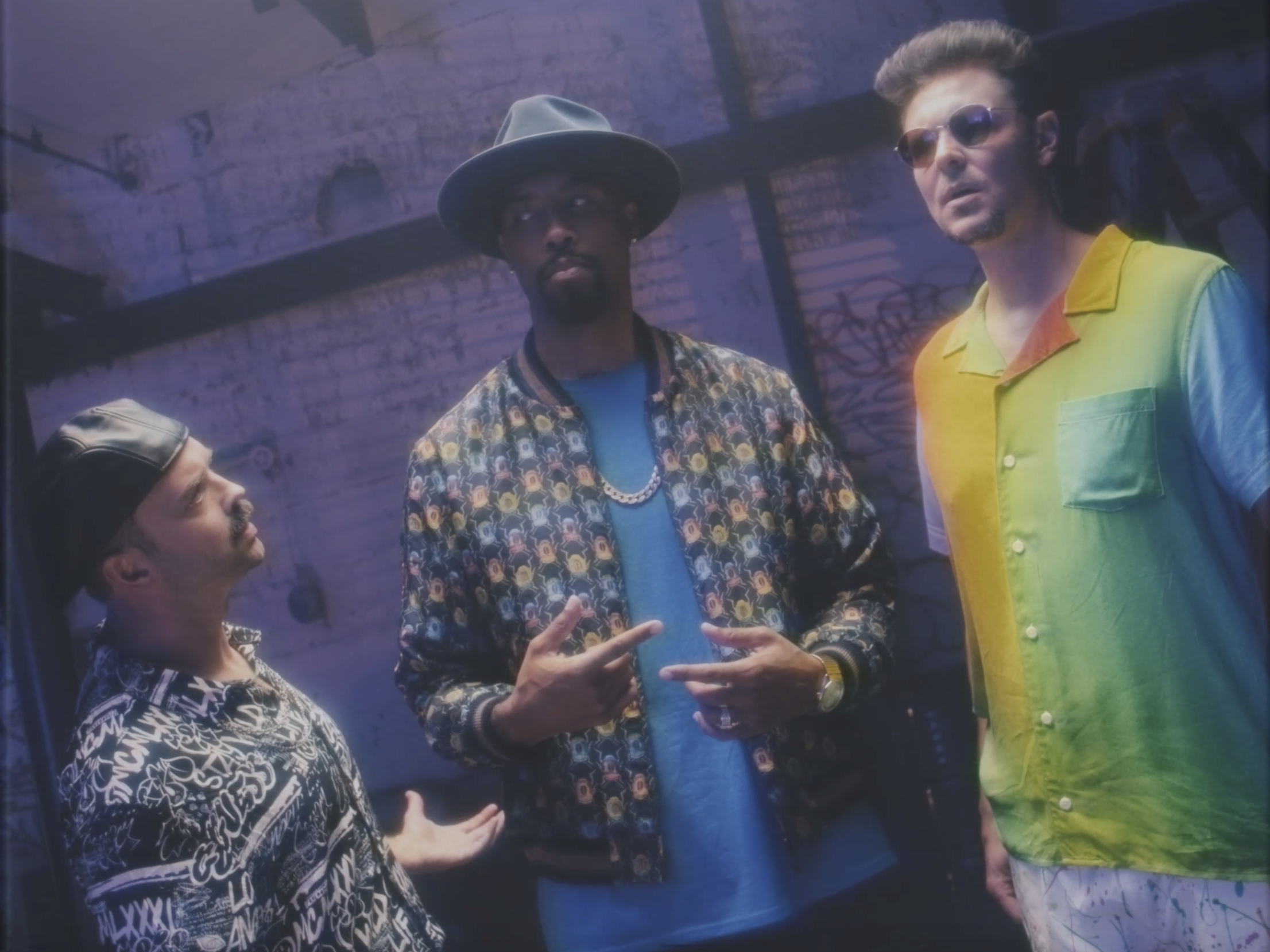 It's time to think differently about hiring.
Let's tell a new story.
This isn't your average corporate video. We brought together a frustrated job seeker, an overwhelmed hiring manager and a pop music superstar to tell a new story - one filled with humor and nostalgia.
Now that we got your attention, let's start a new conversation about something we all should care deeply about - creating dignity, communication and care for hourly job seekers.
Watch | Hourly ft. Montell Jordan
Explore how a single conversational experience can redefine how you hire.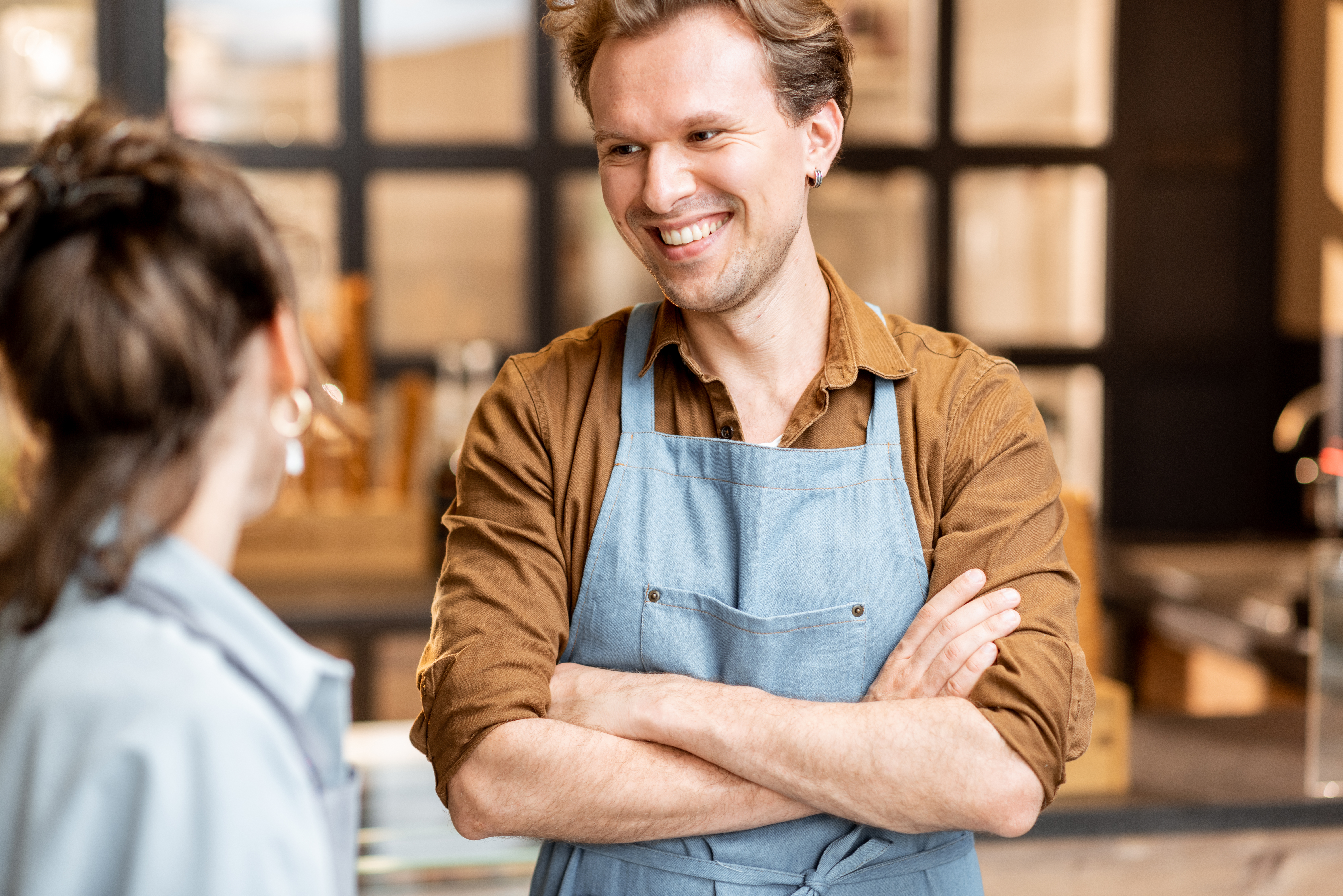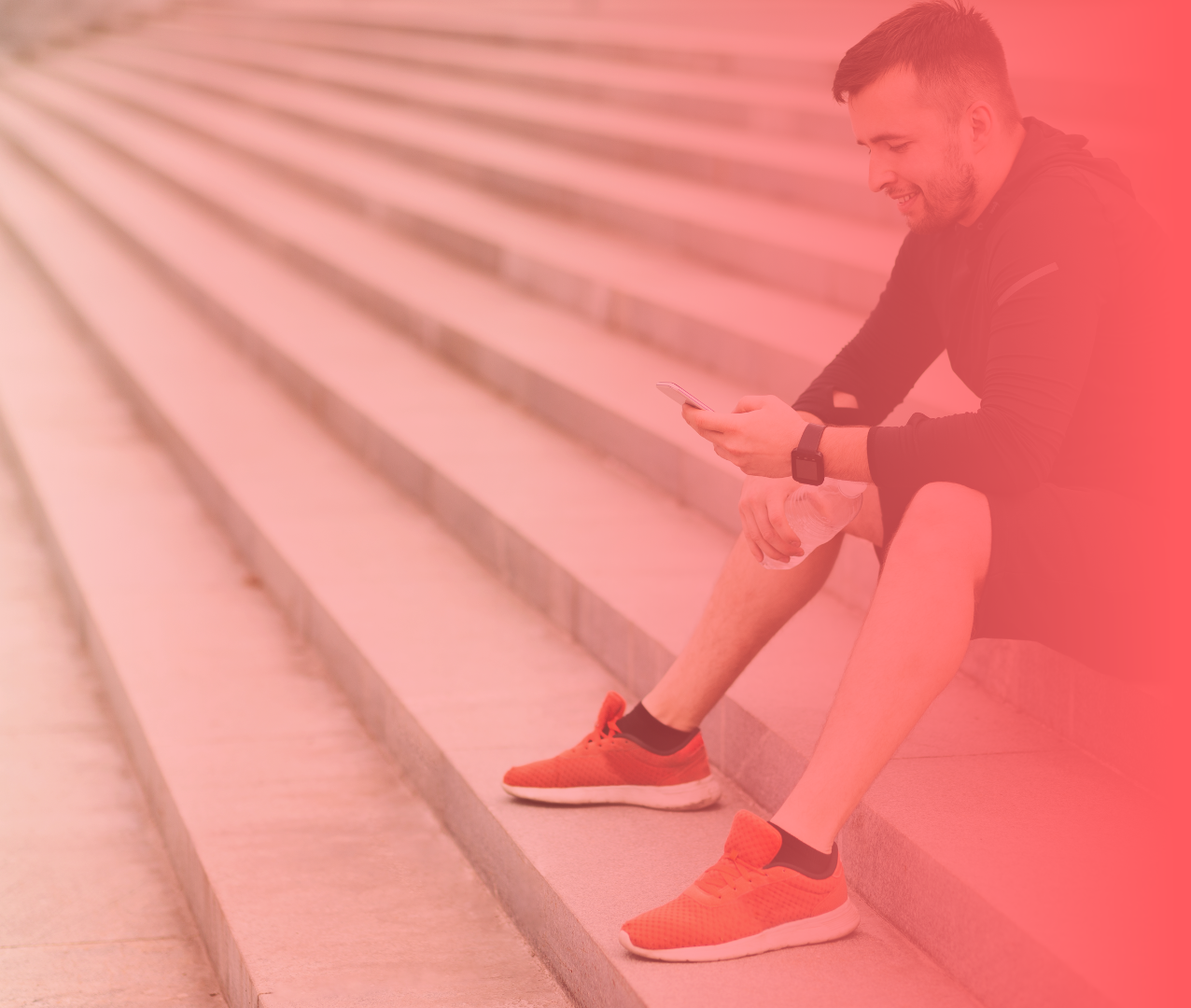 Make recruiting boundless.
Free your job seekers and hiring teams from the constraints that slow hiring.
Don't mistake Hourly for just another chatbot. Candidates and hiring managers can navigate the entire hourly hiring journey in a single solution, without dependencies on desktop or email.
Because we designed Hourly as a mobile-first conversational experience, your job seekers can do everything from explore-to-offer on their device.
Read | The Hourly Hiring Guidebook
Set a new standard.
Redefine candidate experience by engaging job seekers in minutes.
Competition for talent is relentless. Continuous communication and support means fewer dropouts and ghosting vanishes - and, you stop losing candidates to the competition.
We've combined intelligent automation and mobile access with velocity in mind, making it possible to identify and progress qualified applicants into your hiring pipeline in minutes (not, days).
Demo | Self-schedule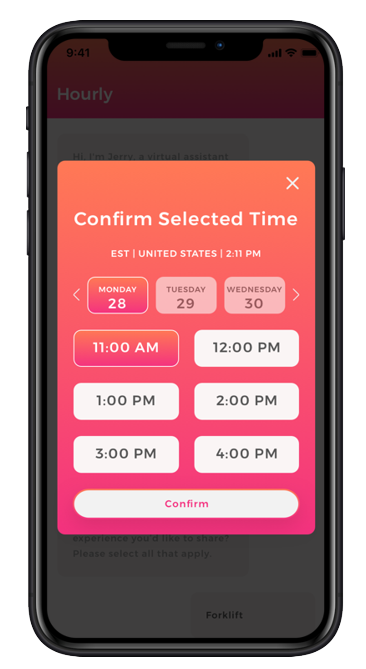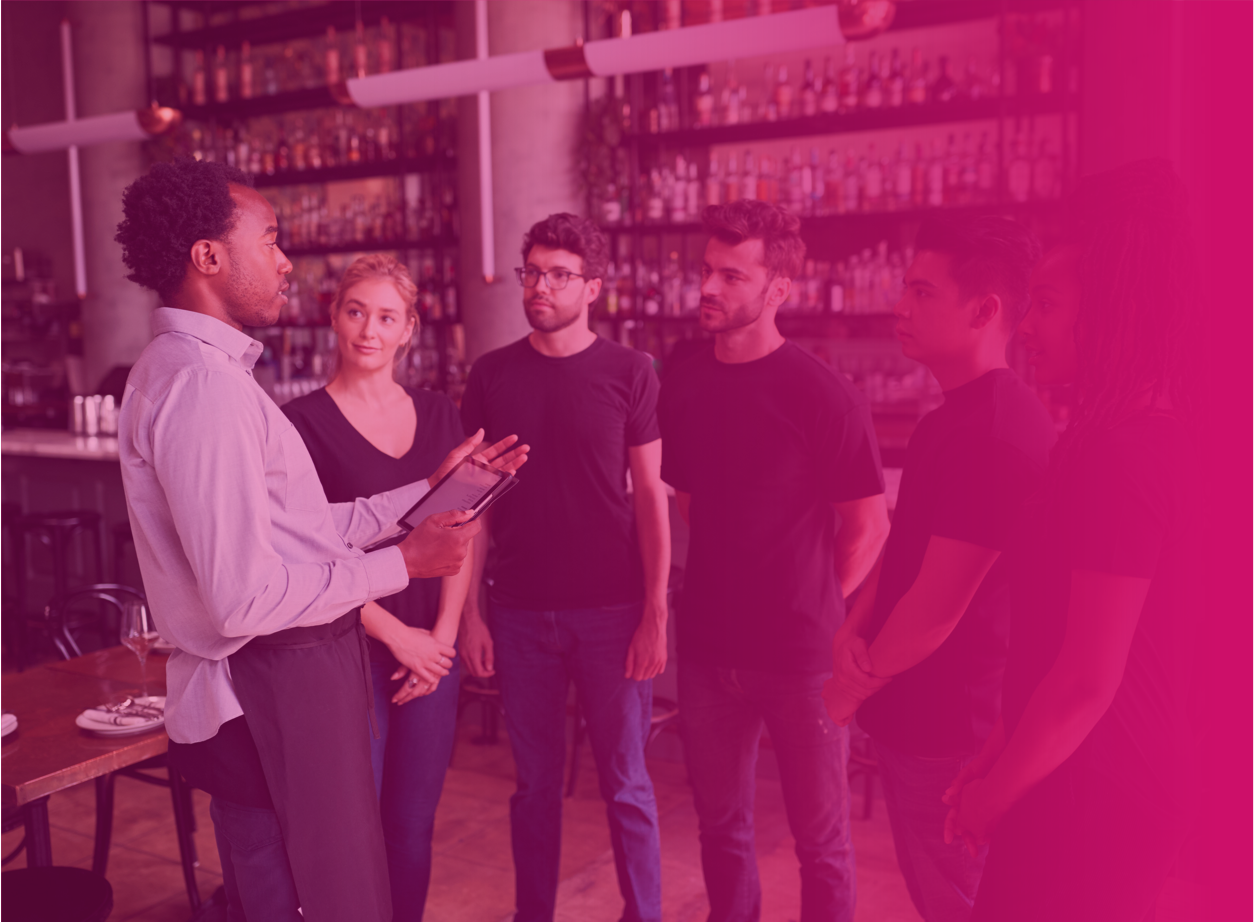 Stop guessing.
Hundreds of applicants for every role? Don't sweat it, we can help.
Don't sacrifice precision for speed, demand both. When you have high-volumes of applicants, sifting through them to find qualified candidates can feel impossible.
Hourly harnesses the power of artificial intelligence and scientifically-proven assessment insight to help you identify the very best-fit applicants for every role.  We'll even give you tips for interview success, tailored to each candidate.
eBook | The Hourly Hiring Imperative
Explore-to-offer.
It's time to treat hourly job seekers with dignity and kindness.
Hourly workers are essential to your business, let's treat them that way. For far too long, we've made hourly job seekers put up with inconvenience.
Imagine if somebody could walk into your store or past a 'job opening' sign, and within minutes, apply and have an interview scheduled?  Hourly makes it possible for your applicants to pre-qualify, assess and schedule an interview - all from their phone, in-the-moment, in a matter of minutes. Candidates are supported and informed every step of the way, even when they don't get the job.
Read | The Hourly Hiring Guidebook by TalentCulture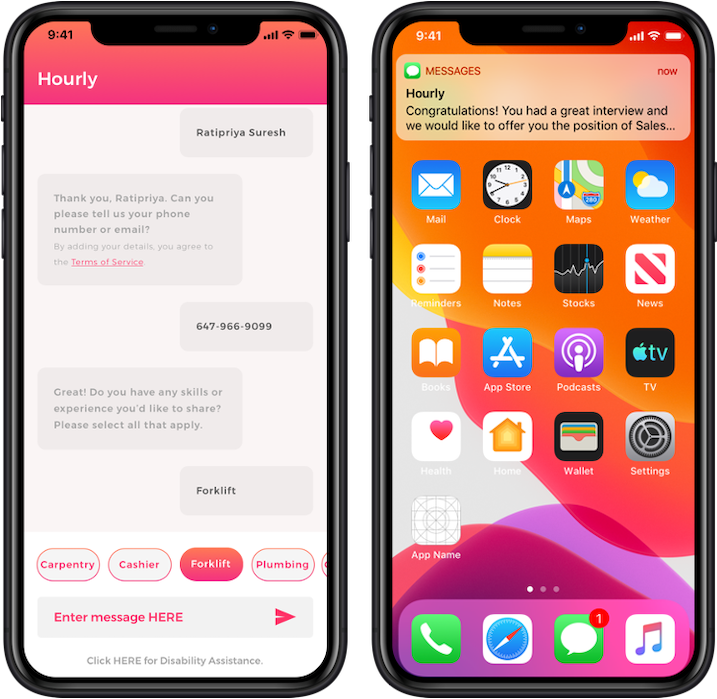 Accomplish more.
Streamline the entire hiring workflow, and get back to doing what you love.
Whether you're evolving, growing or rebuilding your workforce - hiring teams and recruiters are crunched for time and resources.
We've reimagined and streamlined the entire hiring process, leaning on intelligent automation to handle the necessary administrative tasks so that you can focus your energy on what really matters - the human part of HR and recruiting.
Demo | Self-Schedule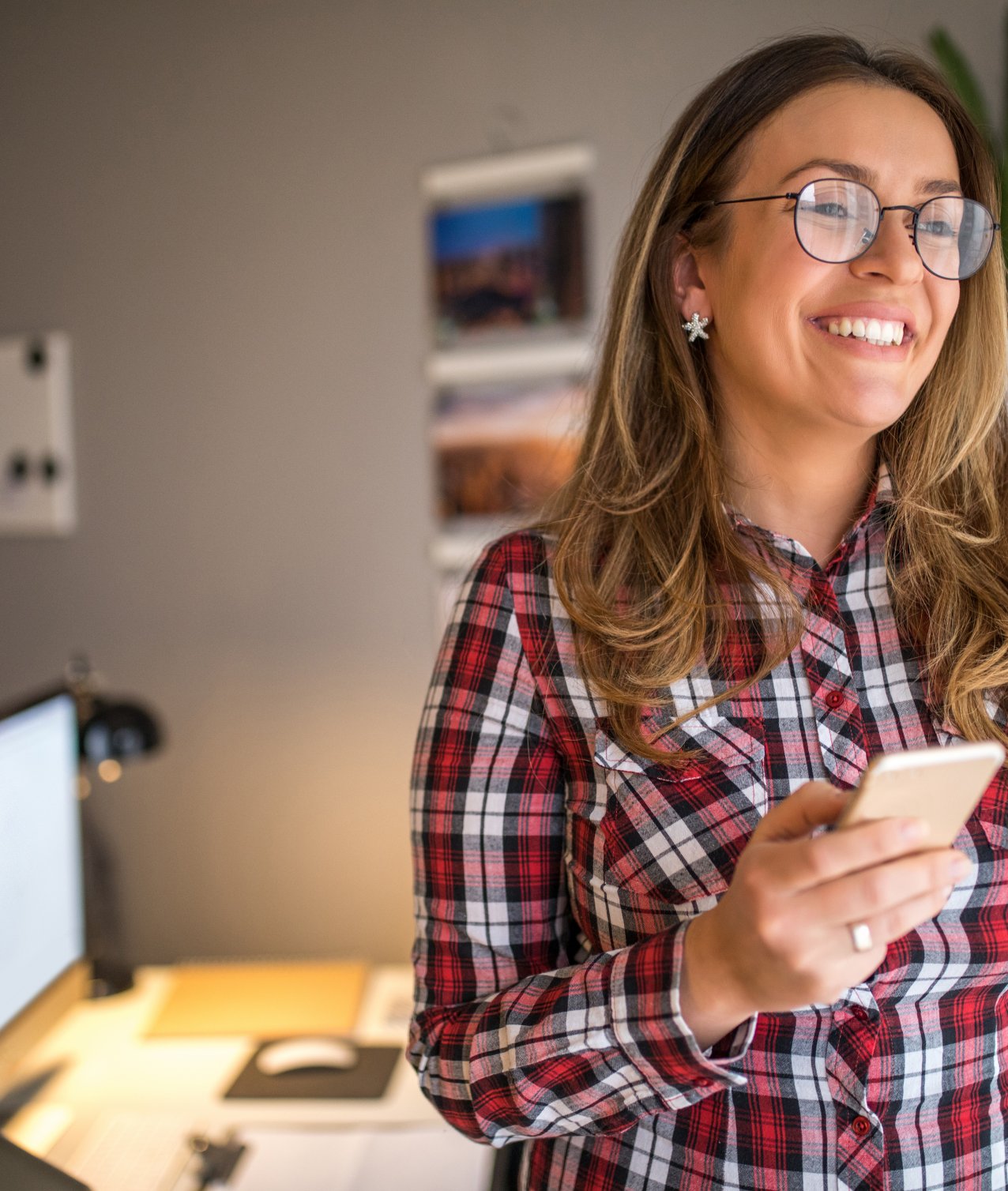 The Latest from Hourly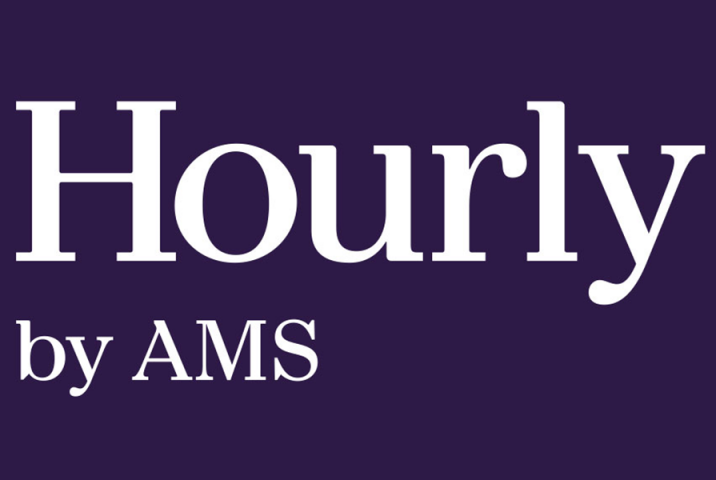 News
Hourly by Alexander Mann Solutions enables organizations to hire hourly workers faster and with greater precision through a completely conversational experience from explore-to-offer, in a single built-for-mobile solution.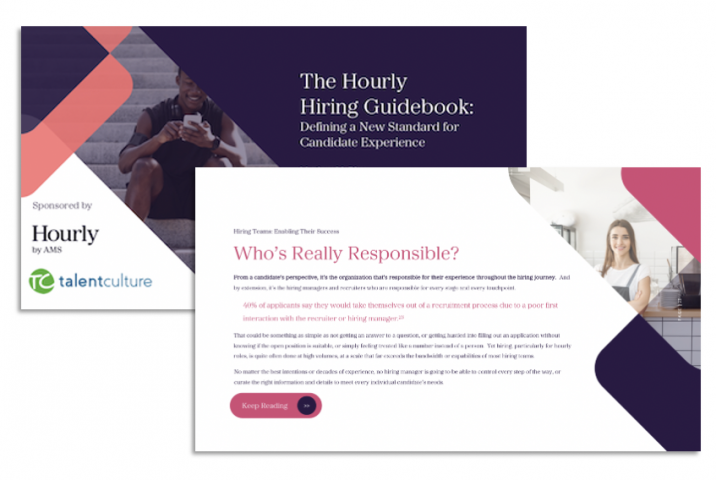 eBook
So much of our work lives has moved online during the pandemic: group meetings, chats with the boss — even interviewing for a new job. The pandemic has also led companies to conduct "interviews" without an interviewer.
Hourly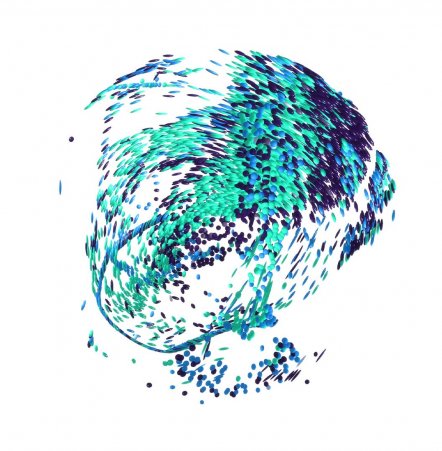 Start your journey to True Workforce Dexterity.
Discover how we can help you build, re-shape and optimise your workforce.
Talk to us