Whitepaper
Focus on What's Next
Moving Talent Acquisition forward in our still changing world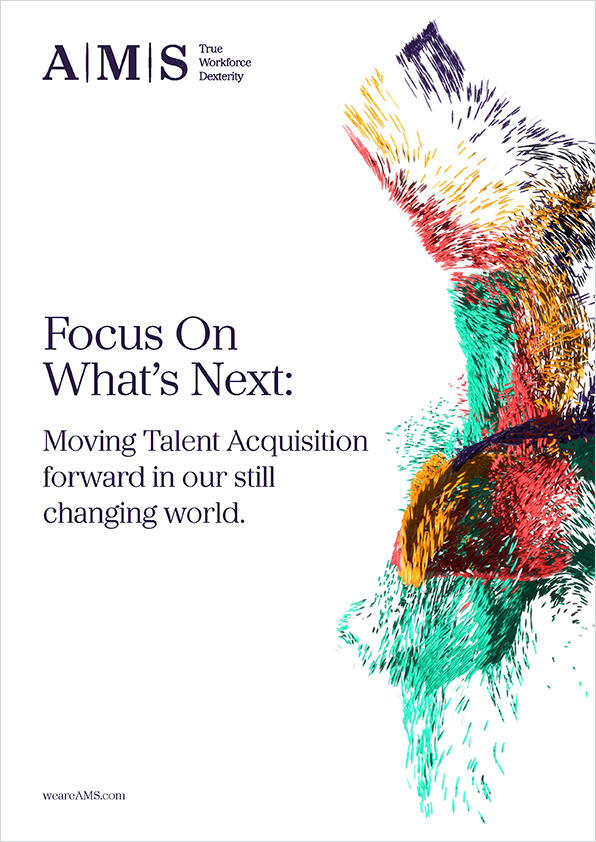 We're not ready to talk about "normal." But we can talk about what's next.
Though COVID-19 is still here and its continuing impact on business is undeniable, it's clear we're entering a new stage. It's the next step on the road to recovery. It's permission to plan and to look ahead—even if only a few months at a time—and to revisit, revise, and resume progress toward our goals.
We believe that there is no going back to the normal we once knew, but the future can hold new possibilities and opportunities if HR and Talent leaders are seeking them out.
As we move forward, we've identified four key principles to consider and strengthen—Align, Adapt, Amplify, and Assure. We've asked our thought leaders to expand on these principles, sharing their expertise, insights, and experiences in order to help you answer the question—what's next?
Download this booklet containing six articles, including:
Four "A"s to Move You Forward
by Laurie Padua, Managing Director—Talent Collective
Align | Evolving Talent Attraction & Engagement
by Sondra Dryer, Global Head of Employer Brand & Attraction
Adapt | The End of Transactional Sourcing
by Stuart Brown, Global Strategy Consulting Senior Manager & Carrie Brophy, Global Technology Consulting Senior Manager
Amplify | High volumes are coming—Is your assessment process set up to help you?
by Claudia Nuttgens, Global Head of Assessment & Development Consulting and Annie Hammer, Head of Technology & Operations Consulting—Americas
Assure | Protecting While Going Forward: 4 Smart Moves
by Kate Beach, Global Head of Strategy Consulting & PMO and Katy Grainger, Solutions Architect
Executing Your Plans for Change
by Erica Titchener, Global Head of Technology & Operations Consulting