Whitepaper
Employee Value Proposition
Decoding your value proposition to deliver a meaningful employer brand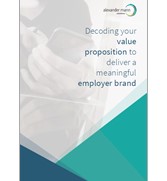 Decoding your value proposition to deliver a meaningful employer brand.
What do organisations, the ones that are constantly gracing the 'World's best employers list' do differently? How do they always ensure that they have a strong pool of candidates lining up to work with them? What's their secret?
In this whitepaper, we seek to answer those questions from the first-person perspective of a key thought leader in this arena. Our content looks to debunk the myth that client and prospect organisations need to 'create' an Employee Value Proposition (EVP) and discuss ways to build a strong brand, whatever the budget.
Our research explores the region from the vantage points of the following topics:
Debunking the myth on how EVPs are created
The importance of employer branding
Where to begin?