Amplify your High Volume Hiring
Three critical elements
to power-up your approach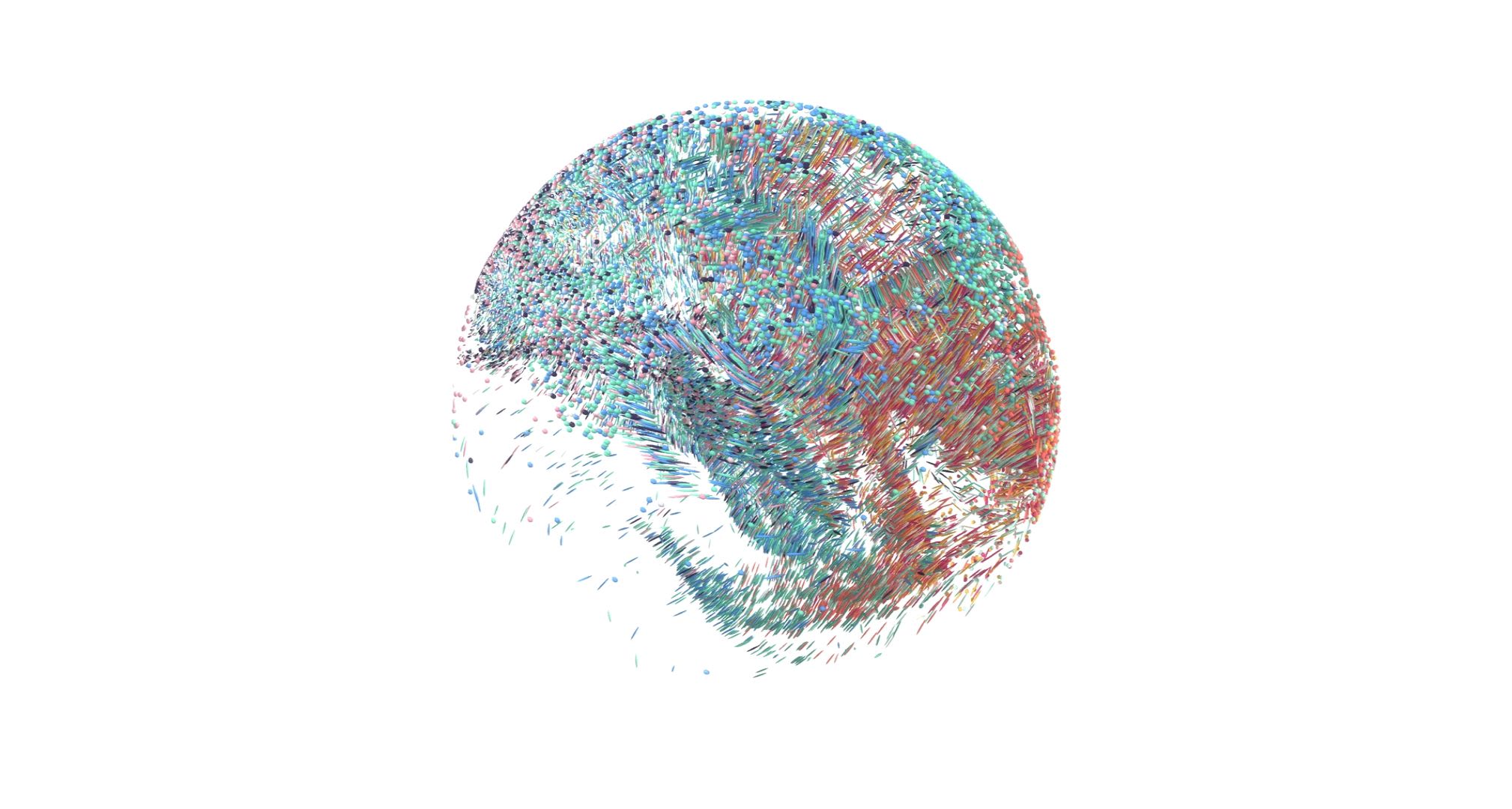 High volume hiring has always been complex.

But today it's more challenging than ever.
Turnover rates in hourly jobs create relentless demand, and systems for finding the right talent are often not connected or powerful enough.
It's common for businesses hiring hourly candidates to replicate the processes and systems they use for professional recruitment. But this isn't effective. It pays to think differently. If you don't fit your talent strategy to the unique needs of high volume hiring, your system won't provide the power you need.
A successful high volume recruitment strategy combines three critical elements: Technology. People. Process. Fused together, these three strands help you amplify your output.
So, how can you power-up your hourly hiring strategy?
High volume hiring has always been complex.

But today it's more challenging than ever.
Turnover rates in hourly jobs create relentless demand, and systems for finding the right talent are often not connected or powerful enough.
It's common for businesses hiring hourly candidates to replicate the processes and systems they use for professional recruitment. But this isn't effective. It pays to think differently. If you don't fit your talent strategy to the unique needs of high volume hiring, your system won't provide the power you need.
A successful high volume recruitment strategy combines three critical elements: Technology. People. Process. Fused together, these three strands help you amplify your output.

Technology matters, but how you use it matters more
Technology has transformed the talent industry at all levels, from mobile recruitment tools, to artificial intelligence in sourcing, interview and assessment processes. It's hard to keep up. But to increase speed of hire and reduce costs, volume recruitment needs tech.
Admin burden
High volume recruiting often means mundane, repetitive tasks. Take interview scheduling, for example. Your recruiter might need to arrange interviews for 10 candidates. It might take three calls to get through to each candidate before an interview is confirmed. Those 30 calls will take up a large chunk of their day.
Process overload
High volume recruiting means hiring the same profile of candidate over and over. If your application or interview stages aren't automated, the process becomes slow and inefficient. If candidates don't feel the process is moving fast enough, they will be easily swooped up by competitors.
The deal-breaker
Hourly candidates don't engage in the same way professional hires do. Your recruiters have to get creative in how they attract talent and find an approach that works for candidates' day-to-day. That means putting everything in the palm of their hands. You need to create an easy, fast, mobile-optimized experience.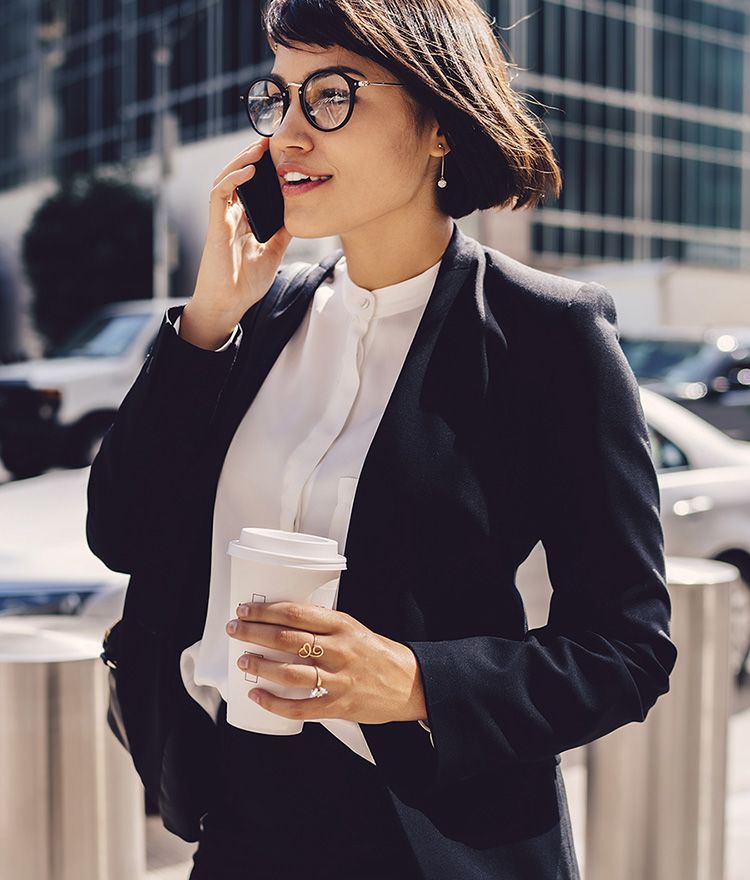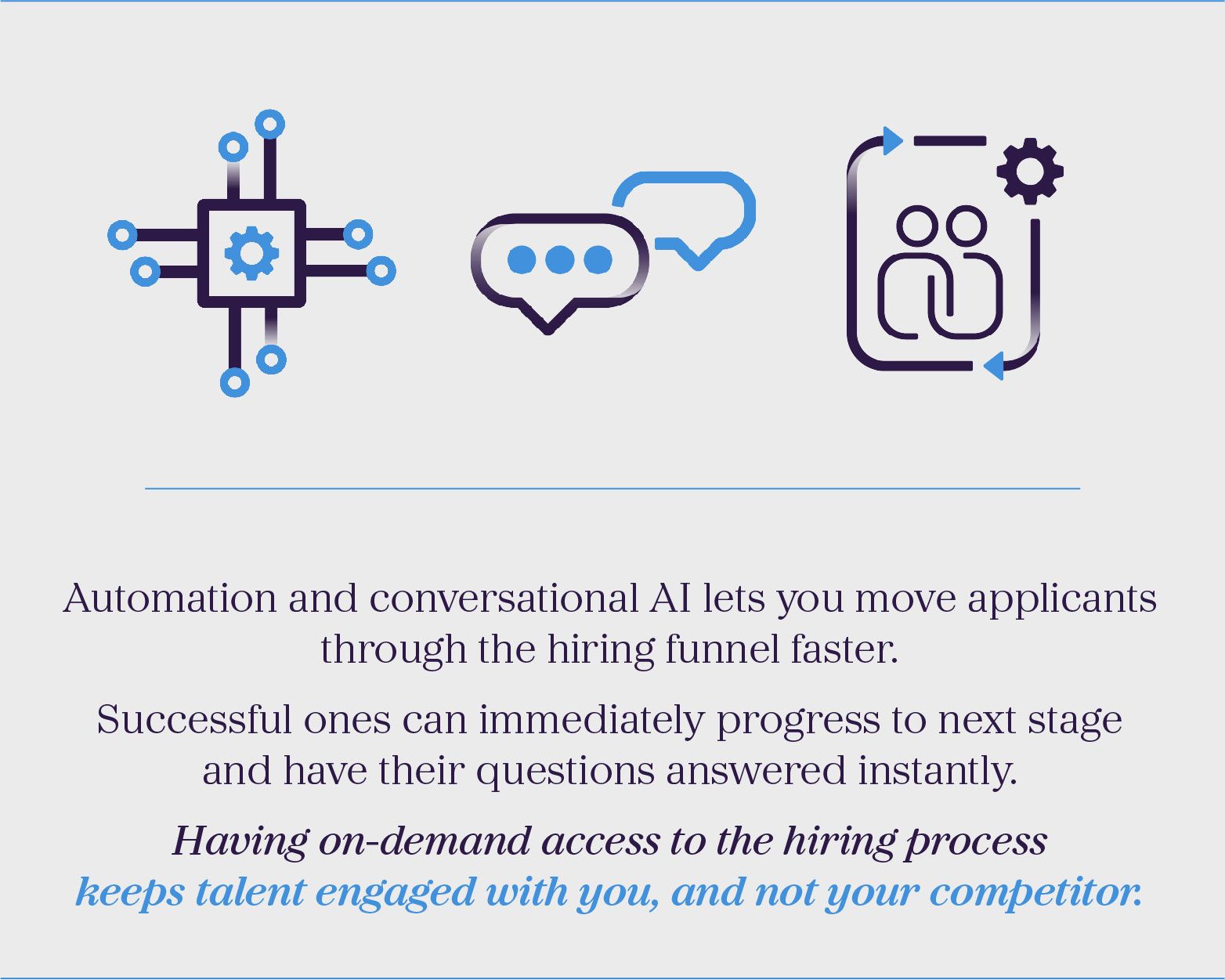 Technology, used in the right way, can supercharge your volume recruitment strategy:
Streamline scheduling
Interview scheduling software automates the entire hiring process. Candidates can select a suitable slot and confirm the meeting via email. This then adds the event to both the candidate and recruiter's calendars. Now, a process that took days to finalize is confirmed within minutes of a candidate accepting an interview.
Scheduling software also avoids any unnecessary errors or meeting clashes. This means you're not losing candidates because of minor admin issues.
Power your conversational AI capability
Automation and conversational artificial intelligence (AI) such as smart chatbots lets you move applicants through the hiring funnel at pace. Successful applicants can immediately schedule an interview to the next stage.
When it comes to candidate sourcing, AI tech spiders through a wide variety of job sites and channels – much more than an average recruiter can possibly do manually. This allows recruiters to review much larger talent pools and find more candidates.
Lastly, chat simulation software can take over answering queries, screening candidates, scheduling interviews, and framing questions that need to be asked. In today's market, immediate feedback is key to a positive candidate experience. By utilizing conversational AI, hourly jobseekers are guided quickly and easily through the process. More importantly, candidates get that instant contact at different touchpoints of the journey to keep them on board.
Switch on around-the-clock hiring
Technology means that volume recruiting is available 24-hours. Candidates can have their questions answered and schedule interviews even while your recruiters are offline. Having on-demand access to the hiring process – even when they're 'on the go' – keeps talent engaged with you, and not your competitor.
But the benefits aren't limited to jobseekers. With the right tech, your organization can check the status of open positions and respond to candidates in real time. Turning on 24/7 hiring means you have access to a larger talent pool.
Unlock the power of mobile
Meet hourly talent where they are.
The overwhelming majority (70%) of US jobseekers use mobile devices to search for jobs.
It's no surprise candidates are turning to their phones to job search. Mobile-based recruiting helps remove roadblocks when unnecessary logins or uploads are turned off. One-click apply options and automated reminders keep jobseekers connected and informed every step of the way.
Mobile also allows you to reach a much wider pool of candidates. Not all hourly workers can access a computer.
Get metrics that matter
Real-time data allows your business to look at specific hourly jobs, like cashiers or waitstaff, in a specific location. You can get fast answers to key questions like: Why is the attrition rate high here? Do job descriptions need to be updated to accurately describe the day-to-day environment and culture? Is compensation an issue? Maybe it's the manager?
What's more, data lets you actively address candidate slowdowns, discover trouble spots in applicant success, and find trends in scheduling and offers. Real-time insights can help you understand these nuances and adjust quickly. By accessing analytics, recruiters are also able to drill down on activity by stage, requisition, location, or date.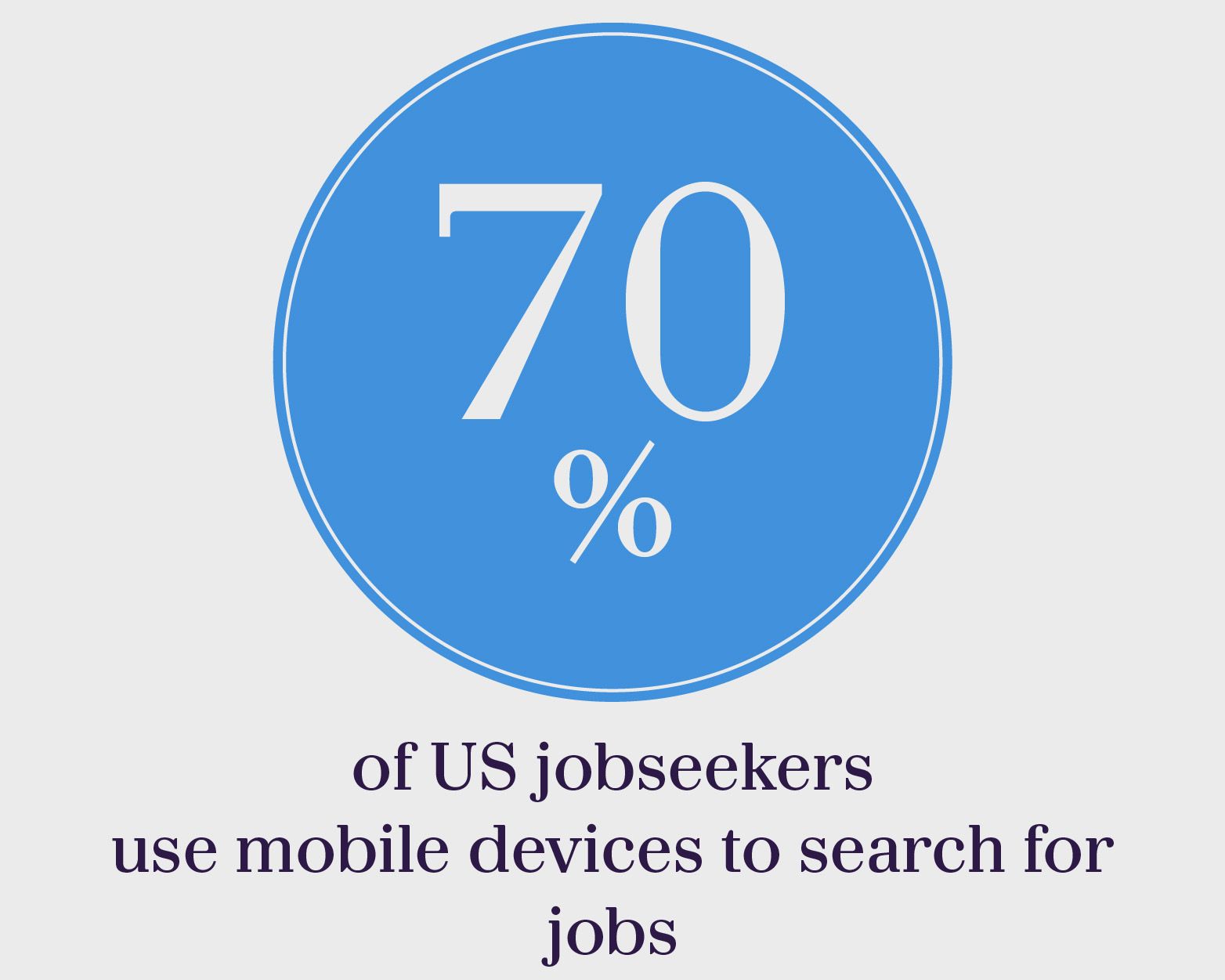 Key elements:
Automate anything that doesn't need the human touch. Get back time to focus on what matters: connecting with candidates.
Don't automate a broken process – fix the process, then use technology to accelerate it.
When McDonald's worked with us to become the first organization to provide a voice-activated job search, they placed themselves as leaders of innovation in the hourly hiring market. Candidates can initiate their job search by simply saying to their Google or Amazon device, "Alexa, help me get a job at McDonald's" or "Ok Google, talk to McDonald's Apply Thru".
The impact:
Increased speed throughout the entire hiring process
Reduced time to hire through a streamlined apply to offer solution
Launched across nine countries in seven languages
Find out more about the global-first, technology-led search solution. Read our McDonald's

success story.
Gap implemented our proprietary technology, Hourly by AMS, in 2021 and began phasing it across several distribution centers, accelerating their ability to hiring ability.
The impact:
During the first 72-hours live:
· 421 candidates applied
· Over 200 offers were extended with 100 offers accepted
· 345 applicant met minimum qualifications and were scheduled for an interview
1,000 offers were accepted in the first 4 weeks
86% of candidates engaged on their cell phones
80% saved on marketing spend
Converted 200% more candidates
Candidates hired in 1.8 days
Technology alone won't help you hire better. Optimizing how people use it will. The danger around technology is over or underusing it.
A powerful high volume program requires the right balance between tech and touch.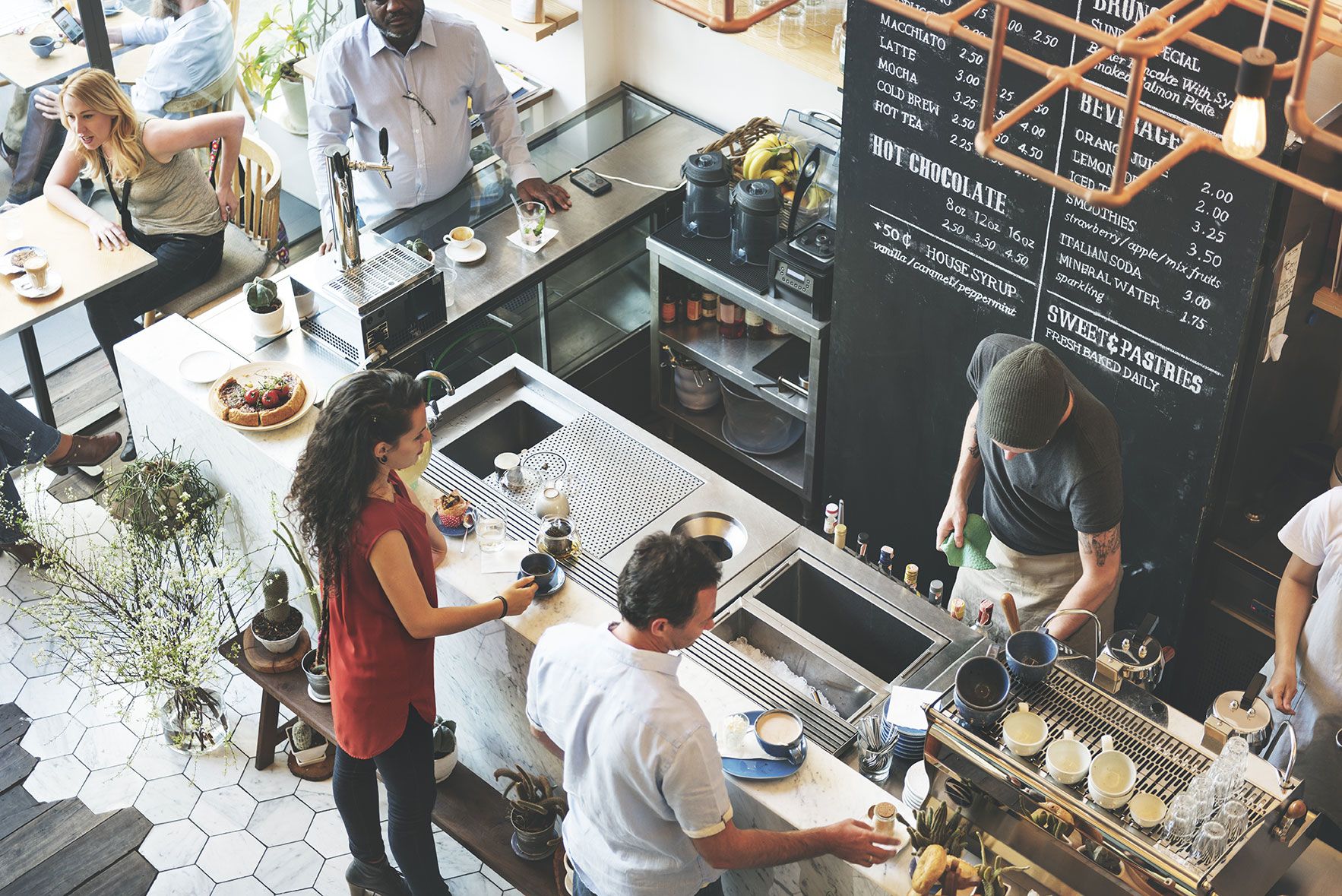 Plug in the personal touch
To supercharge your talent process, you need the right people, driving the right process, at the right time.
Your team needs to be hardwired into all things volume recruitment. Because research shows that, without the human touch and meaningful, enthusiastic interactions, you simply won't reach today's workers.
It's not possible to automate the whole process and expect the right candidate outcomes. Face time with prospective employees is crucial. So, when can you add the human touch alongside the power of technology?
It's not a tug-of-war between tech and touch. One should complement the other.
You can strike the right balance by using the human element at key stages:
Put a face to the process
When hiring hourly workers, candidate 'ghosting' is a top challenge for 38% of Talent Acquisition (TA) professionals and recruiters (TalentBoard 2022). Avoid people dropping off by engaging them with the right experience from the get-go.
Conduct a 'pre-close' interaction at the job offer stage. After a meaningful personal interaction with your recruiter, candidates feel an increased sense of accountability and loyalty. This means they're more likely to show up on their first day.
To meet or not to meet?
There are some things that just can't be communicated by tech. After qualifying candidates in online stages, schedule in-person meetings so successful applicants can ask questions – and recruiters can get a real feel for the person they're hiring.
This helps manage expectations before you send an official offer.
Follow up to scale up
Consistent communication: two words that have a huge impact. Maintaining clear lines of communication makes for an efficient hiring process and paints a strong image of your organization.
Develop a follow-up process. Personally touch base with successful candidates after an interview and send out any follow-up information quickly. Within hours not days. If you lose engagement, your candidates will go elsewhere.
Be the employer of choice
High volume hiring is a two-way street. Employers are looking for skilled talent, jobseekers want to work for an employer that embodies their values. Does your business have the right employer brand to appeal to the hourly talent you need?
An authentic and relevant brand story is your competitive advantage. Your company culture should be embedded into comms from the start of the process in channels where applicants are engaged – such as in job ads or interviews. But it'll come across even more strongly when communicated by a real person.
The human touch allows your employer brand to shine through clearly and authentically during personal interactions.
Key elements:
Jobseekers are also less likely to 'ghost' if they have had a positive experience with another person, not just a piece of tech. Don't forget the power of human interaction.
Use tech to solve the admin aspects and to streamline the process. But there must be a person at the end to collate information, analyze data, and review candidates.
Do you have the right people, trained in the right way? If someone is interviewing or spending time with applicants – face to face, virtually, or over the phone – make sure they know how to build connections.
Since 2009, we established an outsourcing and resource augmentation solution to jump-start Delta's hiring across geographies, roles, and levels. The multi-layered selection process blends automation and human touch to enhance the candidate experience.
The impact:
c.10,500 annual hires across airports and corporate headquarters
88% of non-flight attendant hiring in 2020 were 'blue collar' hourly
Servicing 90 airports across 15 US States
Centralized hiring events to harmonize hiring efforts
The fusing of technology and people will help engineer a powerful approach to secure hourly talent. But without the right strategic approach, volume recruiting will fail to get off the ground…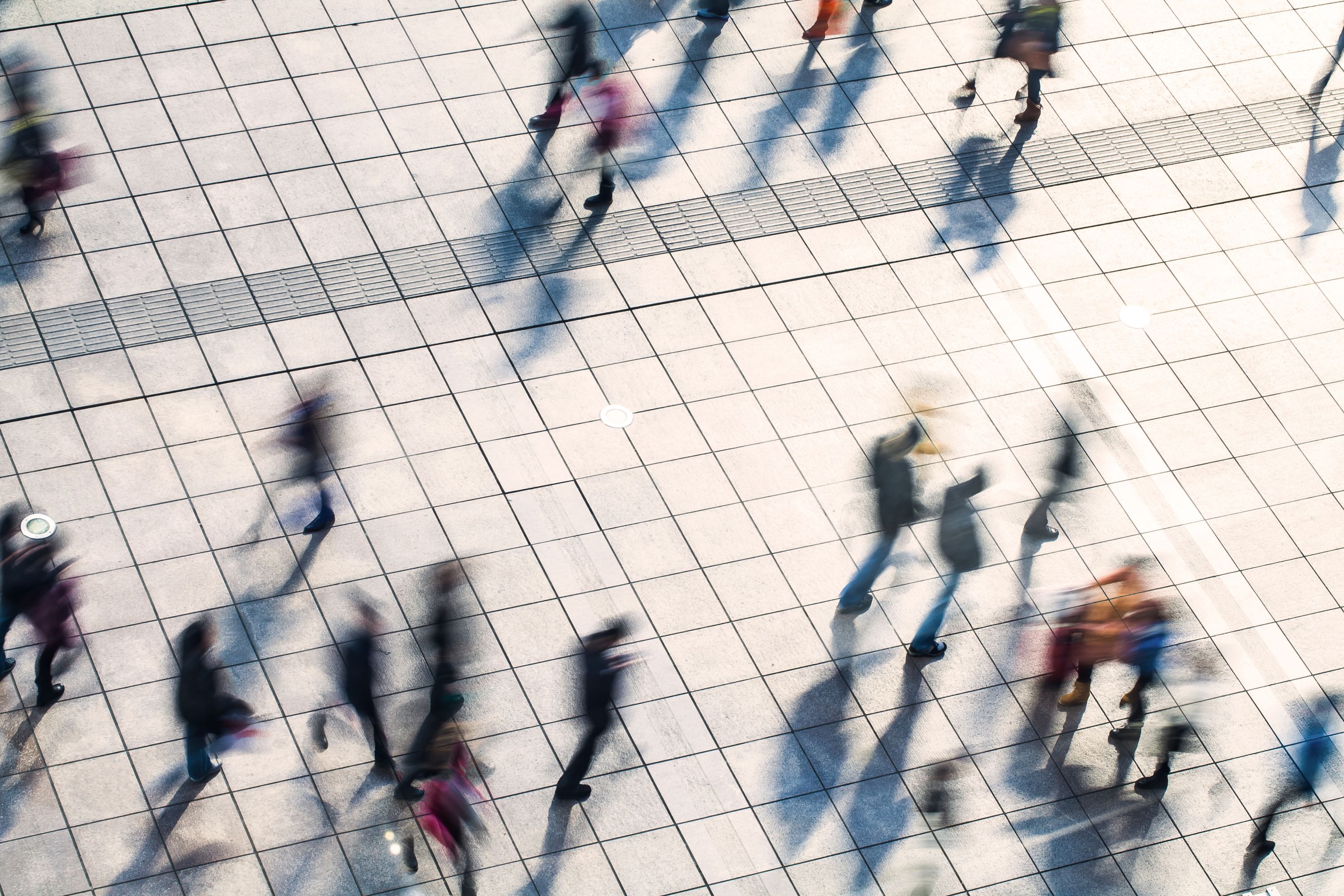 Process creates the final strand for success
Competition for hourly talent is fierce. High volume hiring processes have zero room for error. They must be speedy and simple.

The first thing candidates want from their journey with a potential employer is an easy application process. A repetitive, slow or disjointed process might cause them to drop out immediately.

If you're running through multiple phases of screening, assessment, and interviews, it's time to question: Is this really necessary? Are there opportunities to make the process simpler?
There are some easy ways to optimize your volume recruiting process:
Work your workforce planning
How are you handling workforce planning? In the current market, hiring needs are always changing. You need an agile team that can quickly respond to changing business demands. The answer could be leaning on a partner to outsource part or all of your internal processes and teams.
Define the right persona
Even if you know the most common profiles, get back to the floor. The roles you have been hiring for forever will most likely have shifted significantly in focus, or even in skills required, over the last few years.
What is important in that role today? Have any of the 'must have' requirements evolved, or even disappeared? Make sure you know who you're talking to
Get market insights that really matter
Once the person you want to hire has been identified, do you know where to find them? Do enough of them exist in the area you are hiring? What are they paid? Who is the competition? Having access to this information in invaluable. Use these insights to lead your recruitment strategy and even business planning.
Make sure your sourcing strategy is sound
When it comes to volume recruitment, you can't rely on LinkedIn advertising alone. The key is grassroots sourcing. Candidates often come from the local area. Make it as easy as possible for them to walk in and ask about a role.
Local communities are always happy to help. Religious organizations, sports clubs, housing groups, and charities will go the extra mile to align those in need with opportunities. Make the time to ask. Job advertising and partners can then fill gaps in local organic traffic.
Assess and select, or streamline?
Should you use assessments at all? If you choose to, where and when? Formalized assessment tools are useful. They can give candidates a sense of the role and help prioritize high quality candidates.
But do they do this for you? Or are you running a legacy battery of tests that don't have much relevance to your open roles, or are slowing down the candidate journey? Try your own process out to sense check how it feels from the outside. This can help to identify unnecessary stages.
Deliver on DEI
Diversity, equity, and inclusion (DEI) is high on the agenda, and rightly so. To amplify diversity and reflect the communities you serve, you need to apply the DEI lens to the entire talent process.
Are you looking in the right places? Do you understand hiring metrics throughout the funnel, and at what point people might be exiting the process? Are you truly diverse in the way that is displayed on job descriptions? Is your recruitment process inclusive?
There might be a new talent pool out there just waiting to work for you.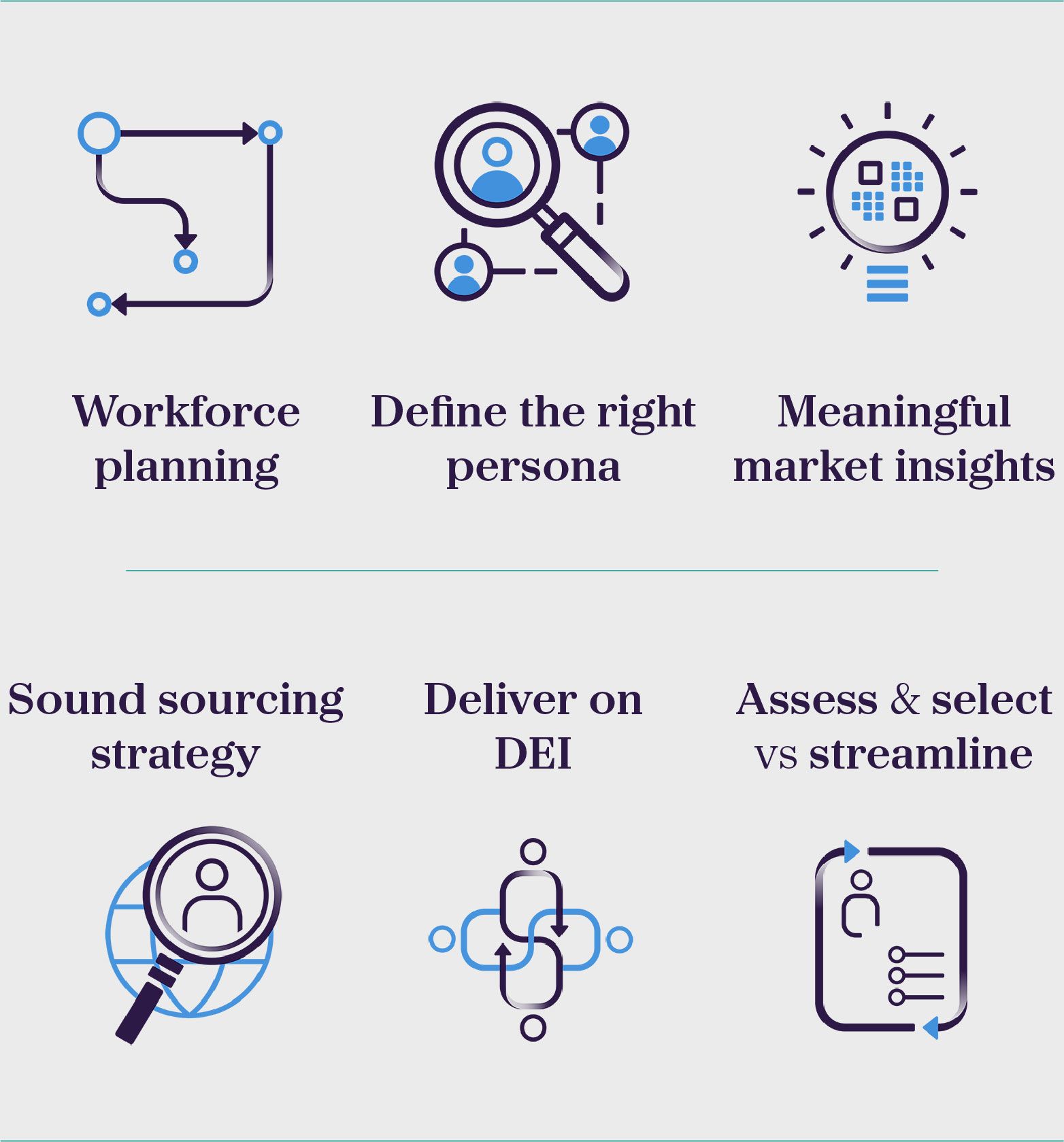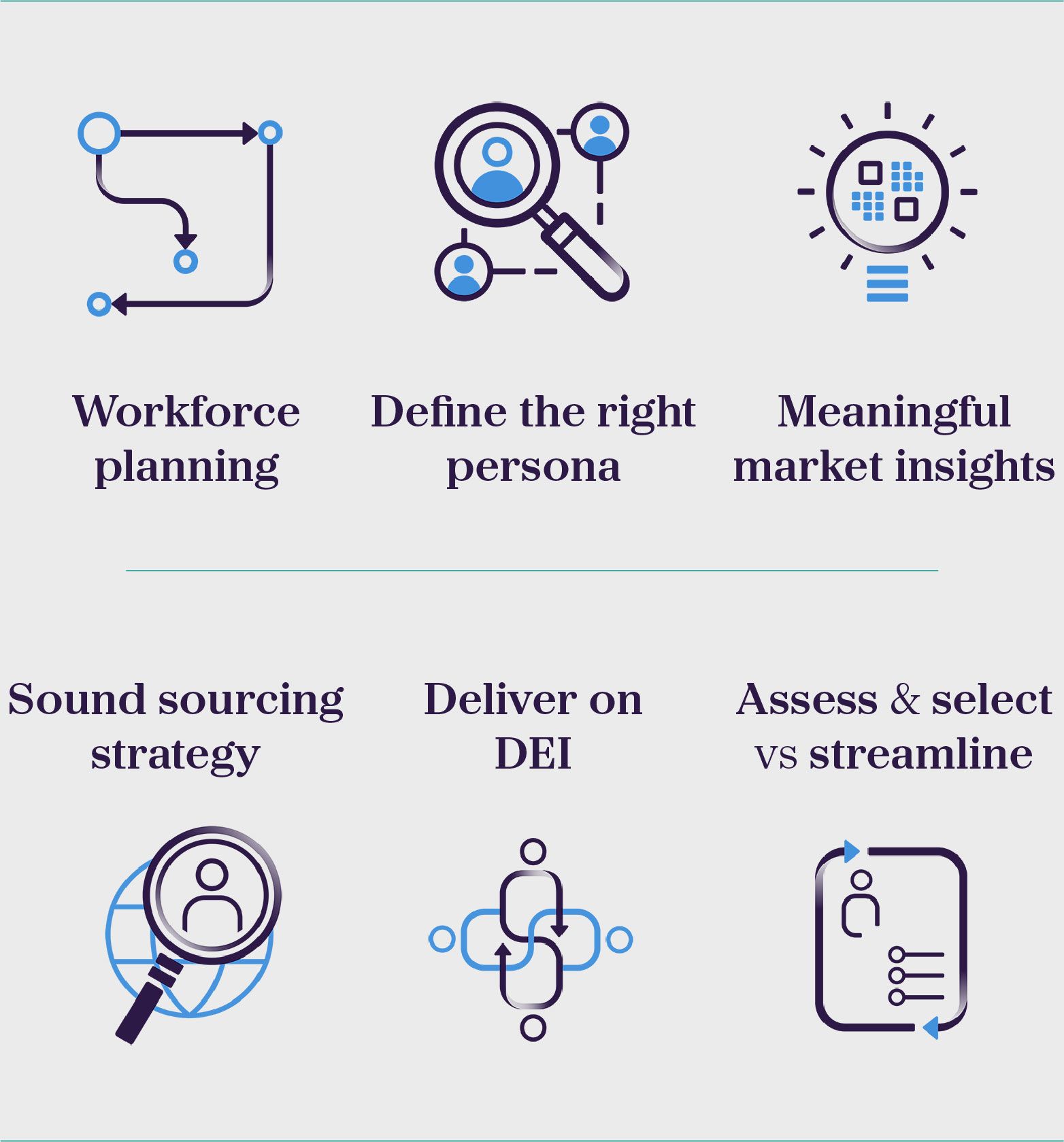 Key elements:
Process is the powerline to your high volume hiring strategy. But it's not one-size-fits all. Make the process work for your business. Test out your current strategies and identify the pain points.

Not every element of your current hiring strategy may need changing. Small tweaks to the process can make a huge difference.

Powering a successful high volume recruitment strategy
To power up your high volume hiring capability, you need to plug in all three elements: Technology. People. Process.

Technology solves the problem of hiring at scale, and with speed. But without people and process, your organization won't deliver the right experience to beat the competition. Only the three working together will create an agile high volume strategy that can be fine-tuned and amplified to your exact needs.

If you need help fusing these elements and powering-up your strategy, connect with one of our experts today.