Whitepaper
Toward A Total Talent Future
A competitive business advantage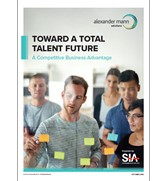 In this new research report, we've partnered with Staffing Industry Analysts to shed light on exactly how an organization can attract, retain and manage a workforce as one entity and show why the time is now for Total Talent.
Together, with our heritage as the forerunner of the Direct Sourcing model for hiring contingent work, and a leading innovator in the space today, and SIA's unparalleled research capability and access to the world of staffing, we explored how talent acquisition and the development of total talent solutions is evolving.
The result is the report 'Toward A Total Talent Future: A Competitive Business Advantage.'  While progress towards Total Talent has been hampered by various factors over the years, our survey of over 150 global enterprises organizations shows that organizations with a Total Talent program in place, or those considering implementing one within the next two years, outnumbered those with no such plans by a factor of three to one.
This finding is just one revealed in the full study. In addition to survey data, the research is based on a series of in-depth interviews with global HR, Procurement and workforce professionals to gauge their opinion on talent acquisition and management trends and, in particular, issues relating to the emergence of Total Talent programs.