Whitepaper
The Next Chapter
Your new global graduate programme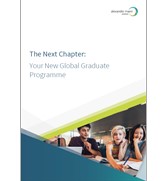 In our latest instalment of Emerging Talent focused research, The Next Chapter – Your New Global Graduate Programme explores best practices and strategies from leading global organisations, to understand how to effectively attract, engage and retain, the rapidly changing global talent pool that is Emerging Talent.
Thinking about your Emerging Talent strategy?
Along with our own research findings, we examine how some of the most ambitious and innovative international employers are tackling the challenges of today's Emerging Talent landscape and steps they are taking to minimise risk and capitalise on opportunities of tomorrow.
This paper features insights and first-hand experiences from senior experts at leading global blue-chip organisations including the likes of  BNP Paribas, Citi, Deutsche Bank, GE, HSBC, Rolls-Royce and Statoil.
This research explores:
Graduates Rule Why international Emerging Talent programmes still seem dominated by university graduates
What are graduates actually for? And what do they add to your company?
The route to a truly global workforce How do we get there?
The challenges of global recruitment And how to meet them
Targeting the audience How to truly be effective and engaging
Millennials, Gen Z and Snowflakes? New strategies for a new generation
The Cutting Edge Innovations across the Emerging Talent landscape
The Future   Thoughts and insights on what you can do next