Whitepaper
Getting There First
How to win the battle for campus talent in the US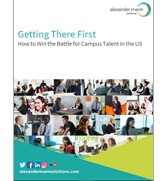 When it comes to the management and development of human resources within organizations, few – if any – countries take the subject quite as seriously as the US. Which is perhaps why the US has been responsible for some of the most significant developments in the discipline – from the Myers-Briggs test to shared services, centers of excellence and business partners – for well over a hundred years and why HR specialists globally might be hard pressed to deny that, what the US does today, the world does tomorrow.
Thinking about your college hiring strategy?
Our exciting new white paper explores innovative developments and highlights best practices in the sourcing of high-caliber graduates from our extensive network of companies across the US including BNP Paribas, Medtronic, Merck & Co, Rolls Royce, Synchrony Financial, and more.
In this white paper we will be looking at the campus talent landscape in the USand examine how major employers are engaging with, assessing and finally hiring members of this all-important audience.
Engaging and attracting a new generation of campus talent, perhaps with different motivating factorsfrom their predecessors, is one of the most significant challenges in HR, and specifically in talent acquisition, today. The question is, are US employers still leading the way?
This research explores:
Early engagement When is the right time to start talking to your audience?
The role of the internship The internship model could be in an era of transition
Showing up How important is physical presence on campus?
Preparing the ground The promise of online engagement
Tackling the diversity challenge Not just the 'right' thing to do, but a commercial imperative
Talking the Gen Z language Does the new generation need new messages?