Whitepaper
Global Shared Service Centre Locations
A complete analysis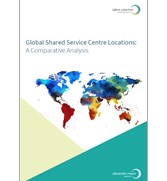 How has the shared services field evolved globally, where are the international leaders today, and what does the future hold for this industry?
This paper provides a summary of the key results of top cities for shared services operations globally. It includes a detailed comparative analysis of mature and emerging cities for shared service centres, as well as a further impact analysis focused on technology as a disruptor.
Our research explores:
Which countries and regions stand out as the best choice for a global shared service centre?
Asia How do various regions in India compare to China and the Philippines?
Central & Eastern Europe How will Brexit affect the attractiveness of CEE as a shared service centre destination?
The Americas North America vs. Latin America - which will come out on top?
Country Comparisons What do the cost and ease of doing business, infrastructure, and workforce look like in top cities for shared service operations?
Comparative Analysis by Region What are the overall pros can cons?