The Renewable Energy Talent Dilemma
How the TA community can help accelerate the energy transition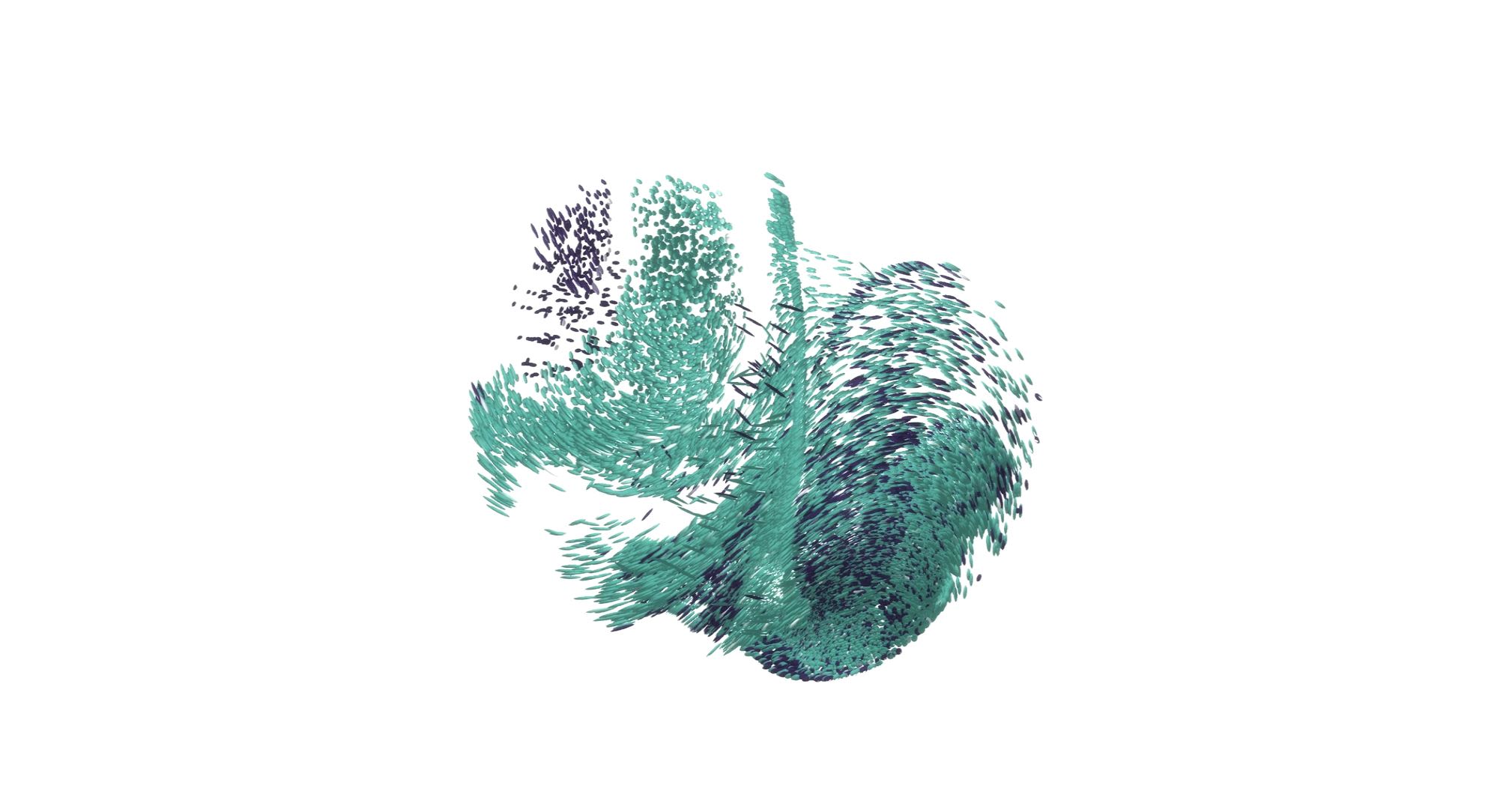 Introduction
According to IRENA's World Energy Transitions Outlook: 1.5°C Pathway, employment in the renewable energy sector will need to more than triple, from 12 million in 2020 to 38 million by 2030 if we have any hope of delivering on global climate commitments. Such is the demand that if we simply recycle the existing pool of talent and supplement this with school and college-leavers we will be nowhere near to achieving the growth that the renewable energy sector needs.
Those of us involved in attracting and fulfilling the talent demands of the renewables sector have an opportunity to play a crucial part in accelerating the energy transition. In this paper we explore three ways in which the talent community can help: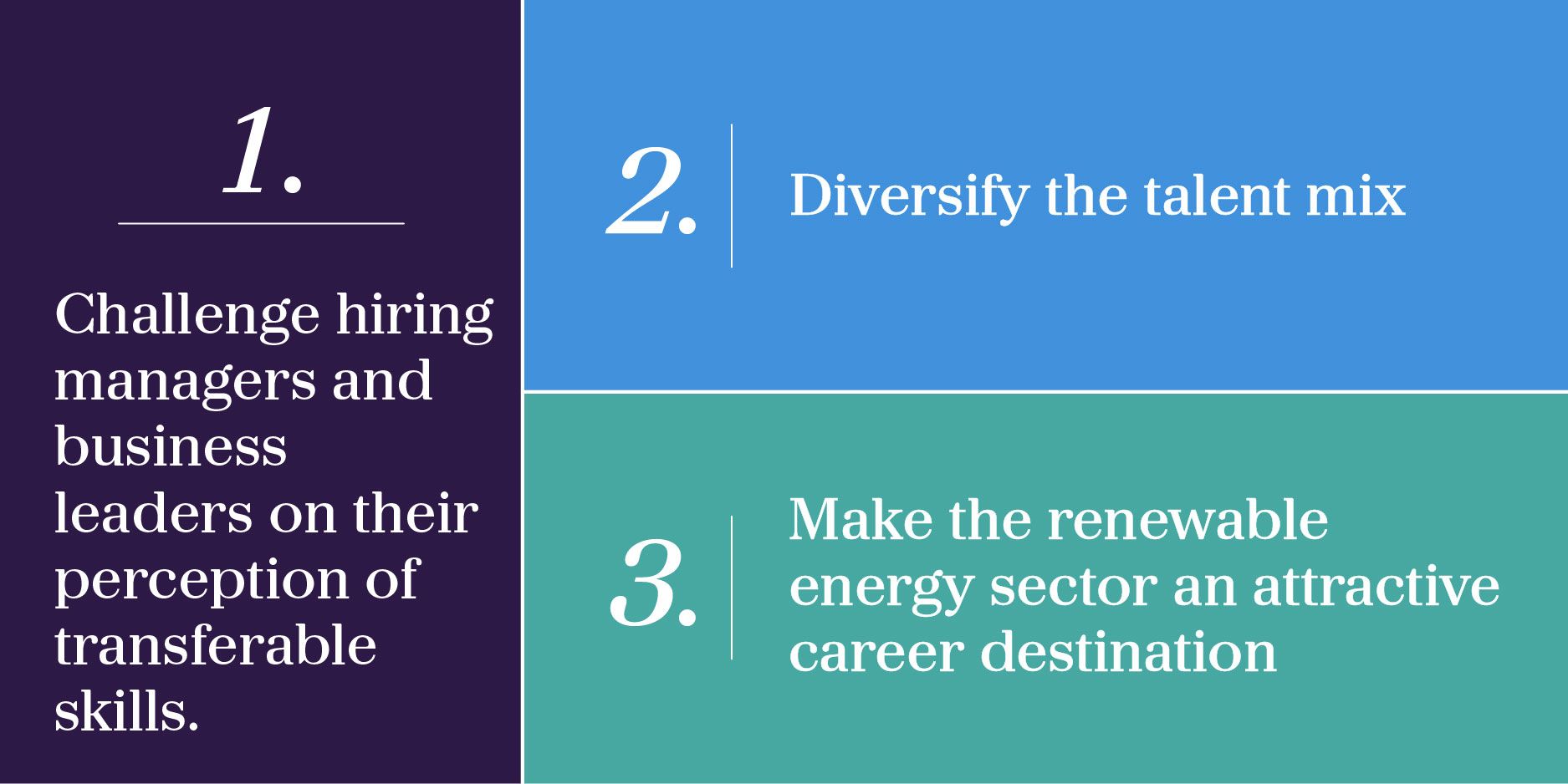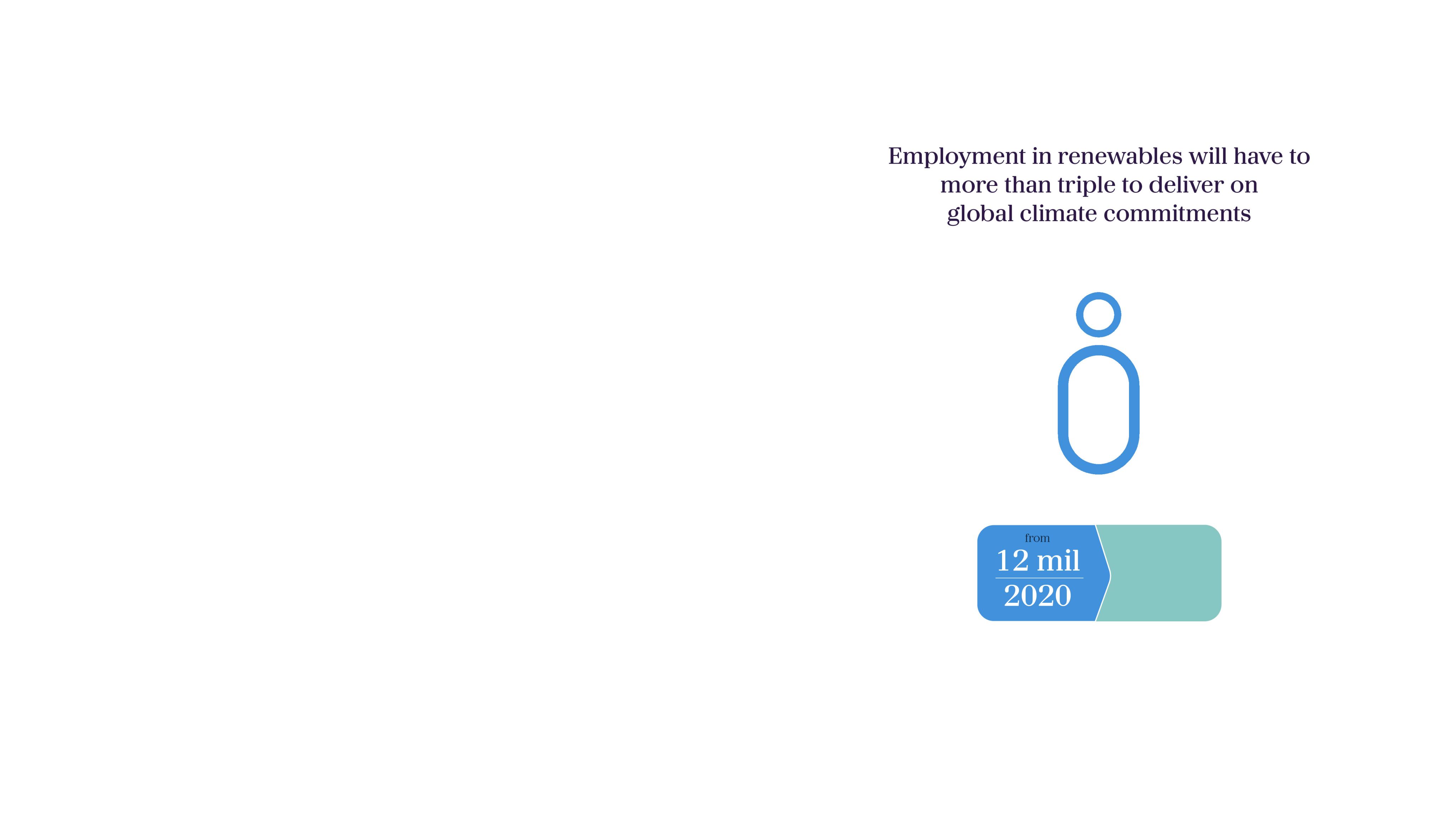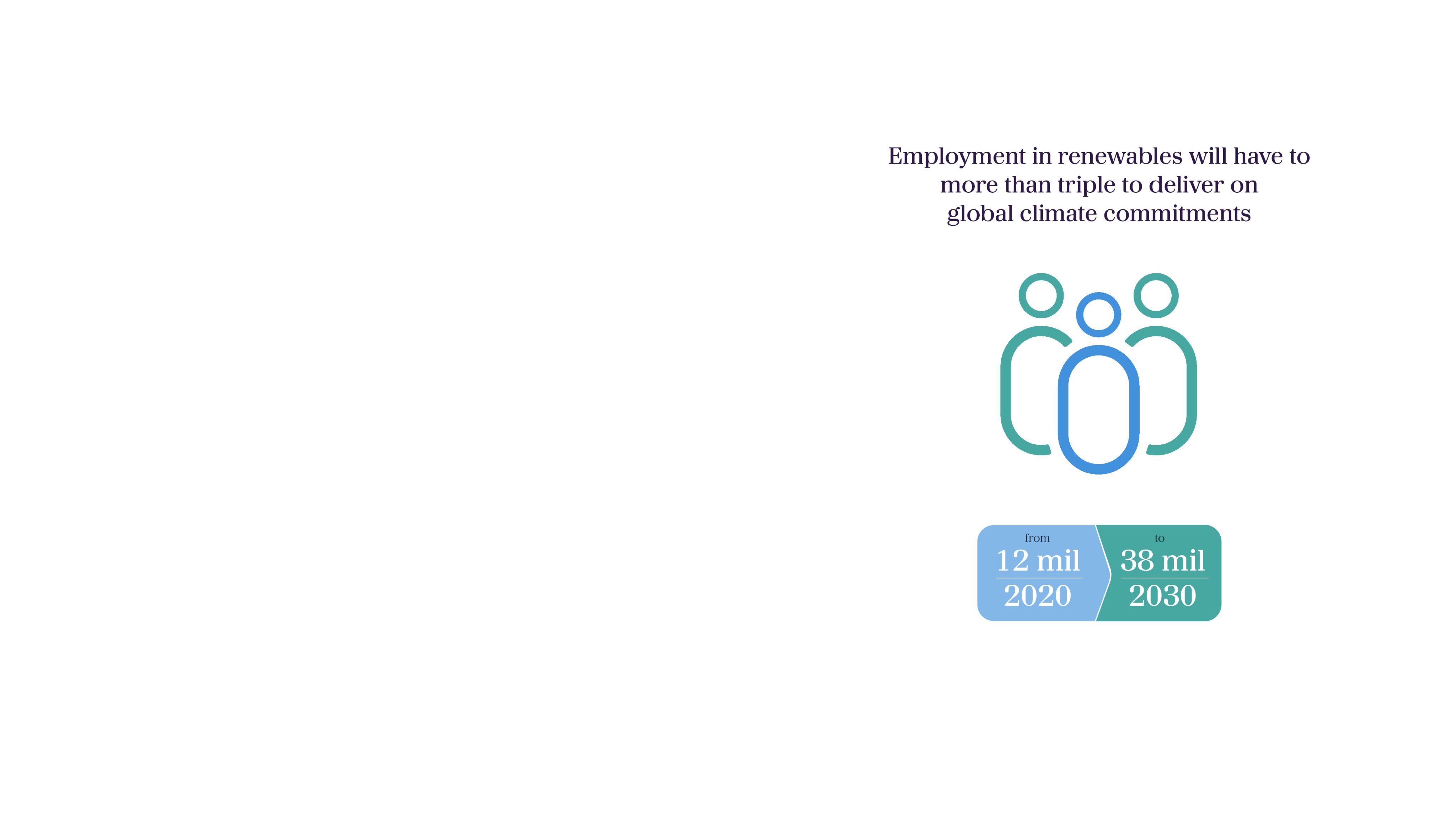 Introduction
According to IRENA's World Energy Transitions Outlook: 1.5°C Pathway, employment in the renewable energy sector will need to more than triple, from 12 million in 2020 to 38 million by 2030 if we have any hope of delivering on global climate commitments. Such is the demand that if we simply recycle the existing pool of talent and supplement this with school and college-leavers we will be nowhere near to achieving the growth that the renewable energy sector needs.

Those of us involved in attracting and fulfilling the talent demands of the renewables sector have an opportunity to play a crucial part in accelerating the energy transition. In this paper we explore three ways in which the talent community can help: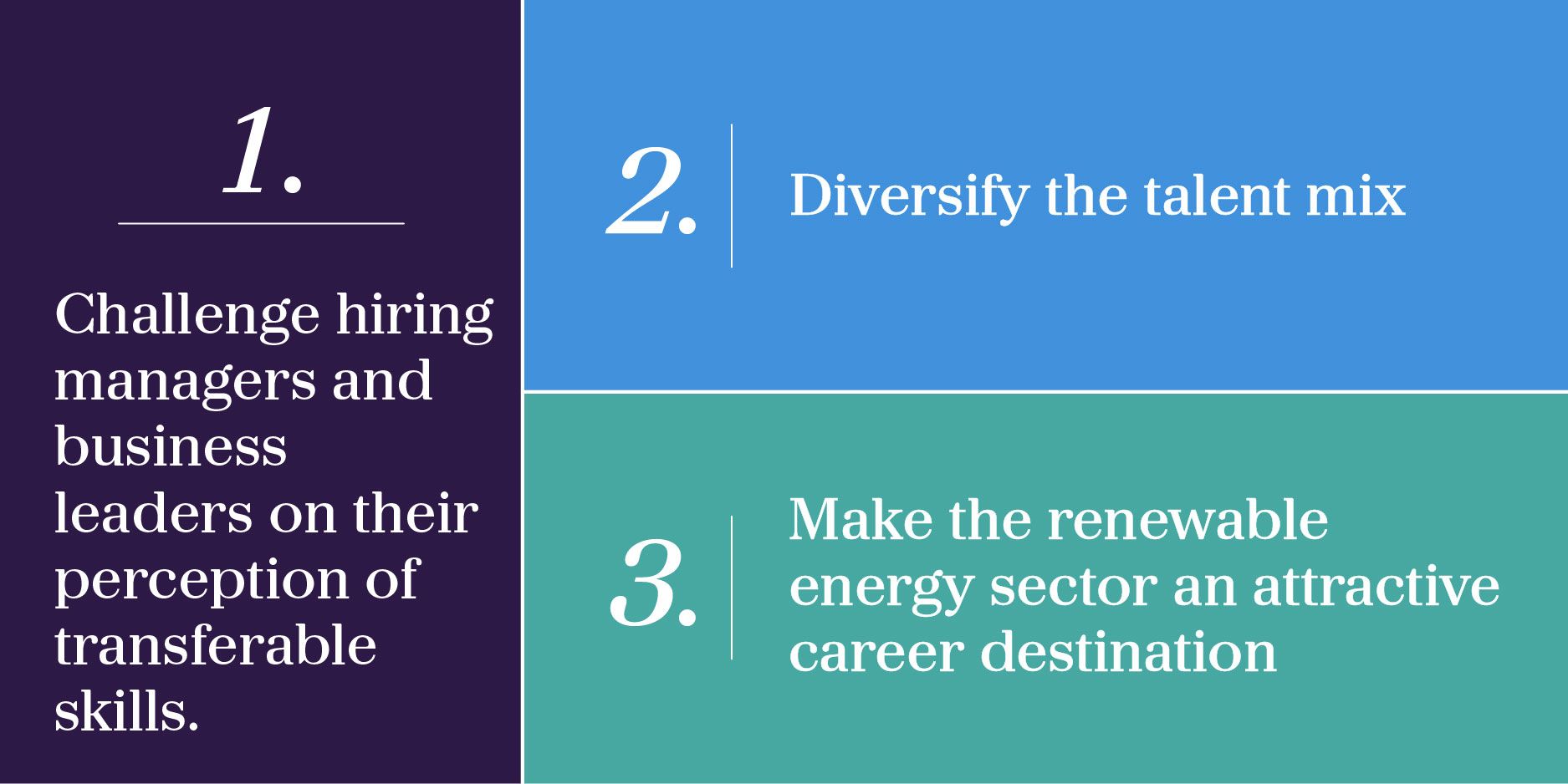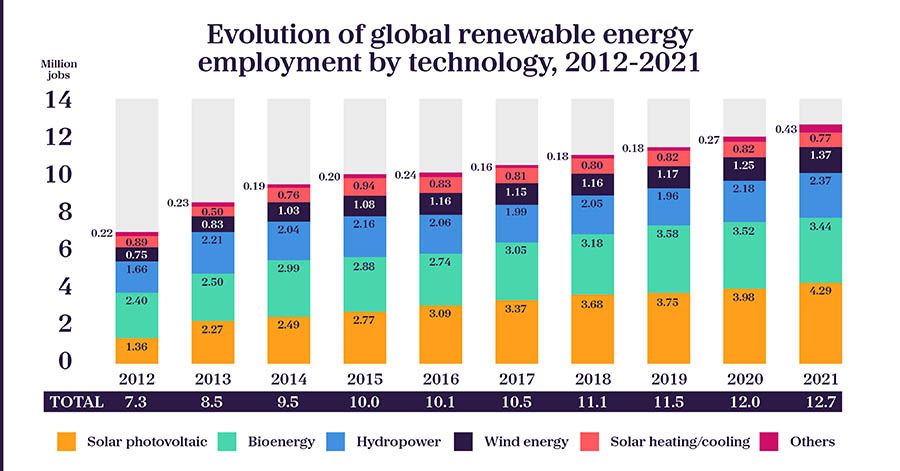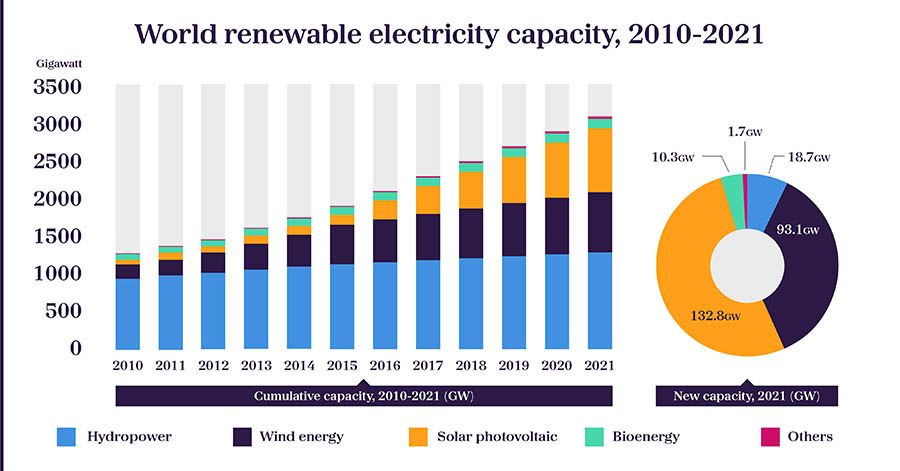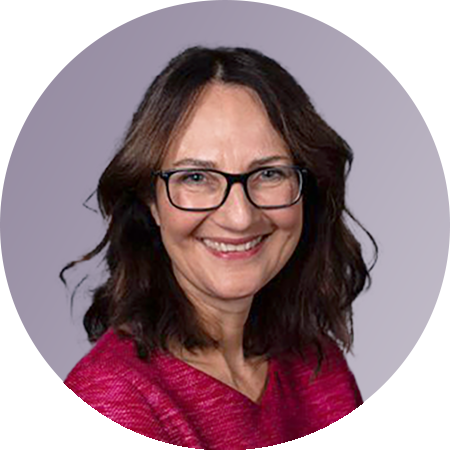 Lynne Gardner
Sector Managing Director
Engineering & Industrials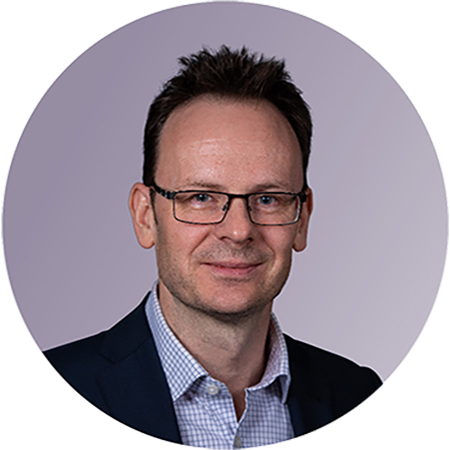 David Ingleson
Client Director
Changing mindset on transferable skills

Embracing the idea of recruiting for transferable skills and dropping the existing notion that prior experience in the renewables industry is required to succeed, is one strategy which the industry can take to meet the predicted demand for jobs in the renewable energy sector.
There is plenty of evidence that talent acquisition professionals can draw on to challenge hiring managers and business leaders on their perception of transferrable skills and build the case for recruiting outside the sector.

Not all renewable experts work in the sector
IRENA reports that 838,000 people were employed in the renewables sector in the US in 2020. But according to our research carried out on SeekOut in December 2021, there were just short of 1.2 million people who categorised themselves as being skilled in renewables - nearly 45% more than are reported to be employed in the sector.
We see a similar picture in the UK. IRENA reported 138,000 people employed in the sector but according to our SeekOut research, 365,000 categorised themselves as having renewable energy skills - more than 2.5 times the number of people employed in the sector.

Not all jobs require formal training
IRENA's Renewable Energy and Jobs Annual Review 2021 also shows that around half of all jobs in the sector only require minimal formal training and a non-degree level education, meaning that they are very accessible. This means that people with practical problem-solving skills and a good level of manual dexterity should be deemed as having highly transferable skills, and this talent pool could be available from a variety of industry sectors.
20% are corporate roles
In addition, if we assume that between 10 and 15% of all roles within renewable energy companies will sit in corporate and administrative functions (20/22% according to the US Department of Energy) there is much more likelihood that this proportion of roles can be filled by people who have no previous experience in the sector (apart from highly specialist regulatory or legal roles).
The most requested skills are universal
We can also see that the top five skills featured in the job adverts posted by the top US renewables employers (January 2021 to January 2022) are universal. They were Communication 71% (of all adverts), Analysis (41%), Written Communications (34%), Verbal Communications (34%) & Planning (30%).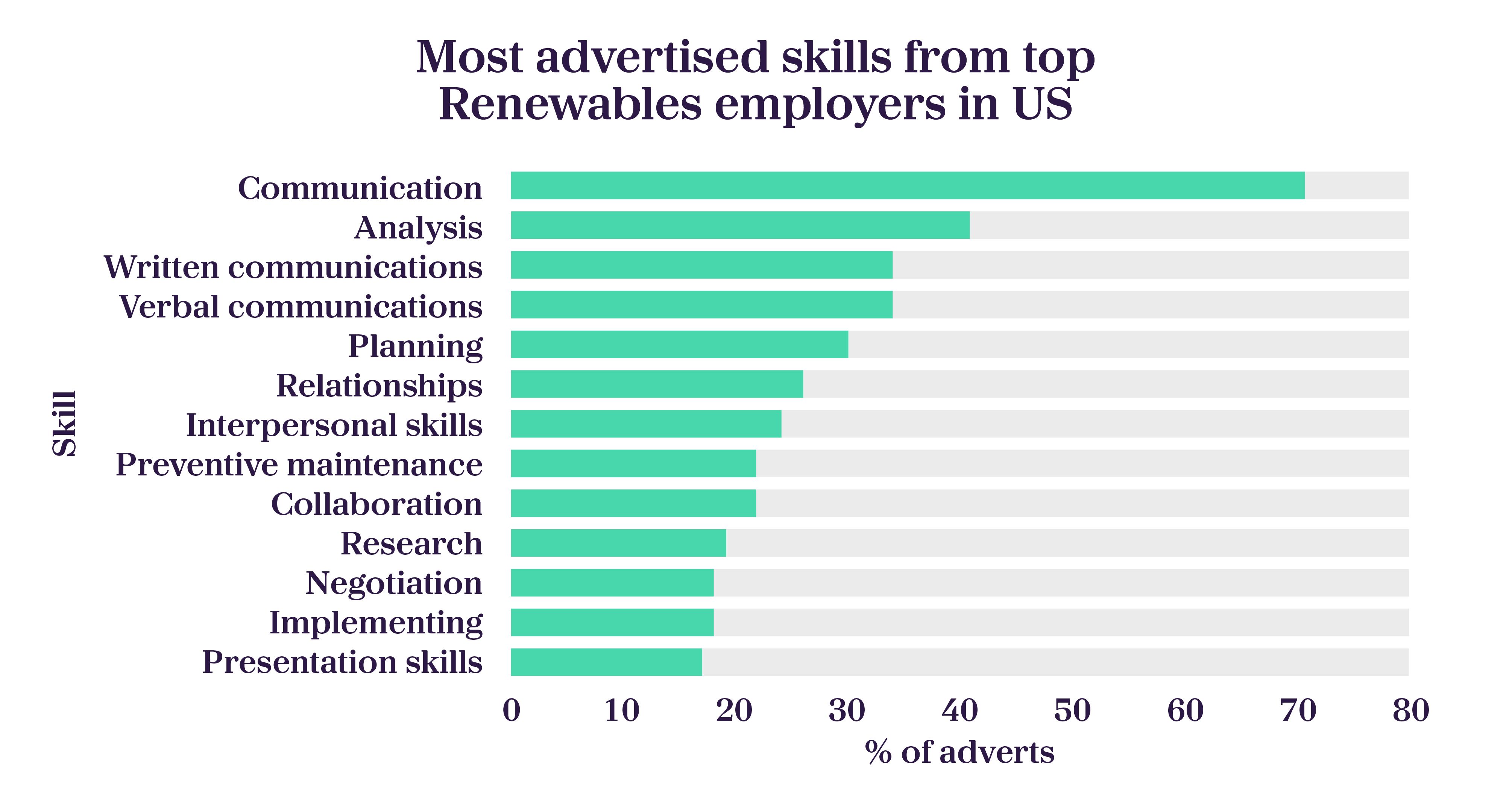 'Project Management' is the skill mentioned most often in professional profiles of candidates working in the UK renewables sector (28.6%). 'Management' is listed third at 27.8%. Other skills making up the top 10 include 'Engineering', 'Project Planning', 'Business Development', 'Business Strategy' and 'Customer Service'. (AMS research carried out via SeekOut and TalentNeuron).
All these skills are attributed via self-assessments and not necessarily listed as requirements by decision makers in the hiring process. However, if talent acquisition teams were able to highlight trends of this nature, they could open new pools of candidates outside of the sector.

What industries can we recruit from?
AMS studied the industries that professionals worked in prior to joining renewables across the US, UK, Denmark, Norway, and Sweden. Fairly unsurprisingly, oil and gas came top of the list.
In many cases candidates have worked for a company transitioning from oil and gas to renewables. In these cases, candidates can move internally and are likely to adapt more quickly as they already understand company processes, values, systems, communications styles and may have established relationships with colleagues.
The 2021 UK Offshore Energy Workforce Transferability Review from the RGU Energy Transition Institute found that 70% of the UK oil and gas workforce have medium skills transferability to other energy areas and another 20% have high transferability.
This is particularly evident in the off-shore wind sector as high levels of transferability exist within manufacturing, planning, maintenance, and operations – all of which are aligned to some of the major challenges associated with large engineering projects in deep sea environments.
However, The Society for Human Resource Management's report 'Preparing for an Aging Workforce', shows that approximately one-quarter of the current energy sector workforce is over 55 years-old and within 7 years' time will retire.
The oil and gas talent well will eventually run dry.
Second on the list of potential sources for renewables sector candidates are those coming straight from education, followed closely by those from engineering consultancies. These candidates are often already embedded within client organisations so can transfer into renewables with relative ease.
Notably, other sectors that feature high on the list are: the military, finance, automotive, defence and IT. All industries that require candidates with good technical competencies are good sources for transferable skills.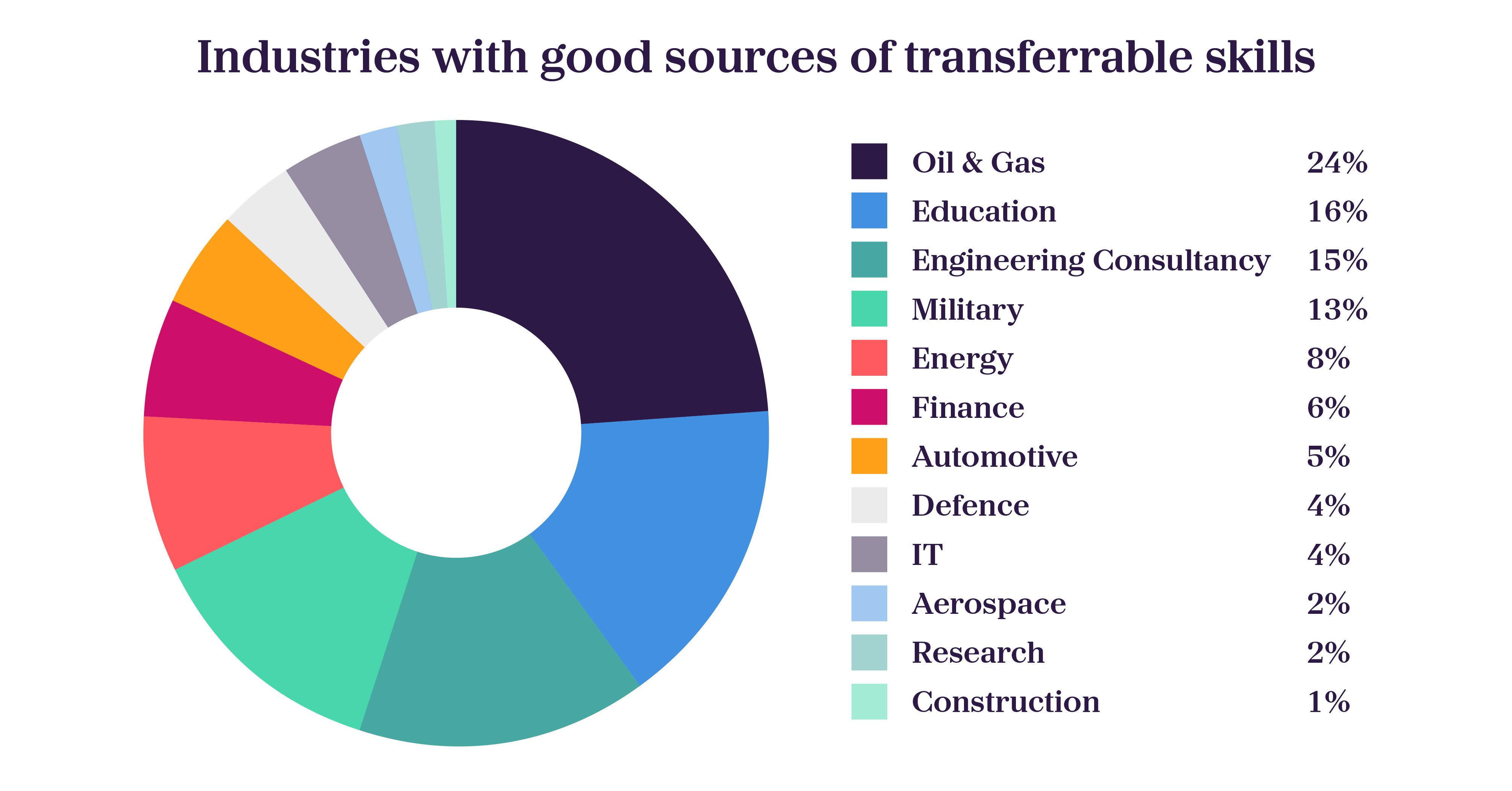 Encouragingly, we are already starting to see some evidence that companies are searching for the relevant skills, over sector experience.
AMS recently analysed the fastest growing role requirements in the renewables sector taken from job adverts in US.
Over the course of the last 12 months, the required skill, 'Technical Direction' has increased by 1592%. 'Statistical Analysis' has gone up by 677% and 'Analytics' by 510%. The biggest increases were seen in 'Electric grid' (1729%) and 'Electric power systems' (1637%). On the flip side, the requirement for 'Renewable energy technologies' knowledge dropped by 21% and 'Renewable energy industry' dropped by 4%.
There are of course some roles which will require specific experience but if companies can hone in on the most crucial, core skills and identify where those skills exist in other sectors they will open up new talent pools, and open the doors of the renewables sector to the next generation of the renewables workforce.

Actions for talent leaders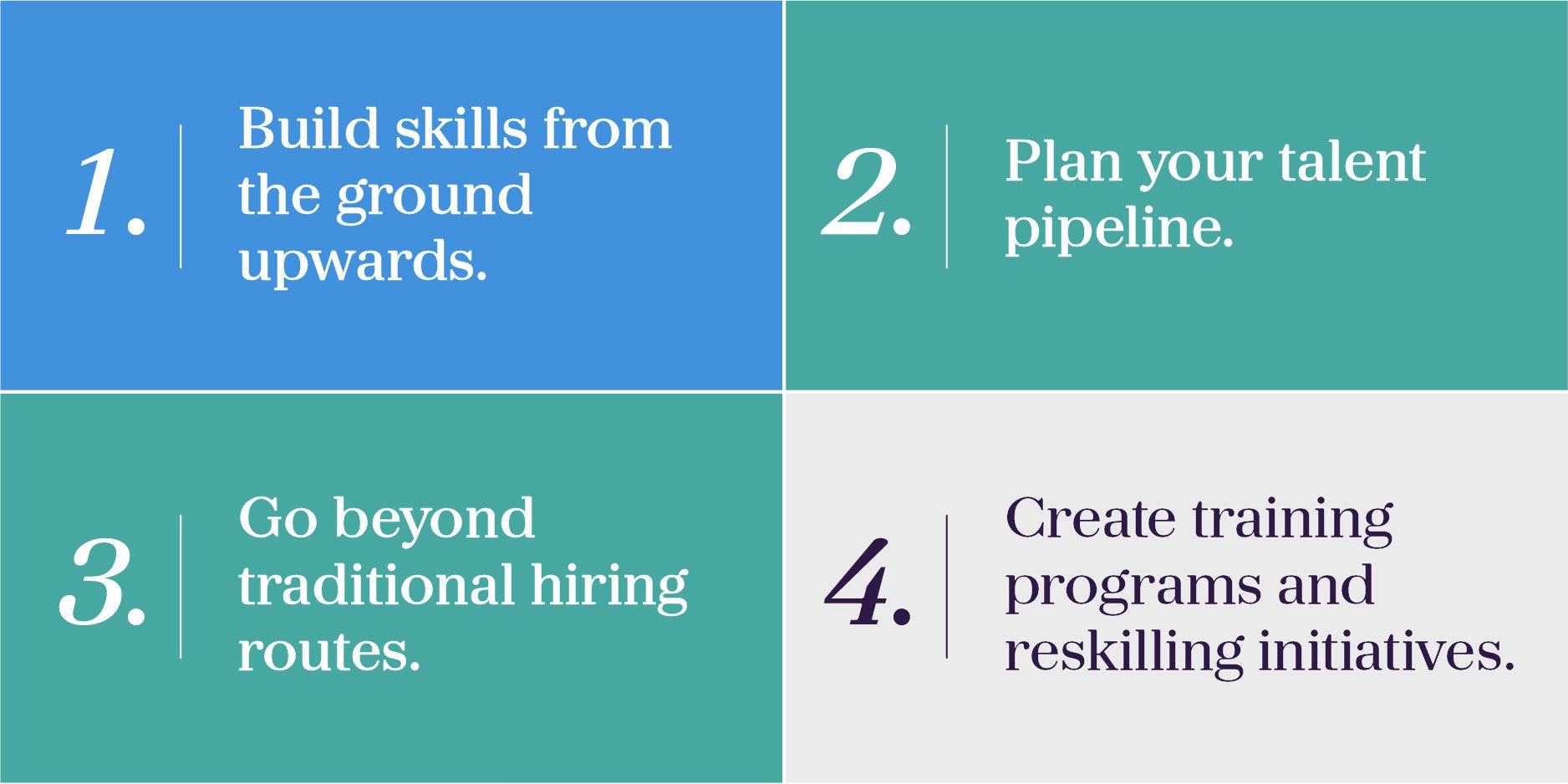 · Build skills from the ground upwards. An Early Careers & Campus strategy that targets recent graduates and entry-level talent will help support a strong workforce.
· Plan your talent pipeline. Work with an outsourced provider to map out where talent resources will come from, and where they may need to relocate to.
· Go beyond traditional hiring routes. Renewable energy needs to quadruple in size to meet net-zero targets. Identify professionals with transferrable skills outside the industry –such as in engineering, military, or oil and gas – to help widen the talent pool.
· Create training programs and reskilling initiatives. Get ahead of the skills gap by finding talent with similar skillsets, or 10-15 years' transferrable experience, to retrain and reskill easily.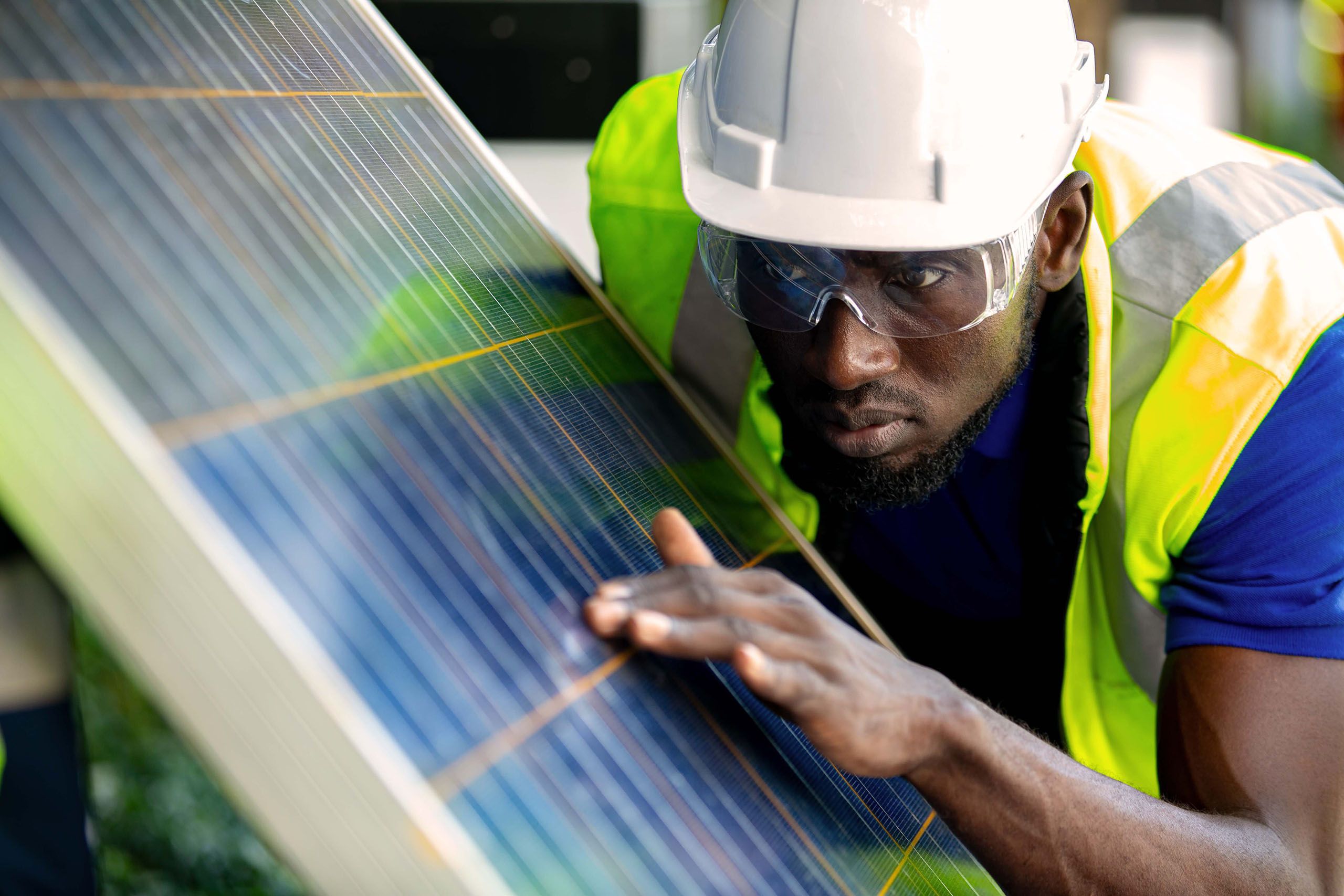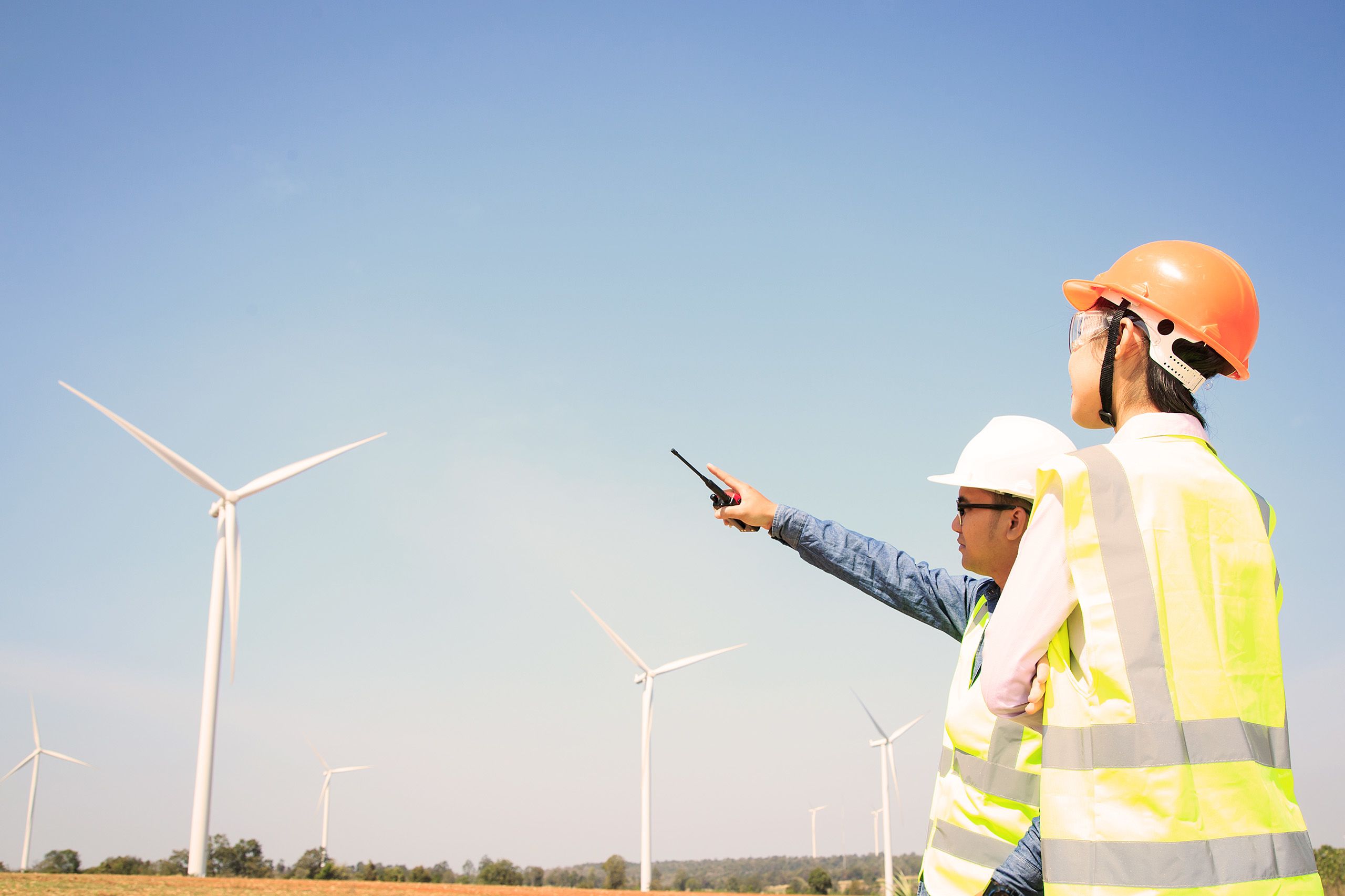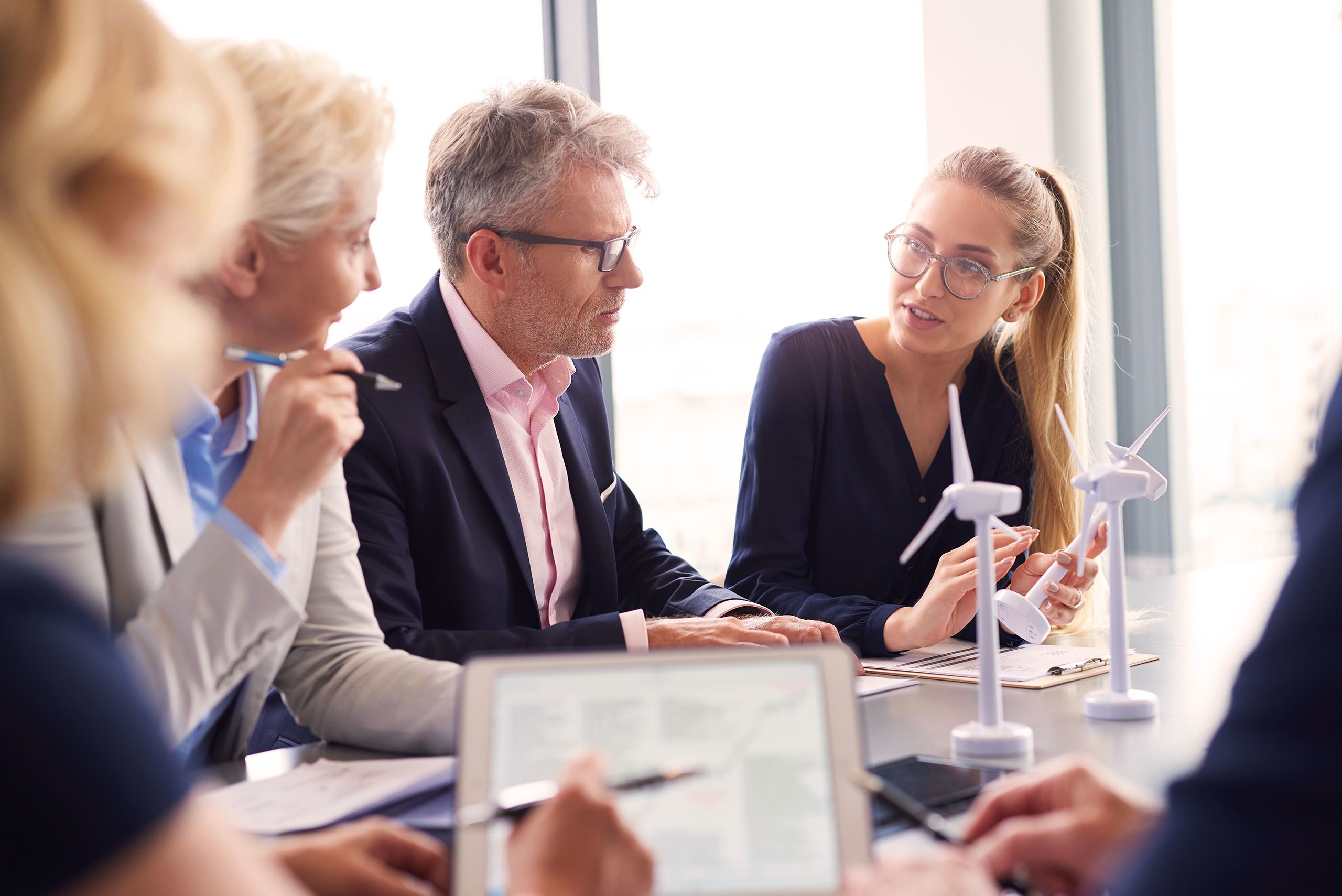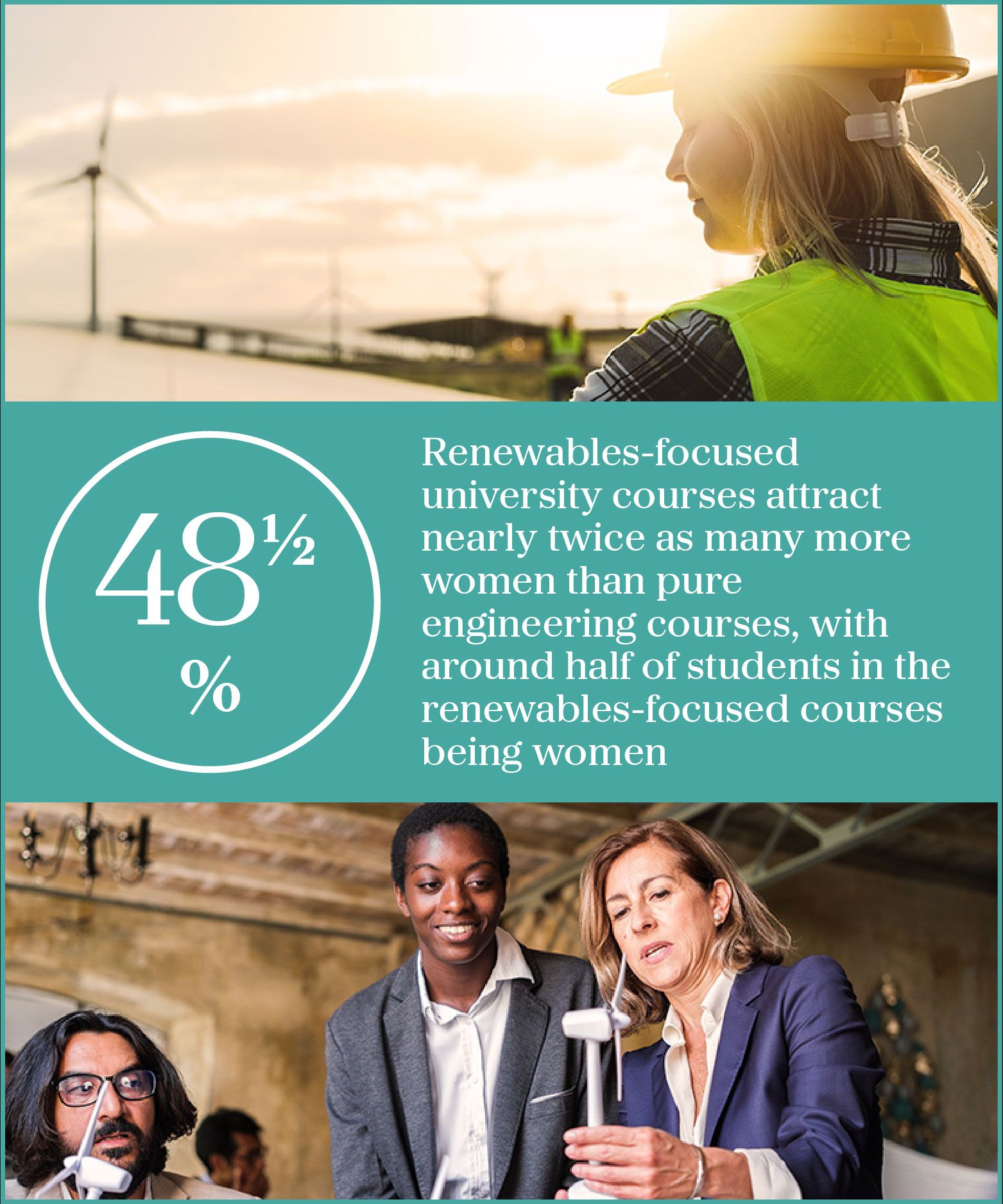 Diversify the talent mix

An alternative way that we can accelerate the energy transition is to embrace a diversity-led approach to attracting talent which will bring more diverse categories of talent into the sector.
As it stands today, within the renewables sector, only 32% of employees are women (UN Women and the UN Global Compact Office), and 11% are non-white. Women are also more likely to be employed in lower-paid, non-technical and administrative roles than technical, managerial, or policy-making roles. The numbers are even worse within the wind power sector, with only 20% of the workforce being women.
Taking an industry comparison, through a gender diversity lens, however, we can see that the renewables sector fares relatively well compared to other industries, outperforming the likes of the military, automotive, and oil and gas sectors, and fares quite well against the financial services sector. A similar story emerges from the data on ethnicity (except for the military).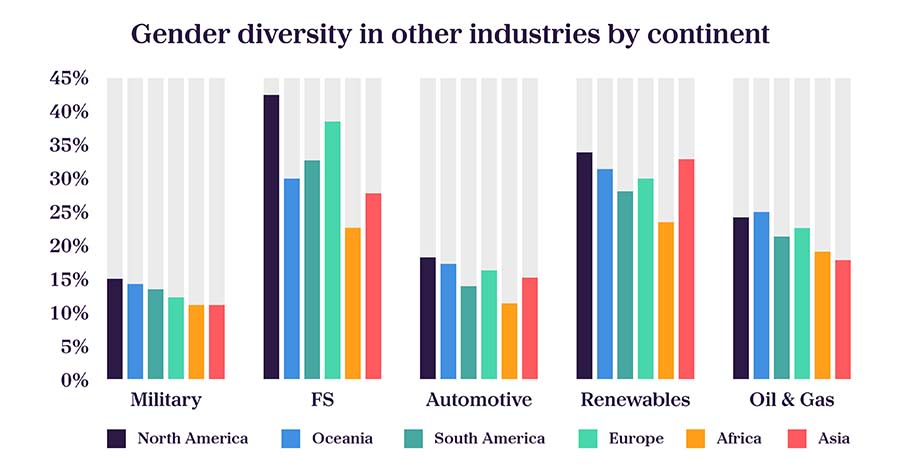 Source: SeekOut
We know that the renewables sector recruits heavily from these industries, so unless the net is widened, there could be a risk of potentially worsening the picture. This means that renewables companies need to diversify the sectors from which they source talent in the future.
One of these sectors is education. We know that 16% of all entrants into the renewables sector come straight from education, so to understand the future pipeline of talent, we conducted analysis of the 2022 graduation year in 30 leading universities in the UK, US and Europe for pure engineering-focused degrees and those with a renewables' focus. Encouragingly, the analysis shows that renewables-focused university courses attract nearly twice as many more women than pure engineering courses, with around half (48.5%) of students in the renewables-focused courses being women, compared to just 24.9% of students in the pure engineering courses.
If we take another look at the data through an ethnicity lens, the results are less encouraging. We see that fewer Asian and Black candidates are enrolled on renewables-focused courses than pure engineering courses.
Our analysis also shows that the number of universities offering renewables-focused courses has grown significantly between 2011-2021, with the most encouraging statistic being that there has been a 55% increase in the number of universities in the US offering renewables-focused courses.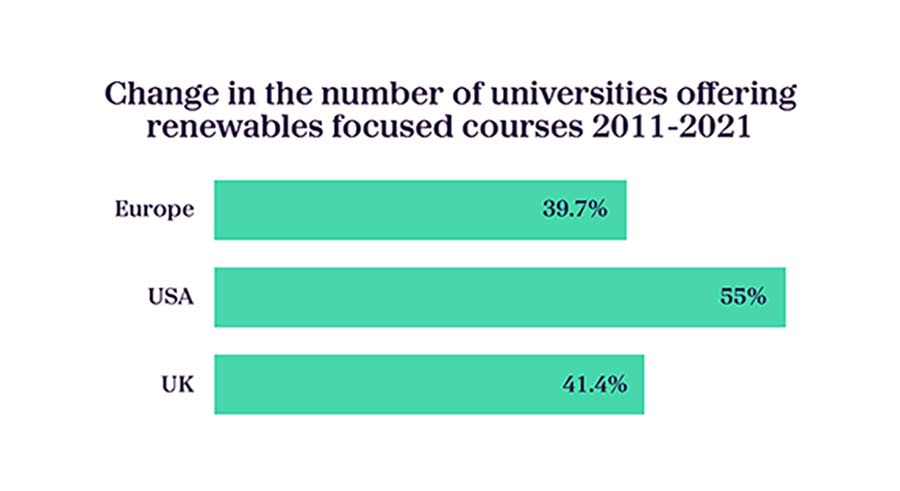 Sources: Britishuni.com, Studylink.com, Educations.com
These results raise some interesting questions. Is the nearly 50/50 split (male/female) on renewables-focused courses enough, or should we push for the majority to be female to start correcting the sector imbalance? What can we do to ensure we attract more ethnically diverse participants in renewables-focused courses? How can we ensure that more courses and places are available at more universities?
Some universities are leading the way in this regard, and the institutions with dedicated research centres or easy access to renewable energy sources are ideally positioned to drive the agenda.

Actions for talent leaders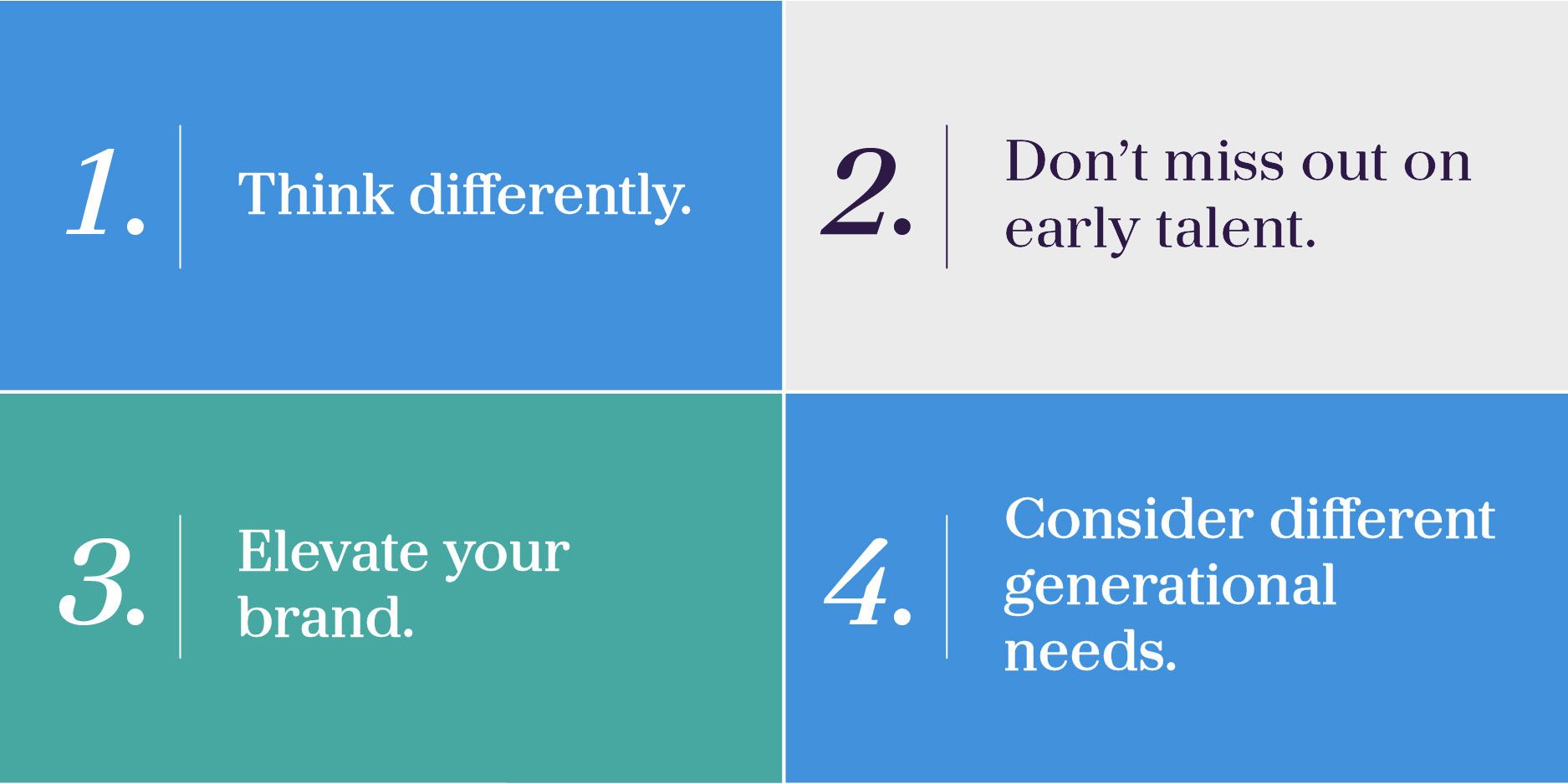 · Think differently. Find new channels to attract diverse talent and embrace the opportunities diversity affords. This includes better financial returns, supporting retention and reducing attrition, and delivering more innovative and creative solutions.
· Don't miss out on early talent. Invest in graduate recruitment programmes and apprenticeships, develop better relationships with universities, and ensure you are recruiting in a gender-balanced and socially diverse way.
· Elevate your brand. Make yourself more attractive to diverse talent by building out engagement messages and successful diverse profiles.
· Consider different generational needs. There are four different generations in the workforce right now. Identify the needs of these diverse age groups and how you can offer career opportunities to suit them.
Build

an attractive career destination
The third strategy that is needed to meet the ambitious growth of the renewable energy sector is to increase the relative attractiveness of the renewables sector to talent. Without it being an appealing option to those from other sectors, it will simply not be possible to enact the other two strategies that we have explored. 
The recent Most Attractive Employer Report (2021) from Universum shows that the top five aspects of employer attraction for engineering students are those that offer:
1. High future earnings
2. Training and development
3. Leadership opportunities
4. Secure employment 
5. Competitive salary
Based on this, the case for engineering students to consider the renewables sector for future employment is very strong.
With talent being in such demand in the renewables sector it's likely that competitive salaries are being offered. According to the 2020

"

Clean Jobs, Better Jobs" report

,

which salary and benefits within the renewables sector outperform those in traditional energy. 
As the renewables sector grows and new technologies emerge, the need to train and develop staff will be high.
As experience is built in a sector that needs to triple in size over the next decade, inevitable leadership opportunities will present themselves to those disposed towards managing and leading others. More leadership opportunities further reinforce the likelihood of high future earnings.
The renewables sector is seen as the long-term solution to our energy needs, and as a result, it offers highly secure employment.
Further analysis we carried out on the engineering community in the UK is very reassuring. When looking at how satisfied engineers are in the sector that they work, the energy/renewable/nuclear sector (excluding oil and gas) comes out on top. In all three categories of 'salary satisfaction', 'job satisfaction' and 'feeling valued in job', no other sector comes out more strongly than energy/ renewable/ nuclear.
As the table below shows, this is overwhelmingly positive for the industry.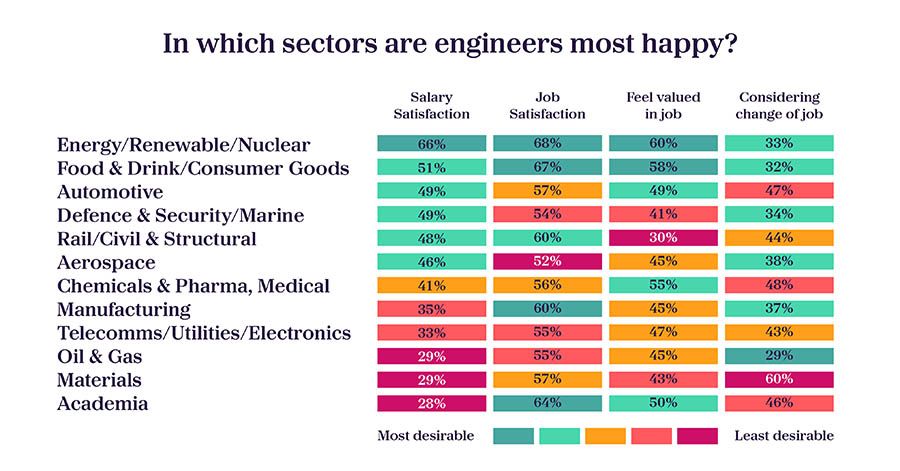 Source: djsresearch.co.uk
Engineers in the renewables sector are more satisfied with their salaries, their jobs and their sense of value than in all other sectors of engineering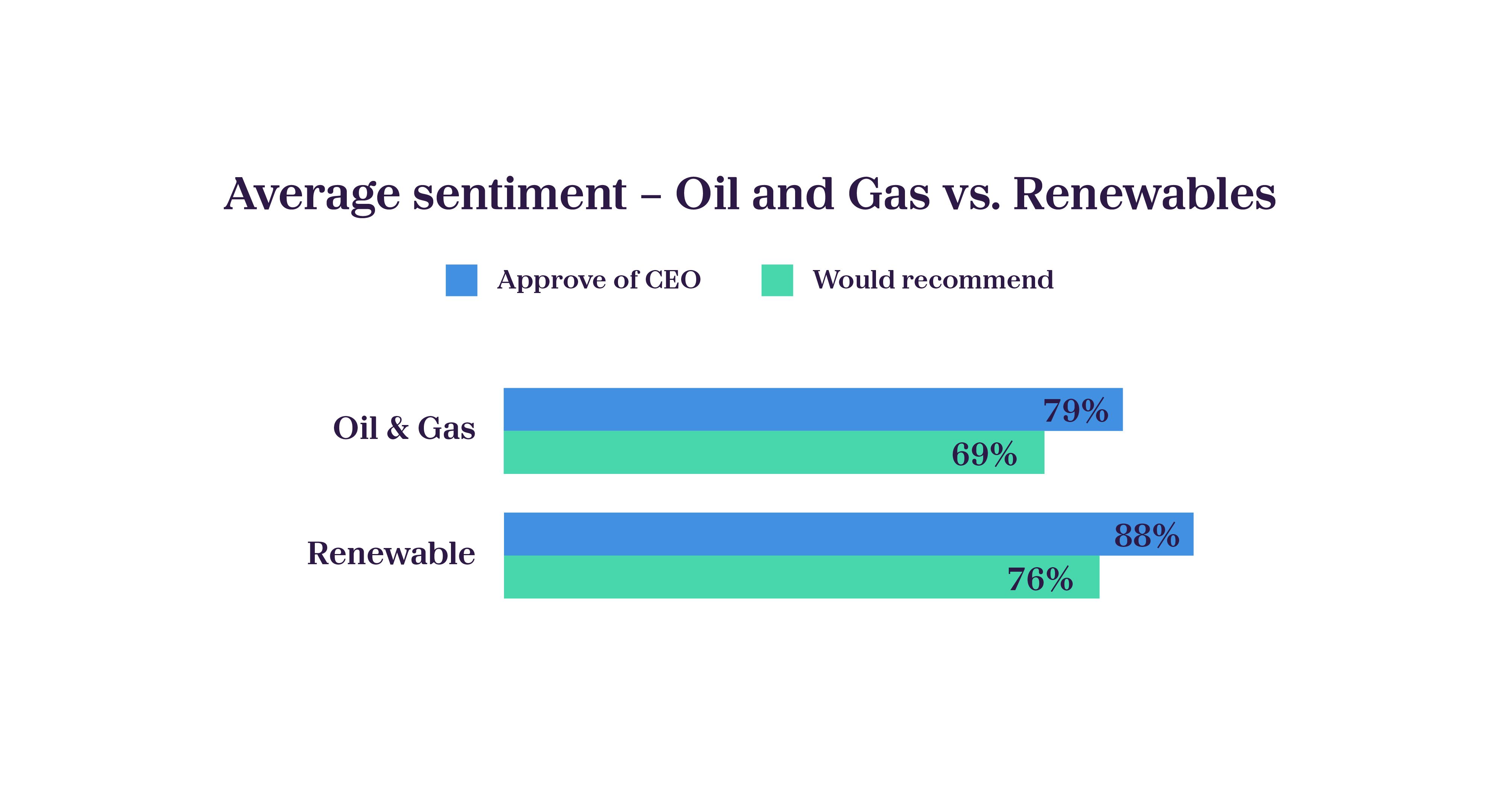 Source: djsresearch.co.uk
Employees within the renewables sector approve of their CEO 9% more and would recommend their company 7% more than their oil and gas counterparts
But talent acquisition professionals can't afford to rest on their laurels. While people working within the renewables industry are more satisfied than other sectors, and, on paper, the industry ticks all the boxes for being an attractive place to work, persuading engineers from the oil and gas industry to make the leap from their current role will be tough.
The data shows that engineers in the oil and gas sector are least likely to be considering a change of job. Given that approximately one-quarter of the current energy sector workforce (the majority of whom are in oil and gas roles) is over 55, many may be sitting tight, knowing they can see themselves through to retirement.
As we have seen with the Universum data, money is still a significant consideration in terms of the attractiveness of employers and sectors, and, as the table below shows, the oil and gas sector is leading the way.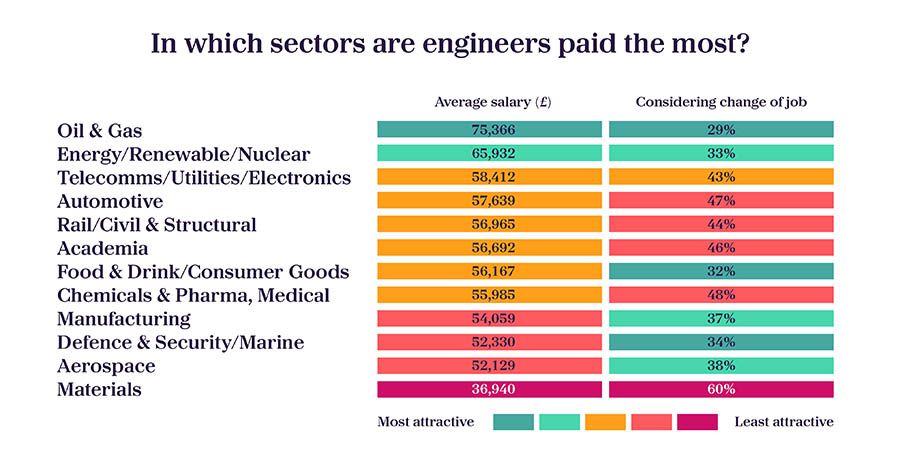 There is, of course, a growing concern in the oil and gas sector around future career prospects as you can see from the data provided by OGJS illustrated below. But remuneration and reward need to be comparable. It is the job of talent acquisition professionals to explain these nuances to hiring managers and provide them with the insights to build business cases for offers they are making.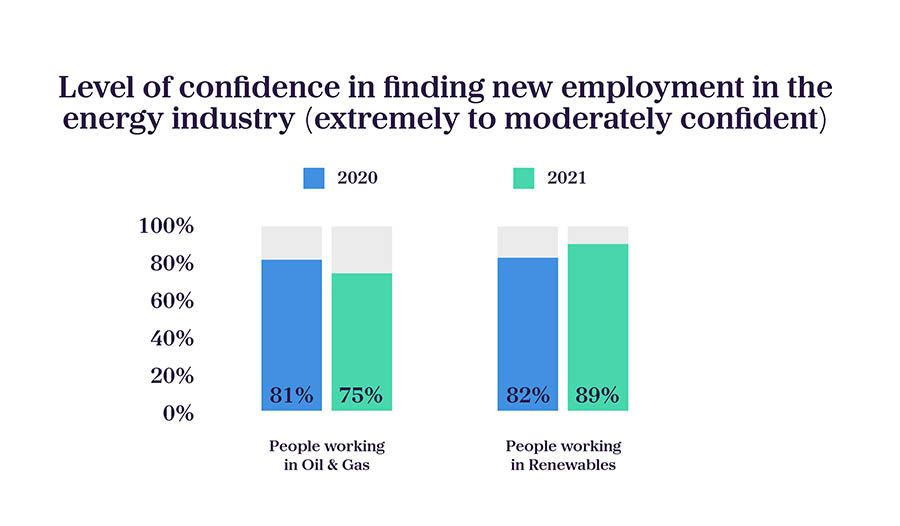 Actions for talent leaders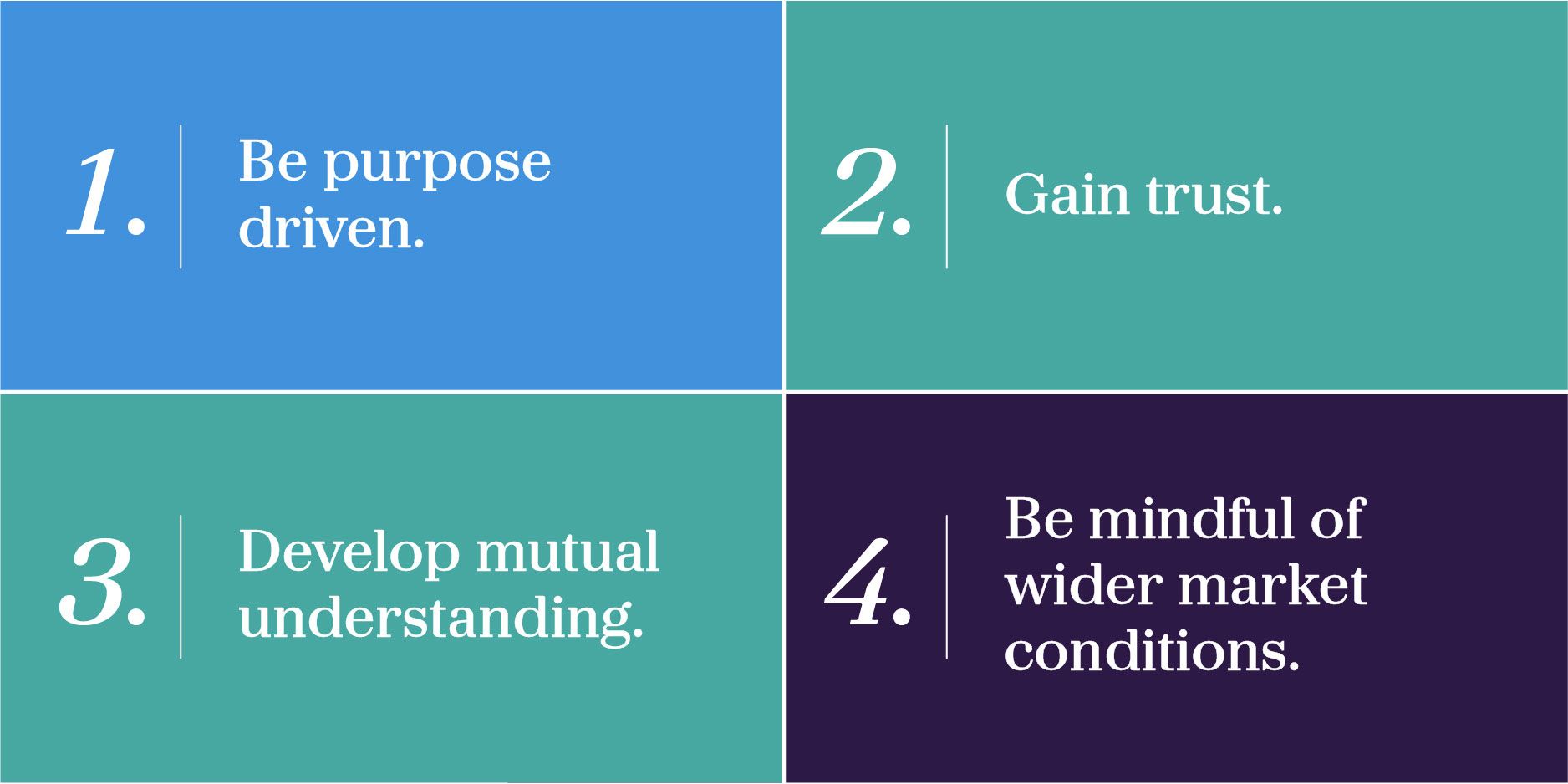 · Be purpose driven. Many employees want to work for an 'employer of purpose' that embodies their values. It's important to market yourself effectively and authentically, and be transparent about your energy transition journey.
· Gain trust. To promote a green vision for the future and sustainable goals, business leaders must communicate a clear, measurable plan to achieve this. You must also provide clarity on the challenges that lie ahead.
· Develop mutual understanding. For oil and gas companies transitioning to clean energy, prospective candidates will need to understand the continued reliance on oil and gas at this stage of the journey towards carbon neutrality.
· Be mindful of wider market conditions. In the current economic climate, candidates are seeking job security. Showing that you offer business stability will be crucial to attracting and retaining talent.

Case Study:
Multinational Energy Company
AMS is collaborating with a global energy giant to build a world-leading renewables division that will ensure they meet their net-zero commitments and tackle the skills shortage.
Since 2014 we have worked with the business across all hiring disciplines - internal mobility, experienced hiring, and emerging talent to deliver:
1600 hires per year in 26 countries globally
90% Hiring manager satisfaction
A 25% reduction in time-to-offer
EVP realignment and support for DE&I goals
The business could lean on AMS' unmatched expertise for their full talent acquisition strategy - digitalisation, automation, enhanced candidate experience, and continuous improvement.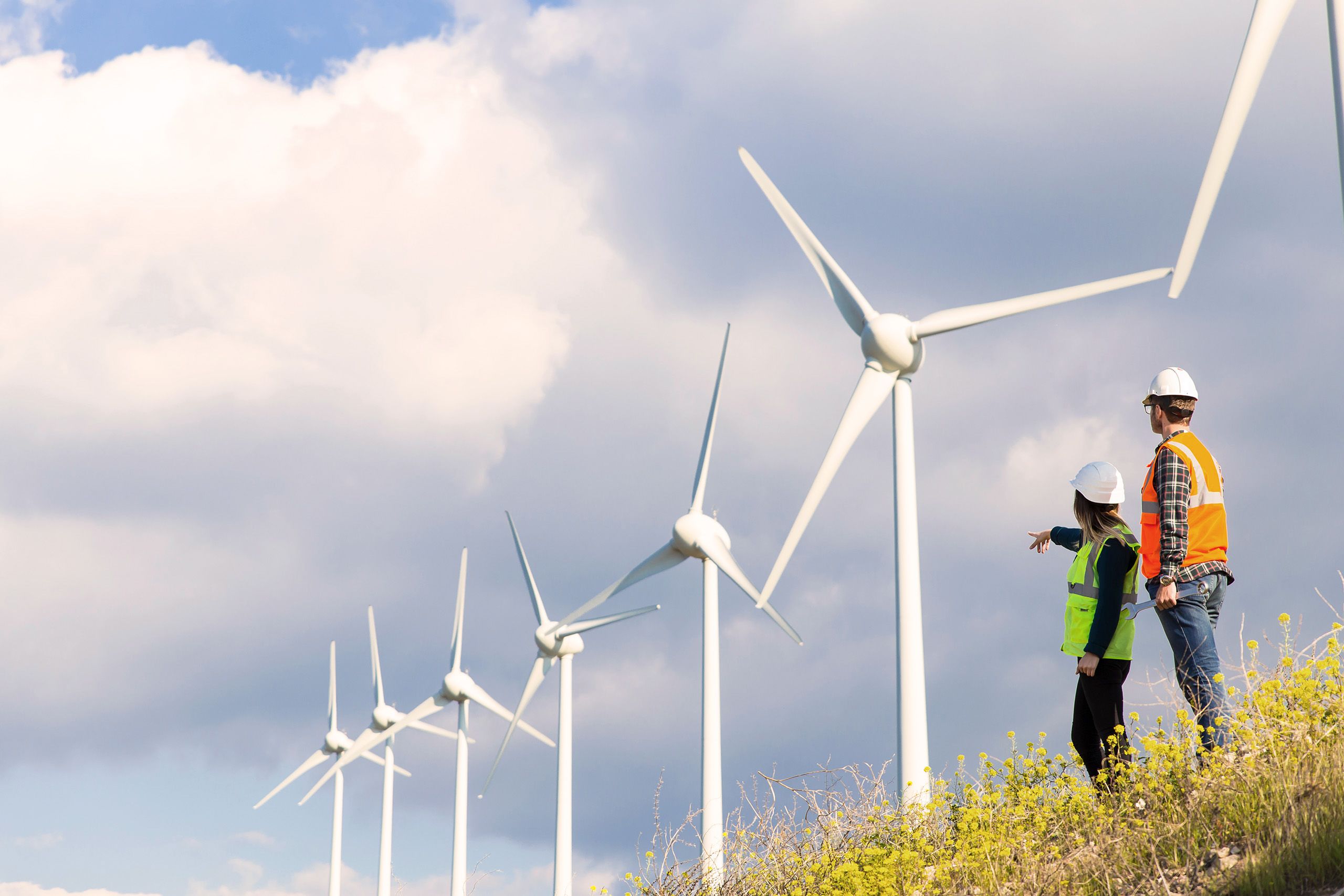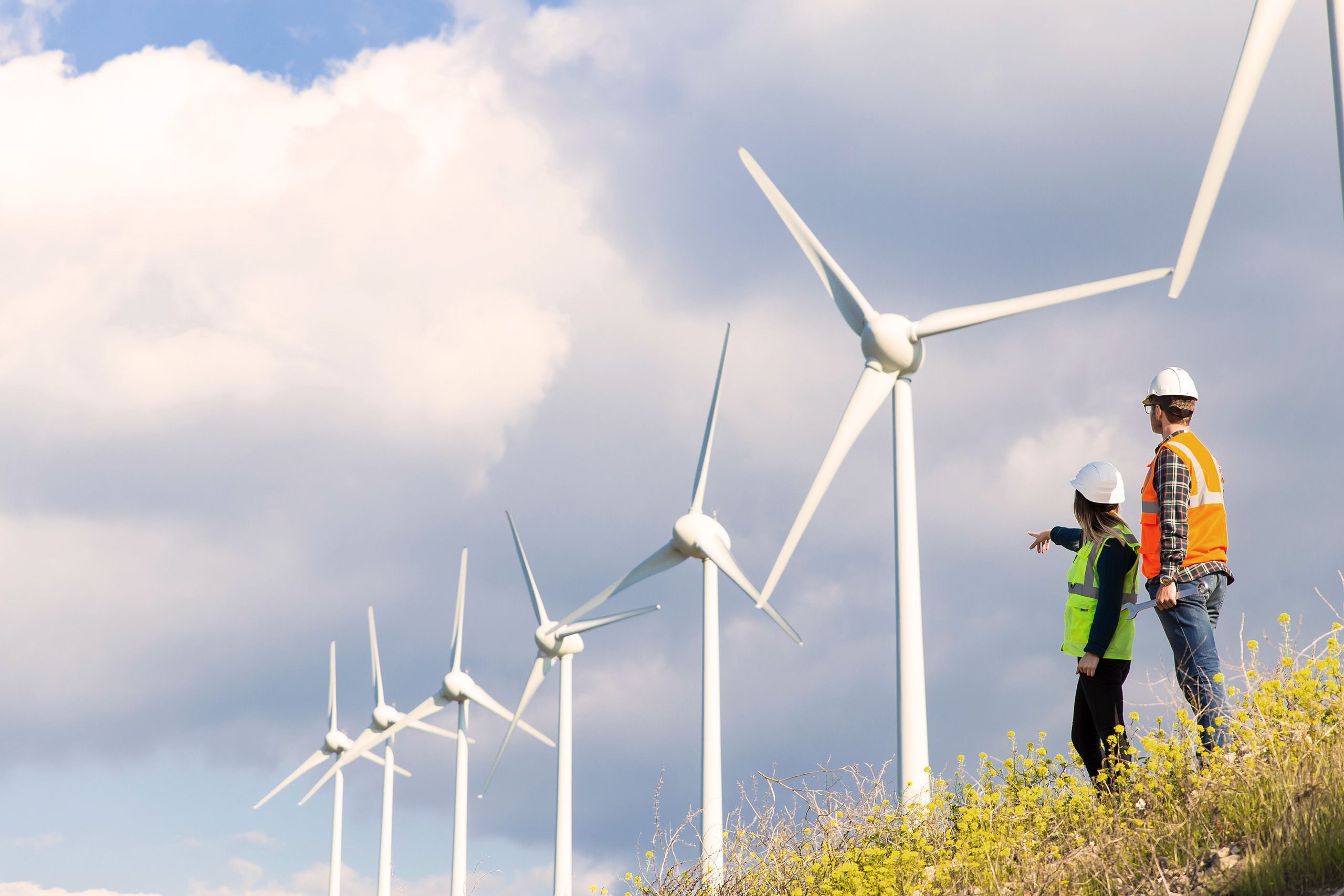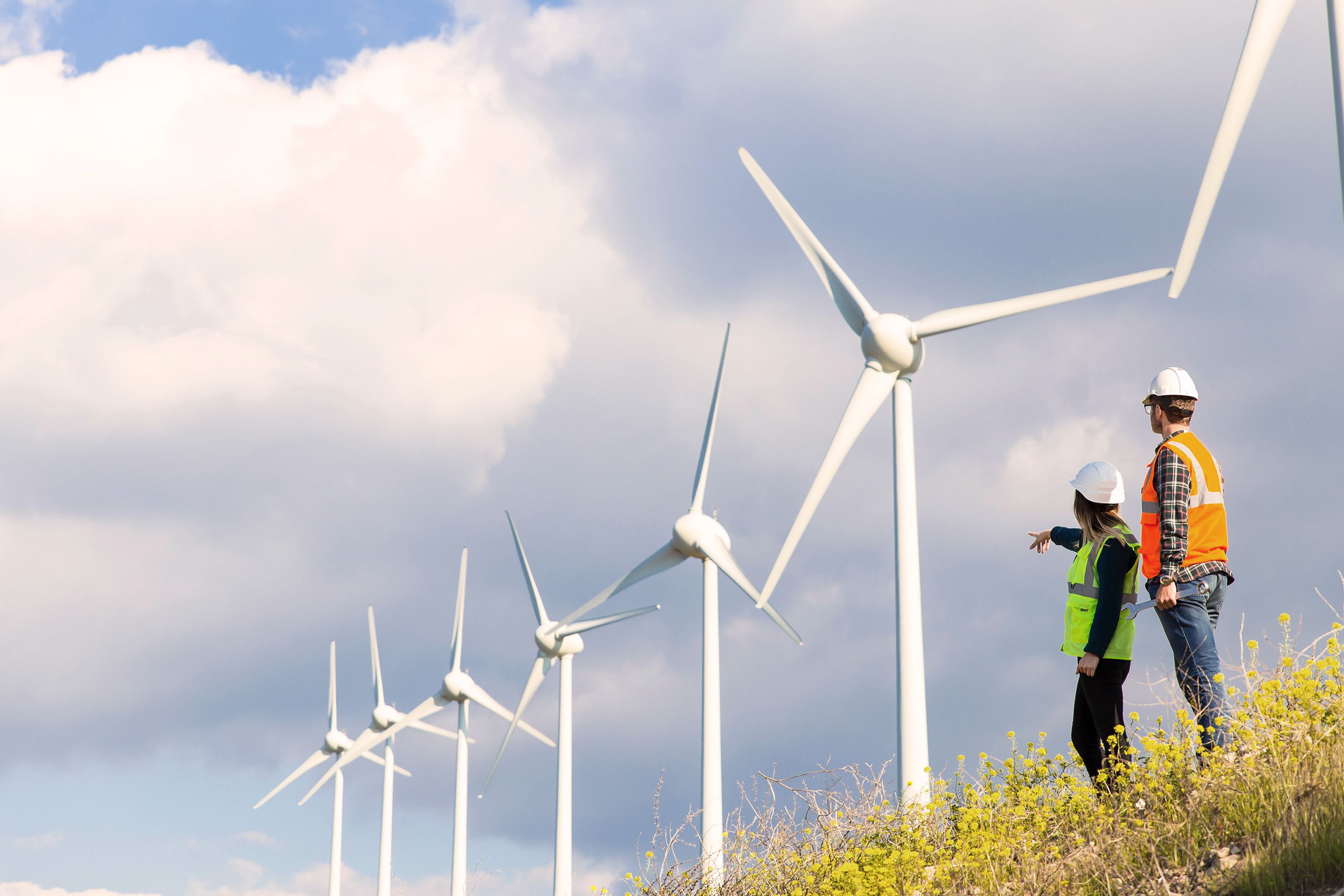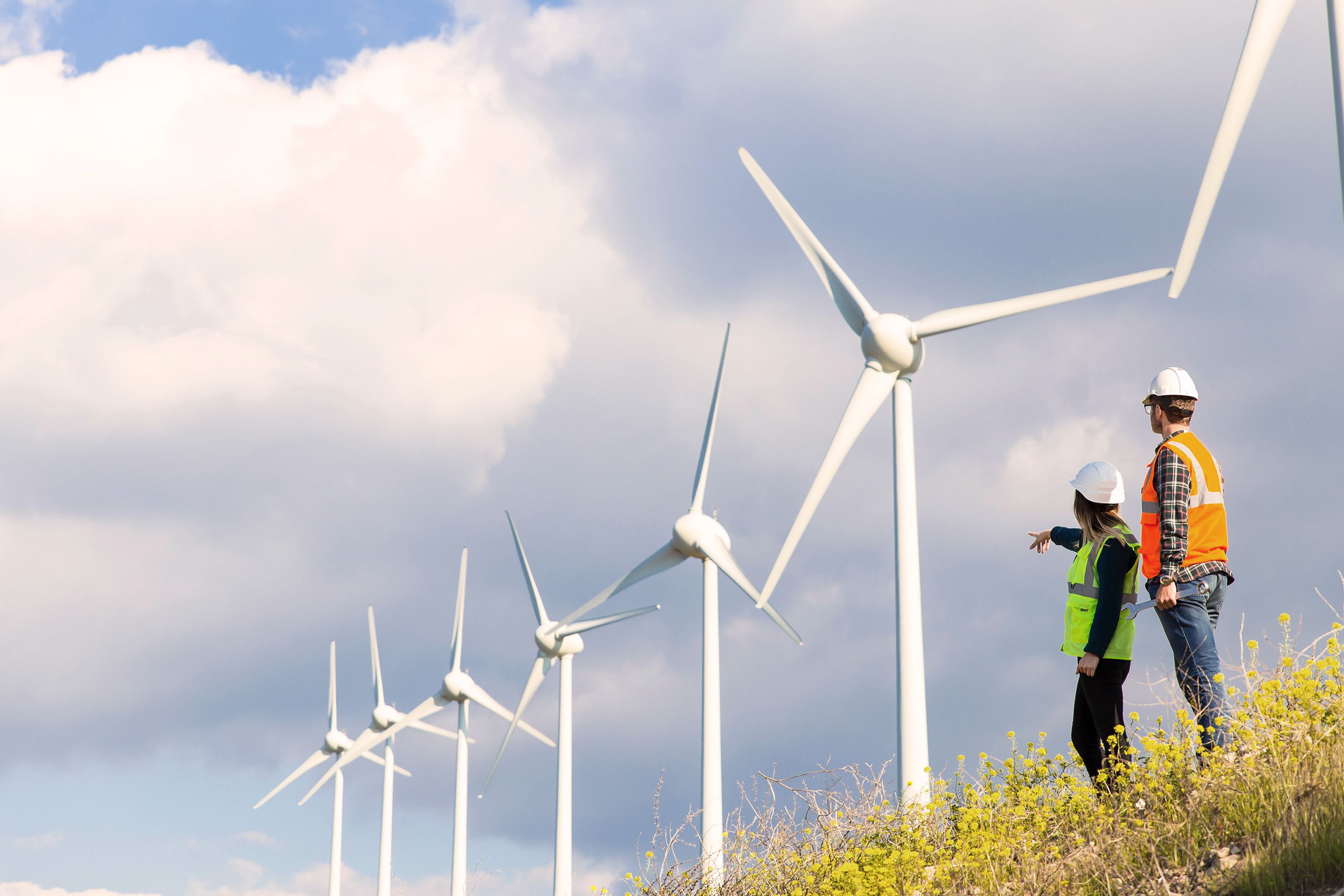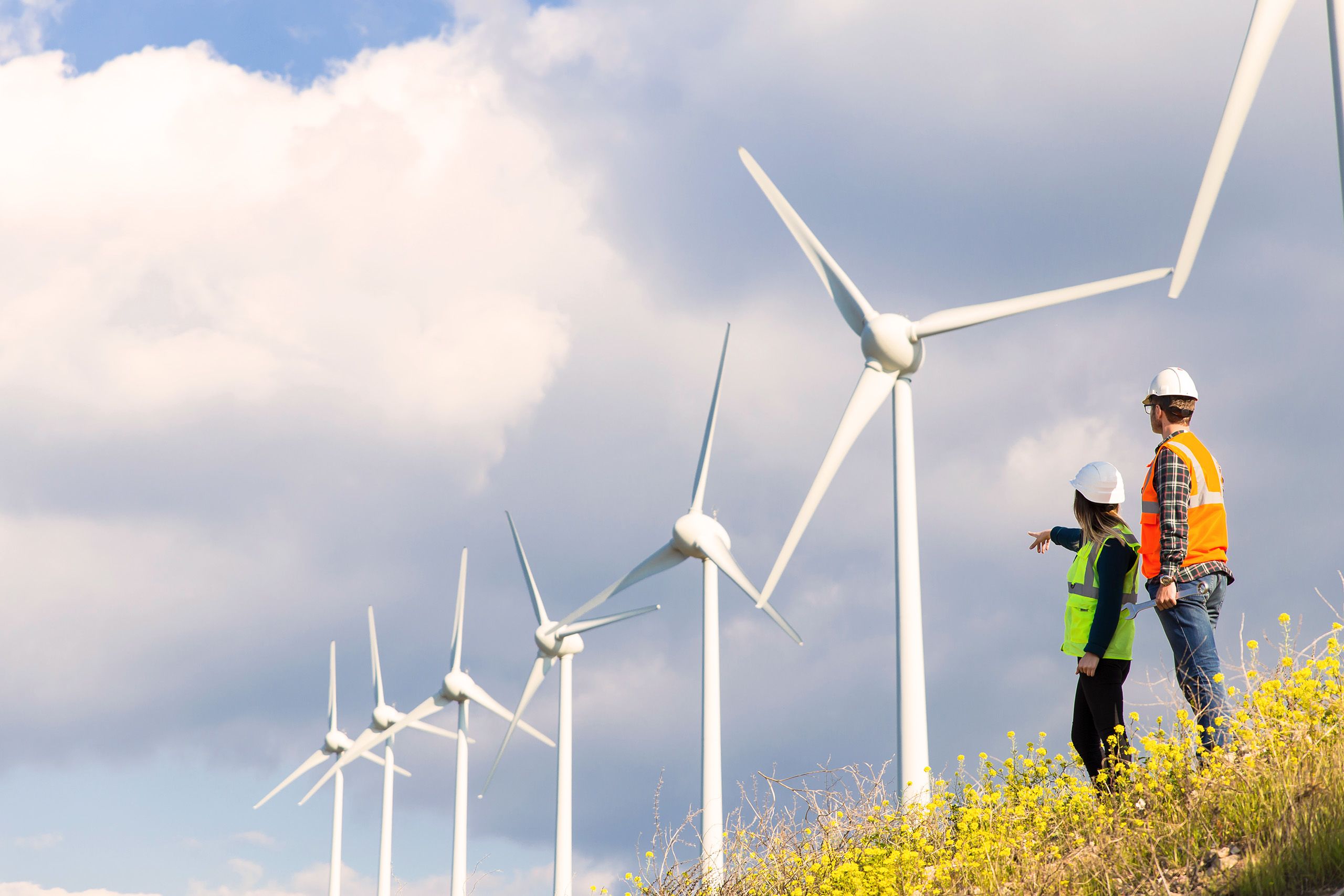 Conclusion
Our analysis shows that there are many ways in which talent acquisition teams globally can play a part in accelerating the energy transition. However, with the geopolitical instability we are experiencing and without significant movement on some of the more powerful enablers of the energy transition, such as transformational policy change, government-funded training/investment schemes and strategic reskilling programmes, there is only so much that can be achieved. These enablers require huge investment and political will, with bulletproof business cases to secure the necessary funds. So, let's hope that the people in power can make the right decisions on our behalf and for our future so we can accelerate the energy transition for the benefit of everyone.
Whilst this paper merely skims the surface of the actions that need to be taken to address the challenges ahead, talent acquisition teams can play their part in helping the sector to achieve its ambitions. We hope that it gives you some hope and excitement for the future and provides food for thought in your efforts to find the talent needed to bolster the renewable energy sector.
If you would like to talk to us about recruiting for the energy or renewables sector, please get in touch.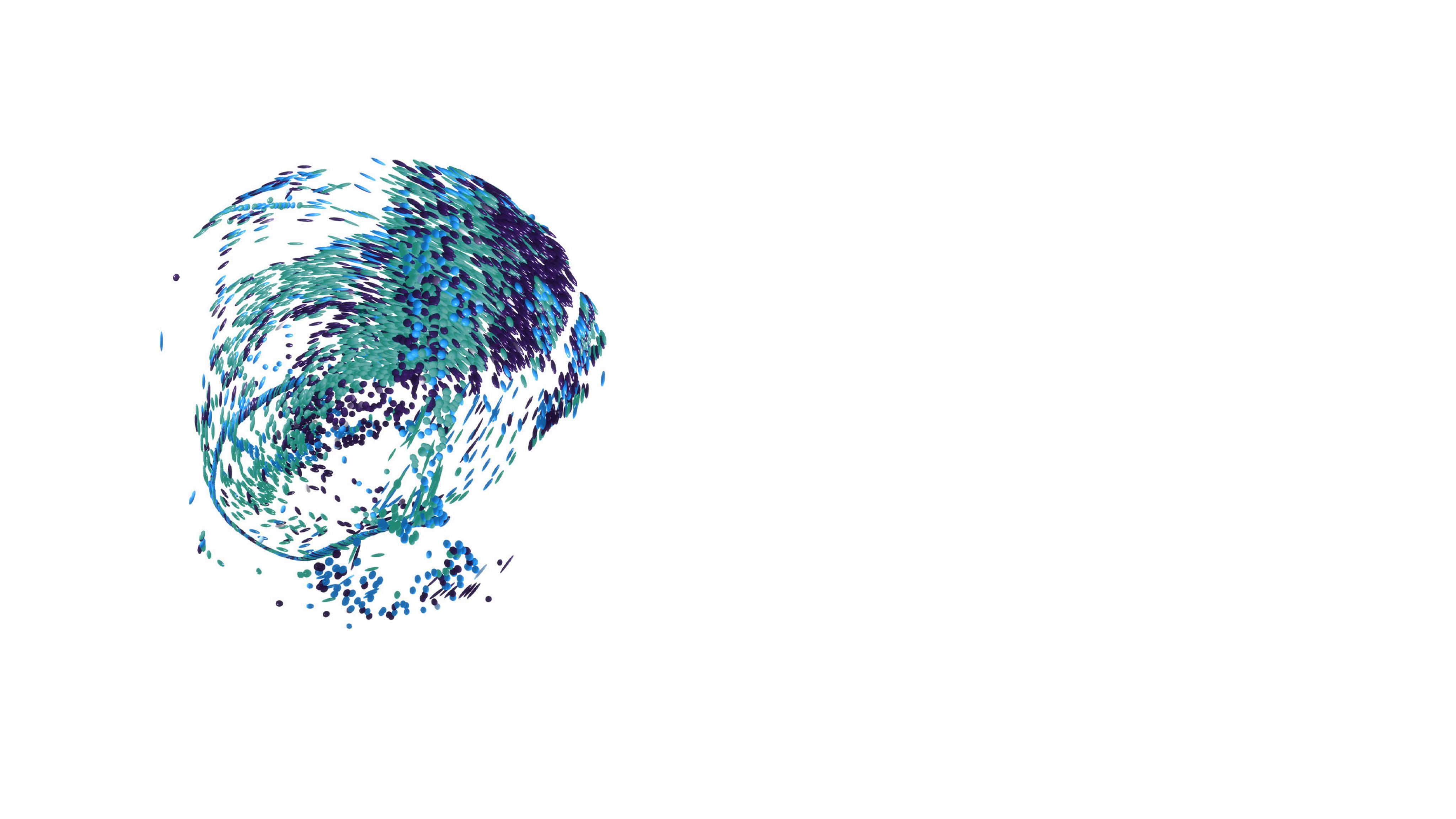 Source of research data is SeekOut unless otherwise stated.
Data accurate as of March 2022.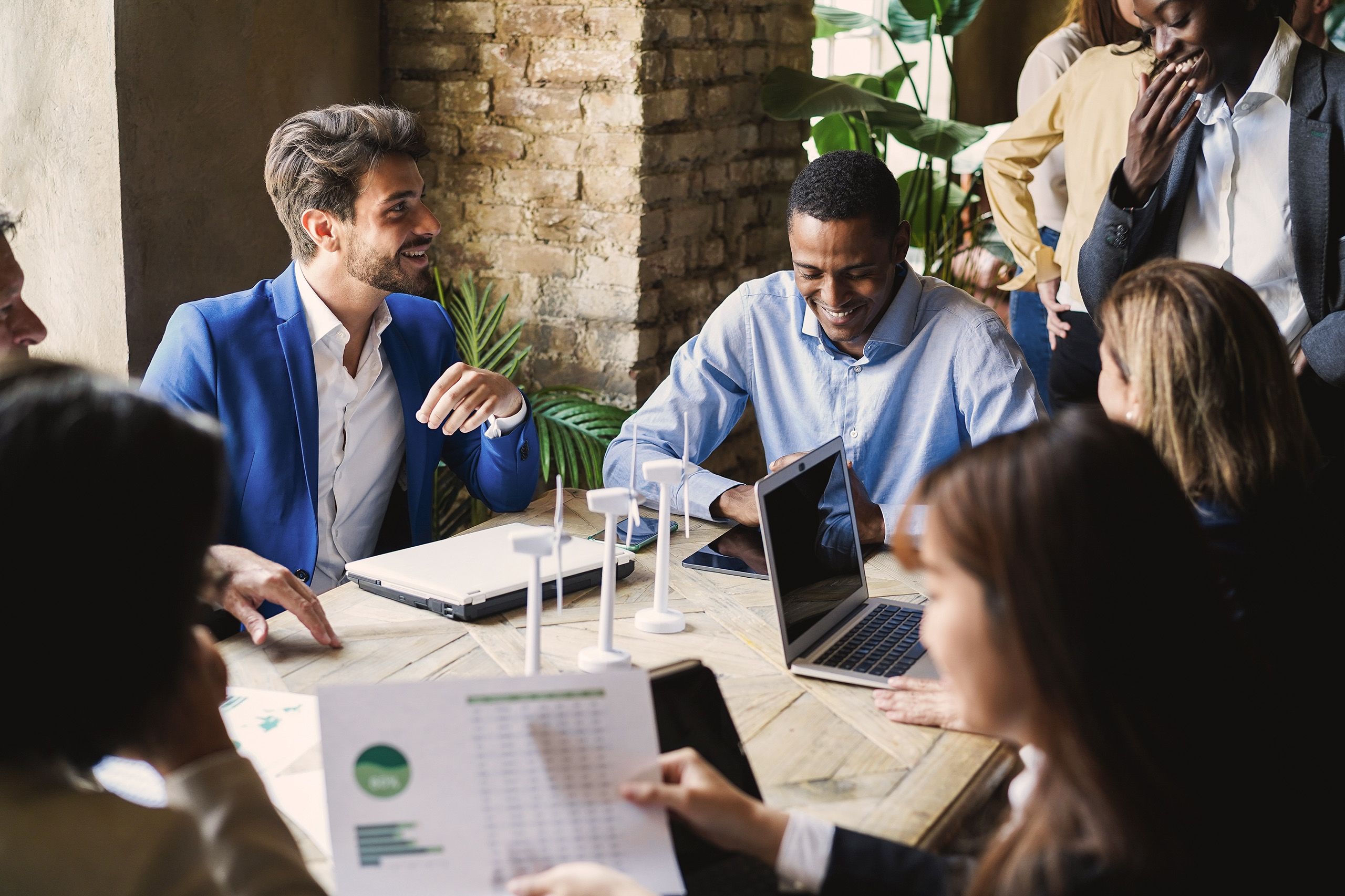 Source of research data is SeekOut unless otherwise stated.
Data accurate as of March 2022.