Blogs & Articles
How is COVID 19 impacting the jobs market?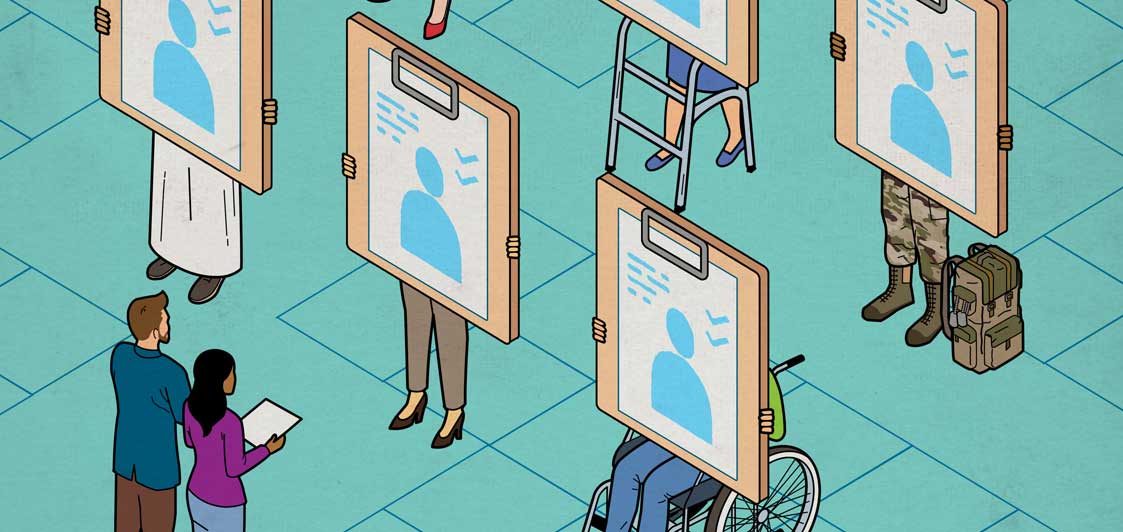 As recruitment stalls, there is an opportunity for employers to take stock of existing inequalities in accessing jobs and opportunities, argues Pawel Adrjan, head of EMEA research at Indeed.
How has the COVID-19 pandemic affected hiring trends globally?
One of the pandemic's effects has been a rapid decline in hiring. We saw that clearly in job postings on Indeed around the world. Many businesses had to shut down, while those that continued to operate suddenly faced huge uncertainty around revenues, costs and the safety of their workforce. Job postings fell by a third or more in most of the world's largest economies in a matter of weeks – a bigger and faster decline than during the financial crisis of 2008.
Not all countries were affected equally. Those with a higher proportion of the workforce able to work from home saw smaller declines in job postings. The severity of the lockdown and government responses to the crisis also played a role, both when the crisis first hit and now, in the recovery phase. While European governments deferred the full impact of the crisis by putting in place short-term job and wage support schemes, Canada and the US relied mainly on supporting those who became unemployed. That may also be one reason why hiring remains more subdued in Europe – where employers are more likely to be recalling former staff than advertising new jobs – than on the other side of the pond.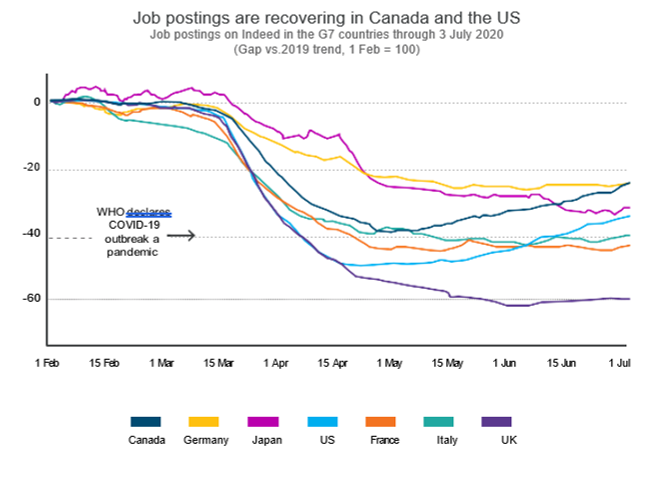 Which sectors saw a downturn in hiring and which have seen an uplift?
In a major health and economic crisis such as this one, it is not surprising that hiring in all sectors has been impacted in one way or another. Around the world, we saw the biggest declines in sectors most affected by lockdown restrictions, including hospitality and tourism, beauty and wellness and non-food retail. For example, hospitality and tourism job postings on Indeed were down 82% in Australia, 59% in Canada, 62% in the US and 80% in the UK relative to last year's trend as of mid-April. These are staggering numbers.
But hiring in some sectors held up quite well. Health and social care, food retail, driving and delivery services all had to keep on going despite (or because of ) the lockdown. They saw good levels of hiring activity around the world. And some of the badly affected sectors have already recovered in some countries. For example, retail and driving job postings in the US are back to last year's trend as of the beginning of July.
I hope employers pay special attention to those sectors of society hardest hit by the pandemic as they focus on building a diverse workforce for the future. 
What are your expectations for the future?
Like most economists, I expect the labour market to remain weak for the foreseeable future. The OECD forecasts an elevated unemployment rate in many countries this year and next. For many employers, this means that the tight labour market is over, at least for now. They can expect a high number of candidates for available jobs.
At the same time, there is still a lot of uncertainty about the virus and how consumer spending and business investment will react as the crisis unfolds. Even once we know we are safe, government actions will remain key to supporting incomes, spending and the economic recovery. The economy can still surprise, both on the upside and downside.
In the longer term, I hope the crisis gives us an opportunity to take stock of existing inequalities in access to jobs and opportunities. Young people and minorities have been hit hard by the effects of the lockdown in most countries. They are more likely to be out of work and less likely to be able to work remotely. Essential workers in sectors such as social care and retail sales remain low paid, as our recent research on wages advertised in the US and UK during the pandemic shows. I hope that employers and governments pay special attention to all those sectors of society as they focus on building a diverse workforce for the future.
Originally published in Catalyst Magazine The 'Digital' Issue.
More articles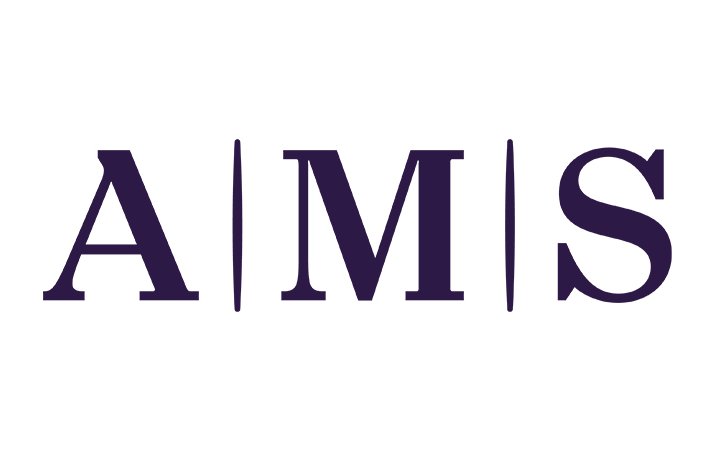 News
AMS' Americas' Managing Director comments on latest US Bureau of Labor Market statistics.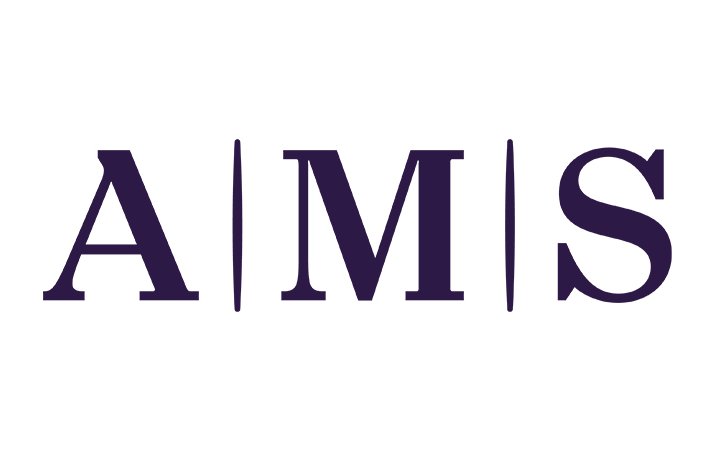 News
The company celebrates win at the annual TIARA Recruitment Awards ANZ 2023.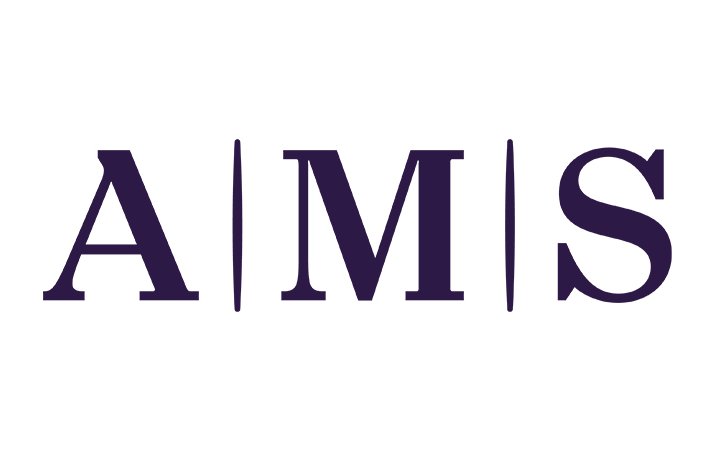 News
AMS' Americas' Managing Director comments on latest US Bureau of Labor Market statistics.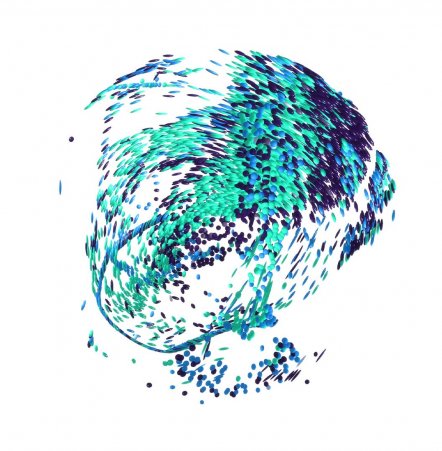 Start your journey to True Workforce Dexterity.
Discover how we can help you build, re-shape and optimise your workforce.
Talk to us