Myth number 2:
Once launched, technology can look after itself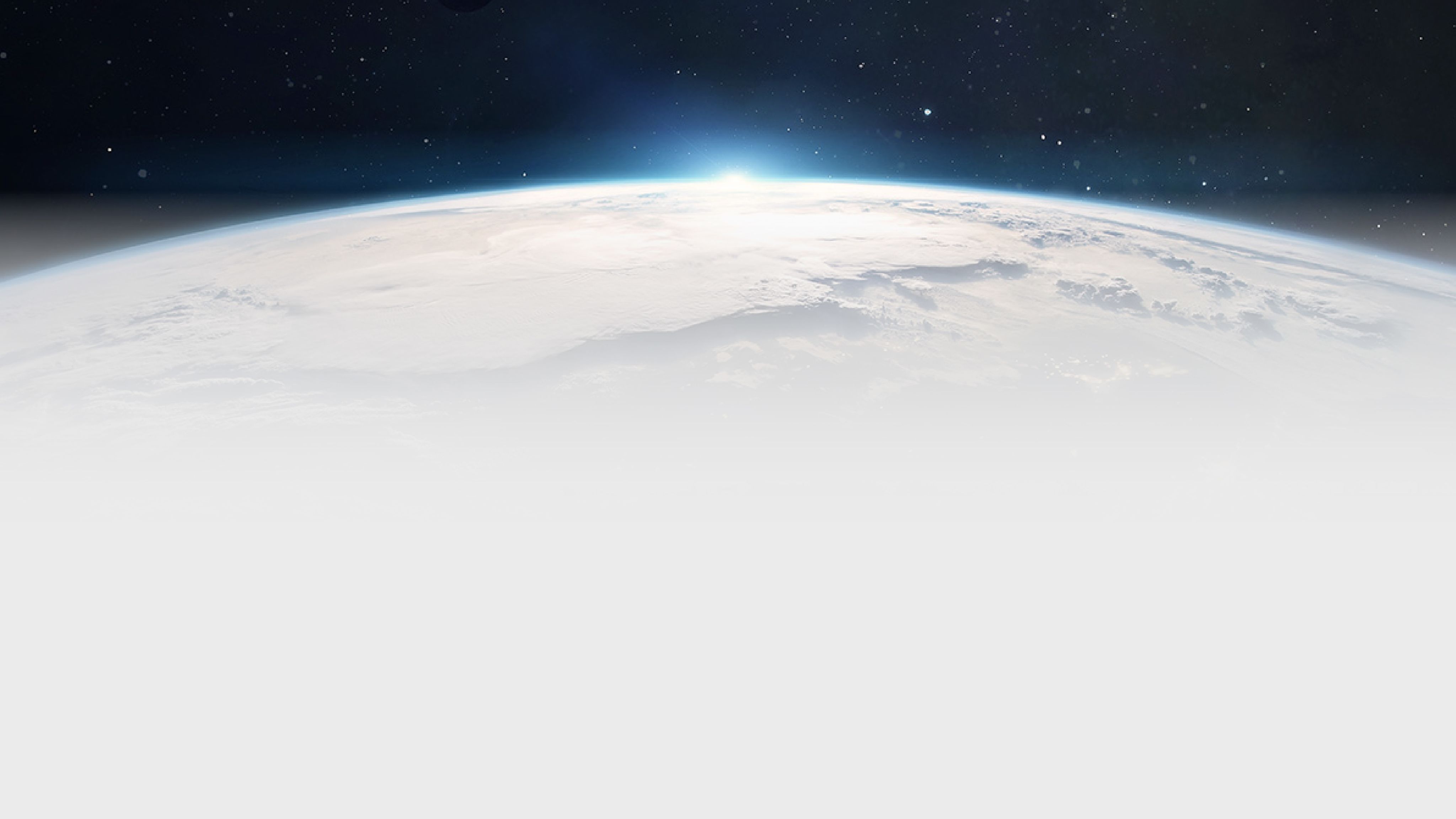 The talent technology marketplace is huge - and it's only going to get bigger. By the end of 2022, the global HR software market is expected to exceed $10bn, with the rate of growth in talent technology set to reach 13.5% by 2025.
However, with this growing usage comes a challenge for talent technology companies to move beyond their individual areas of expertise and build out into more comprehensive offerings.
Boston Consulting Group breaks down talent technology offerings into six key areas, with specialist providers leading the market in each section. These areas include providers that anticipate future needs, assess skill levels, source internal and external talent, develop employee skills, embed workers in an organisation and manage performance.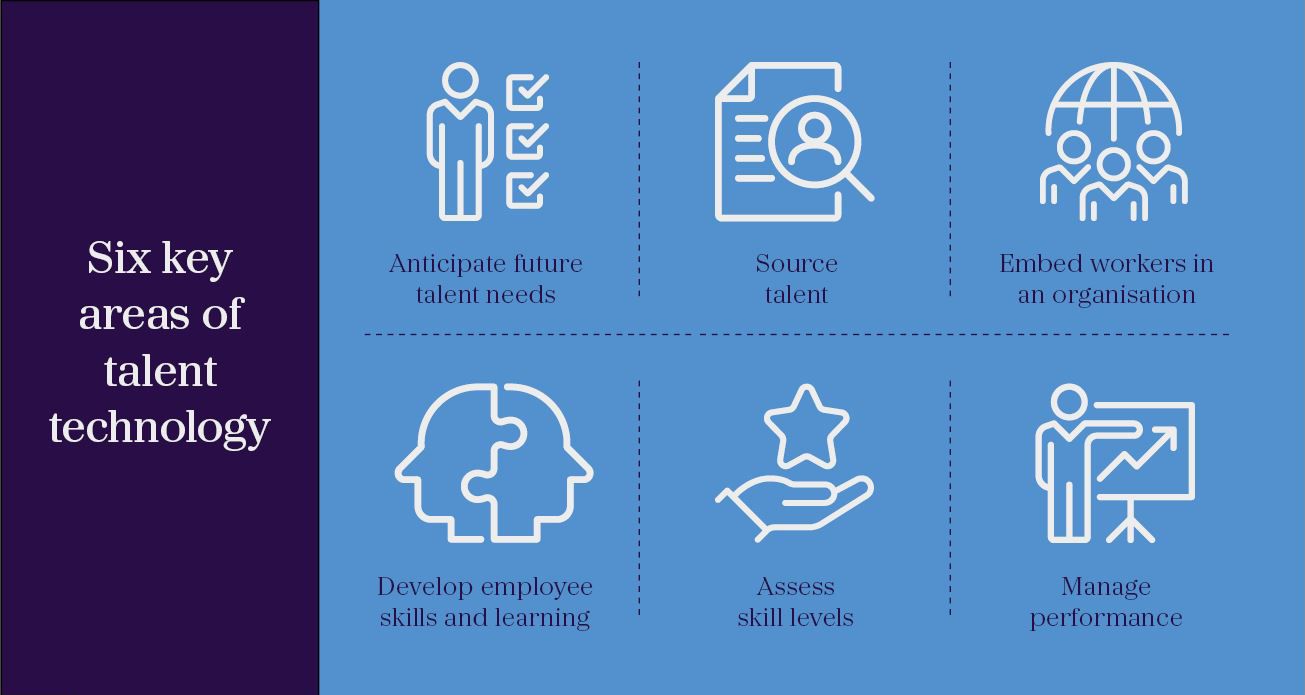 The problem for users is the lack of integration between various technology providers. With no single solution available to practitioners, talent technology is often siloed, with a lack of understanding as to how to integrate it into a wider, holistic talent strategy.
While major tech players are now attempting to bridge this gap through partnerships - Microsoft Viva's numerous integrations - and buyouts - Workday purchased employee feedback software Peakon in 2021 - the challenge remains.
There's also the issue of digital overload. A report by HR technology provider Personio found that more than a third (37%) of employees said they used too many different digital tools at work, with an average of six different tools per team for people-related insights and tasks.
This leads to poor adoption from users, and can even slow down processes that it's supposed to speed up. A quarter of HR professionals surveyed by Personio said that the number of systems used is frustrating employees and unnecessarily slowing down work.
Why talent technology implementations fail
So why do talent technology projects fail? HR technology media platform UNLEASH surveyed 700 talent leaders responsible for a combined $3bn technology budget about the challenges that derail implementations. It found that 40% of respondents reported three or more problems that directly impacted the success of a project, with only 16% believing that their projects were successful.
The three most common challenges encountered by organisations were users not being ready for the functionality, data not being clean enough and poor change management.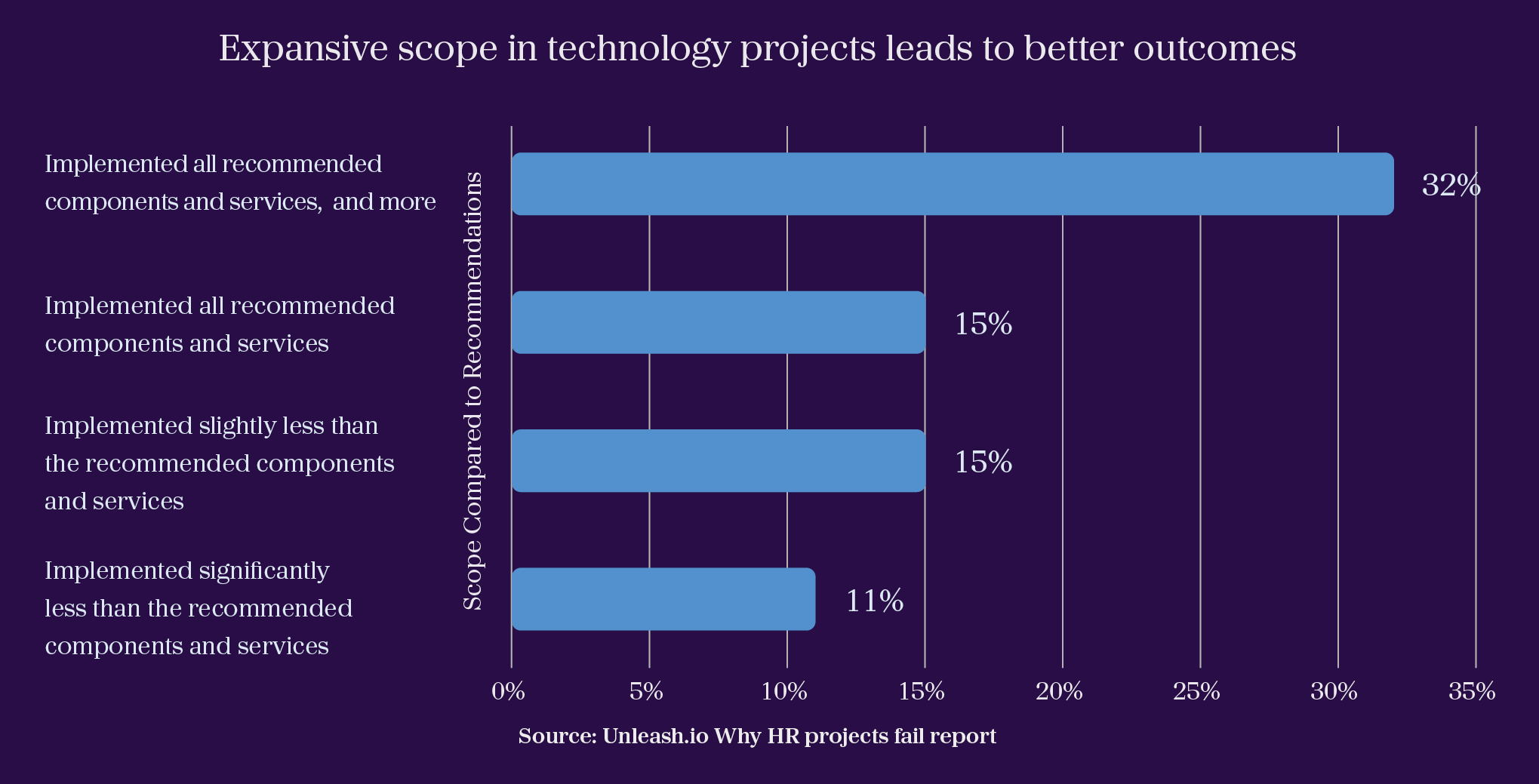 Significantly, the scale and cost of implementing new technology often ran away from leaders. Less than a quarter (22%) believed that talent technology projects adhered to budgeted costs, with even fewer (19%) managing to keep projects to allotted timelines. With such a poor start, it's not a surprise that many projects fail to fulfil their objectives.
Changing the narrative
In order to improve the chances of technology implementation succeeding, organisations need to change the narrative around talent technology.
Firstly, technology is no longer simply about automating processes and talent acquisition systems, but is rather a tool to transform and grow business. This means that talent technology isn't about one-off implementation, but rather forms part of an approach to maximising the potential of your talent strategy.
Understanding this leads us to understand that simply launching a new piece of technology isn't enough to ensure success. Far too many organisations only get to grips with new technology implementation at the point of actual launch, without considering, consulting and getting buy-in from end users in the procurement stage.
Taking a step back and actually involving users in the process of choosing technology, while focusing on the desired outcomes of the technology allows organisations to achieve two things: a clear goal with expected return on investment, rather than muddied thinking brought about by shiny new features; and a focus on employee experience that speeds adoption and actually makes a process easier.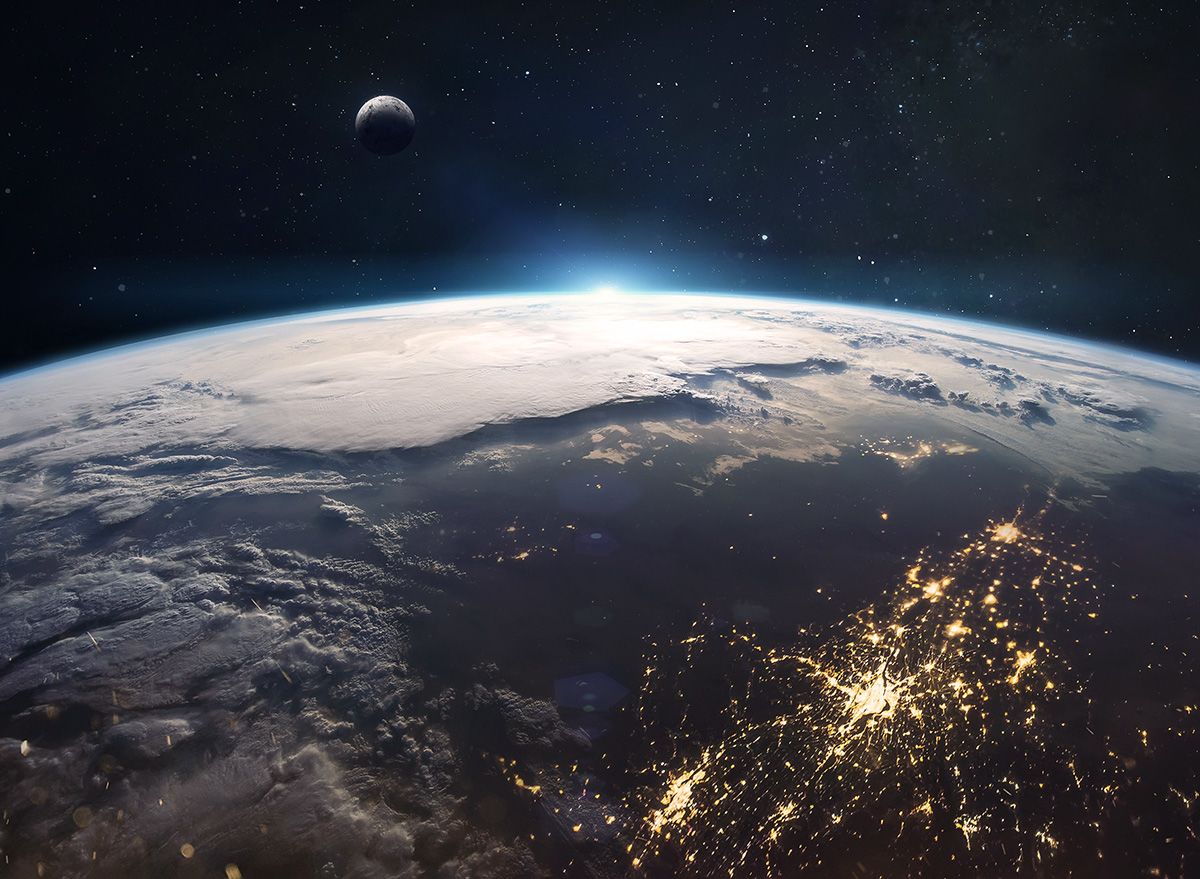 Expert commentary
Josh Bersin
Author and HR thought leader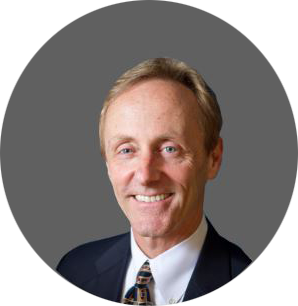 The role of technology in talent acquisition
Technology plays a vital role in talent acquisition and recruitment. Today, as employees move more dynamically than ever, companies need intelligent systems for sourcing, advertising, marketing, assessment, and ongoing candidate communications. Tools like intelligent chatbots, skills-based job recommendations, video interviews, and AI-enabled assessment are common. So there are hundreds of tools to consider.
Unfortunately, however, most recruitment teams have a stack of older systems. The core tool of recruitment, the Applicant Tracking System (ATS), is more than 30 years old in design. Originally designed as a place to store, search, and index job applications, these systems have become critical but legacy in most organisations. How do you add new tools around these systems to scale?
Our research shows that highly successful companies are always upgrading and experimenting with new technology. AI, which started as an interesting idea, can now match job seekers to roles by skill, identify possible internal candidates, and even assess the probability a candidate will succeed. Many leading companies now let job seekers just "apply" for any job, and the systems decide which role or skill may fit them best. Once a candidate expresses interest, these tools can automatically feed the more information, schedule an interview, and eventually provide onboarding uniquely designed for that job.
We also see an explosion of new tools we call Talent Intelligence to scan millions of possible job seekers and help make decisions on non-traditional candidates, diverse populations, and adjacent jobs to help fill positions. As jobs change more rapidly than ever, these systems can assess the true "skills" needed in a job and then help recruiters find candidates with greater precision than ever before. These tools, which are the latest evolution in this market, amass data from billions of job seekers and use AI to match people to jobs in ways we never imagined.
While all these tools are important, our newest research still finds that recruiters are perhaps the most important role of all. As we looked at the use and prevalence of technology in our new research, we found that "Human-Centered Recruiting" is still the biggest factor in success. In other words, no matter what technology you adopt, it's the human side that really makes a difference. So these tools, while magnificent in many ways, are still part of a very "human-centered" process that always comes down to culture, fit, and match with the team.
There's no question that technology will always play a major role in recruiting, workforce planning, and long term organisational design. But as you arm up and upgrade your tool set (which is a never-ending process), make sure you train and talk with your recruiters too. They, in the end, are still the most important tool you have.
Secondly, organisations need to plan for ongoing adoption of the technology, with a long-term change management programme in place to ensure that users continue to update their skills and develop new case uses for the chosen platform.
One way of doing this is to incentivise employees to use and train on new technology platforms, whether through providing on the spot bonuses, extra time off or gifts and merchandising. According to PwC's 2022 HR Tech Survey, this is one of the most effective ways of driving technology adoption, with an 85% success rate amongst companies that used this method.
Other options include optimising the technology for mobile use to meet employee demand for anytime, anywhere work, introducing elements of gamification to drive engagement and - more controversially - providing penalties for non-usage.
Thirdly, businesses need to invest in technology for the longterm, providing a roadmap and iterative methodology to continually drive return on investment. This might be about assessing technology partners across multiple dimensions, including ongoing support and training. The aim is to avoid costly relaunches or switching providers as the strategic needs of your business change by ensuring that your technology partner - and the training you provide - flexes with your new requirements.
The successful adoption of talent technology is about meticulous planning, ongoing training and constant evolution - much like any other key business process. Technology isn't there to simply automate processes, it's there to help organisations transform and grow. Launching some technology and then simply hoping it - or the people using it - work things out by themselves isn't going to lead to success.

Expert commentary
Annie Hammer
Head of Technology Advisory, Americas, AMS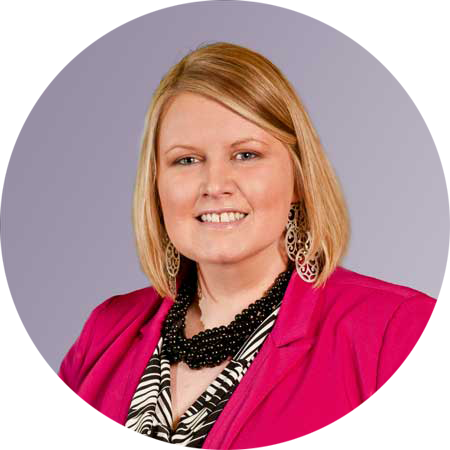 How to maximise technological adoption and avoid buyer's remorse
There is a lot of technology on the market at the moment, which is busy and confusing. I've seen plenty of organisations get seduced by shiny product demos without understanding the core requirement and business outcomes you're trying to drive.
To combat this, I recommend that businesses develop 3-4 scenarios that are specific to their organisation and ask tech providers to show how these scenarios are played out within their tools. It helps to bring up practical things that demos don't show.
Then, it's about avoiding tools with single use cases or duplication. A lot of times I'll work with organisations that say 'I need a CRM, or a chatbot, or a video interview tool'. That might be what you need, but you also need to understand the broader ecosystem and components within that. You might already have a tool that can provide some of the functionality you need, or you might need another tool that provides a wider use. It's about looking at the broader picture and understanding the specific scenarios you need to accomplish with the tool specific to your business, rather than a general technological capability point of view.
There are several practical steps you can take when implementing new technology. First, involve end users in the selection process. Even if the ultimate decision lies with a manager, get forward-thinking users onboard to give their viewpoint and begin engaging with the technology. It can form part of a reward or development plan and helps socialise the technology amongst employees.
Let manager level employees be involved in localisation and specific business unit or regional needs. Once you've selected the tool, they can be involved in the implementation and design of the process.
When it comes to launch, get your team to feedback on the build in stages, rather than on completion. This allows HRIT to build and show functionality, with feedback coming from users who preview the technology. In addition, this builds in checkpoints along the way and reduces testing issues nearer launch.
You also need to plan for post-launch training and adoption. What's the plan for 30 days post-launch? What's the plan for six months? Or two years?
Having someone accountable for the evolution of technology is key, but make sure they are in place from the start so they avoid feeling overwhelmed by launch feedback. On that note, have a 'fast-follow' list of tasks that aren't crucial for launch but need to be completed within three months. This allows for ongoing testing and development of the technology.
Finally, think about providing a platform for user voice, where end users can log issues or feedback. Add a mechanism for users to upvote issues, so that way you can prioritise the changes that need to be made based on real-time feedback.
So much new technology has been brought into the market in the past 18 months that soon we'll see many organisations relaunching or iterating on technology that isn't providing the required return on investment. Following some of these pre and post-launch processes will help to minimise future challenges.